Butternut Squash Latkes
Fall is that time of year when squash is in abundance, especially butternut squash and acorn squash, my two favorites. 
At the first sign of Autumn I can't wait to make my butternut squash soup. For some reason I wasn't in the mood for soup, even though the temps were in the 40s, instead I felt like something I could bite into.  I decided I'd try to create Butternut Squash Latkes.  Some may call them a fritter or pancake but technically they're latkes.
What's the difference?
Fritter –  a deep-fried cake typically coated in batter and stuffed with another ingredient, like shrimp or beef.
Pancake – a flat cake made from a batter that typically has a fluffy consistency.
Latke – a crunchy, fried pancake made of vegetables (most commonly potatoes).
My Latkes however, are not crunchy, but soft, tender, and made with shredded butternut squash, not potatoes, and a honey crisp apple.
These butternut squash latkes can be eaten for breakfast, lunch, dinner or even a snack.  They're simply delicious and nutritious!
Although I used flour to make them you could certainly substitute a gluten-free flour and eggs to make them vegan.
When creating these I made two with only the butternut squash and apples, just to see how they tasted. Then after removing 2 scoops for these patties I added in the onion, sugar, and spices.  Both ways tasted great but the doctored up version is fantastic.
My son called to say he was going to be stopping by the house.  I wasn't home but told him he could try what I had just made to give me his thoughts.  His reply, "Soooo good! I had them cold tho."
My son is my biggest critic so I know when he loves it, I can typically give it a thumbs up. That said, I do think his palate is more like mom, and my daughters is  more like dad.
If you've never cut into a butternut squash before I cut off the top and ends first.  Then I cut off the bulb which makes removing the skin easier on the straight part of the squash.  I then stand it on one cut end, and using a sharp knife skin the squash. I know a lot of people use a potato peeler to remove the tough skin of the butternut squash, that's fine if that's your preference. I've tried it that way too.  I prefer using a sharp knife – for me, it's easier.
You can watch my YouTube video on How to Cut a Butternut Squash – and while there, don't forget to subscribe to my YouTube channel.  For the recipe below I don't cube the squash, I skin it, then shred it on a grater.  For less of a workout and quicker results, use the grater of a food processor.
If you prefer a more savory latke then omit the sugar and even spices if preferred, and add chopped sage and pepper.
This recipe made 12 latkes using an ice cream scoop, slightly less or level to the rim, not overflowing.  By the end of the day, all 12 had been devoured. They were SO good!
For the topping, while not necessary, I used Fage 0% plain yogurt and added Vietnamese Cinnamon from Penzey's my favorite, to compliment my Butternut Squash Latke.
I am certain you're going to love my Butternut Squash Latkes if you make them.  If so, please be sure to take a photo of your creation and tag #vickibensinger on Instagram.
Happy Cooking!
The Best Butternut Squash Latkes
Whether serving The best Butternut Squash Latkes for breakfast, lunch, dinner or even a midday snack, you'll continue reaching for these fall patties time and time again - they're sweet, savory & delicious!
Ingredients:
1 (lb.) butternut squash, shredded
1/2 medium onion, grated
1 Honey Crisp Apple, skin on, grated (or other apple)
1 cup All-Purpose Flour, unbleached
1 Tbsp. Brown Sugar
2 eggs
1/4 tsp. fresh ground pepper
1/4 tsp. freshly grated nutmeg
1/4 tsp. Vietnamese cinnamon (Penzey's) or other
1/8 tsp. ginger
vegetable oil (high heat)
Topping:
6 oz. Fage 0% plain Greek yogurt
1/2 tsp cinnamon or more if desired
Directions:
Mix all ingredients together except oil topping.  In a cast iron skillet or pancake skillet, add oil to coat - heat up.  Once pan is heated, using an ice cream scoop, fill a level scoop with batter.
Place scoops of batter onto pan and flatten with the bottom of a spatula to 1/4 to 1/2 -inch thick.  Allow to brown approximately 1 and 1/2 minute - 2 minutes per side, or until golden brown.  Flip and brown on the other side.
Continue cooking all latkes, adding more oil as needed to coat the pan. Set latkes aside on a paper towel once done to absorb any additional oil and keep warm.
Topping: Mix yogurt and cinnamon together.
Serve: Place Latkes on a plate and top with cinnamon flavored yogurt.
Enjoy!!!
Hungry for more? Savor these!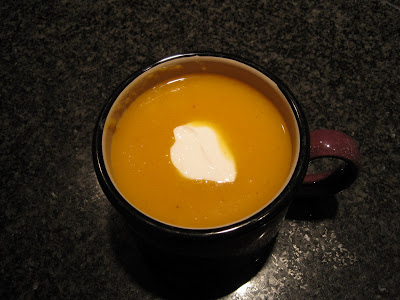 Savory Layered Vegetable Torte
Butternut Squash Tahini Spread