Savory Layered Vegetable Torte
It's that time again for the 5 Star Makeover sponsored by Natasha and Lazaro. This month they have chosen Butternut Squash as our challenge.
Butternut Squash (shown above) is a vegetable we have in our home all the time. Weighing in at about 2-3 pounds, this cylindrical winter squash looks somewhat like a very large pear, approximately 8 to 10 inches long, and 3 to 5 inches wide. The exterior has a tough, yet smooth camel colored skin; the flesh is sweet and orange.
The majority of time I prepare it simply by cutting it into cubes
(you can view my demonstration video here)
, tossed lightly with olive oil and roasting it in a 425F degree oven for 20-30 minutes until it's caramelized. However, it can also be baked, steamed, simmered or even tossed in a pan and placed on the grill.
When I first read about the October challenge I thought up numerous recipes, but decided on a recipe I frequently prepare for family, guests or luncheons that everyone raves about. With Butternut Squash at it's peak this time of year, I used that in place of portobello mushrooms (which I typically use) for a savory layered vegetable torte. My other dish is called a Torta Rustica, mainly because it's put together free form style, while my Vegetable Torte is neatly layered in a springform pan – considerably easier to prepare, and teach to the world.
If you're a fan of vegetables you will love this recipe. Although it has several steps, it's quite simple to assemble, and can be made days ahead, then hours before serving, simply remove from the refrigerator and allow to reach room temperature. Of course, you can prepare it and serve it hot the same day.
Feel free to substitute with veggies of your choice, or if you like, add ground beef, sausage, bacon, etc. to the mix. I made it easy on myself and used a
Pillsbury Pie Crust
, easy and always delicious, in lieu of making my own this time. I hope you enjoy it.
Here's the recipe…….
Savory Layered Vegetable Torte
Ingredients:
4 (10 oz.) packages frozen chopped spinach, thawed and squeezed dry 1 tbsp. butter 1/4 tsp. fresh grated nutmeg 2 tbsp. olive oil, divided 1 shallot, minced 4 eggs, 3 beaten (can use egg whites), 1 for egg wash 1 cup fresh grated Parmesan cheese 1 1/4 cups bread crumbs, (I used Progresso, plain), divided kosher salt & fresh ground pepper to taste 4 Red Bell Peppers, 
roasted
 then thinly sliced 1/2 pound Fontina cheese, shredded 4 oz. Goat Cheese, crumbled 1 Butternut Squash, peeled and cut into 1/4 inch cubes 1 box, Pillsbury Pie Crust or homemade dough
Directions:
1. Preheat oven to 375F degrees 2. Mise en Place all ingredients, this will make the prep work that much easier. 3. Roast the Red Peppers, peel skins and slice into 1/4 inch strips (if preferred you can purchase jarred - then slice) Set aside. 4. Roast Butternut Squash in 425F degree oven for 20-30 minutes until soft.  Remove from oven, Set aside and allow to cool. 5. Saute butter and shallot together in a saute' pan, remove from heat and add spinach, nutmeg, eggs and Parmesan cheese. approximately 1/4 cup bread    crumbs or just enough to soak moisture - but not dry.  Blend all together. 6. Using a 10" Springform pan dot bottom center with non-stick spray, line bottom of pan with circle of parchment, then spray interior, sides and bottom of pan. 7. Take one roll of Pillsbury Pie dough from box and roll out dough approximately into a 15" round with additional overhang all the way around. 8. Layer the filling in this order: Lay dough in springform pan, tucking into corners and hanging over the sides - sprinkle with 1/4 to 1/2 cup bread crumbs
9.  Layer with 1/3 of spinach mixture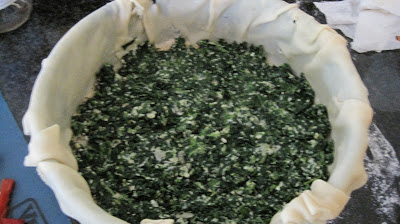 10. Place 1/2 of the strips of Roasted Red Peppers over spinach
11. Spread 1/2 the Roasted Butternut Squash over the Roasted Red Pepper
12.  Top with 1/2 each of the shredded Fontina and crumbled Goat Cheese
13. Repeat layers adding, 1/3 spinach, 1/2 Roasted Red Peppers, 1/2 Butternut Squash, 1/2 each of Fontina and Goat Cheese, final 1/3 of Spinach mixture. 14. Top with 1/4 to 1/2 cup of bread crumbs, then pulling the remaining dough over the spinach and bread crumbs.
15. Remove second roll of dough from box and roll into large circle enough to cover top of pan with 1 1/2 inch overhang all the way around.  Lay dough over top and gently tuck remaining dough into outer edges of pan, being careful not to tear dough. 16. Cut hole in the center and 5 slits around the hole for venting.
17. Taking 1 egg with a bit of water whisk and brush over dough (egg wash).
18. Bake for 1 hour or until the crust is a deep golden color.  Remove from oven and allow to cool for about 15 minutes.
19. Remove sides of Springform pan and gently flip over (placing plate over top) and remove bottom and parchment.  Flip right side up and set on serving platter. 20. Slice and serve.
Note: If making ahead leave in springform pan. When ready to serve, follow above directions and then display on platter.
Enjoy!