Butternut Squash and Tahini Spread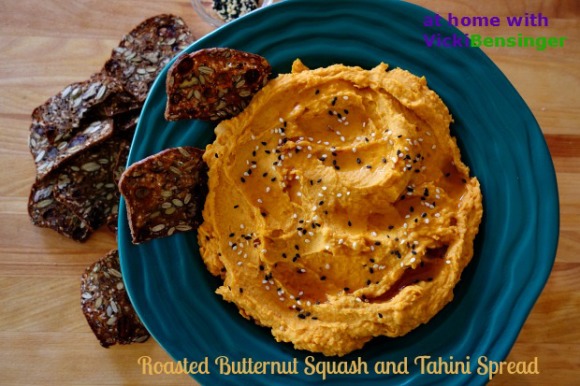 Last week I made these wonderful Pumpkin Spice Crackers after sampling them at Whole Foods. However, I needed something special and healthy to serve with these light, crispy and nutritious crackers. 
Have you ever heard of Yotam Ottolenghi and Sami Tamimi?  They have a great story of how they met and created a successful business together.  Back in 2009 Gourmet Magazine  wrote an article about them that you might like to read to get a better feel of who they are.
Together they have written 4 wonderful cookbooks to date ( I have them all), sharing recipes from their homeland.  In their book "Jerusalem" I came  across this wonderful dip/spread that sounded like the perfect marriage with the Pumpkin Spice Crackers.
If you're a fan of butternut squash like my family is then you"ll enjoy this recipe.  It's quick to put together, and holds up nicely in the refrigerator for days – if it doesn't get gobbled up by everyone before that.
Below is Ottolenghi's  and Tamimi's recipe. I hope you try it, along with my version of the Pumpkin Spice Crackers.  They'd be perfect for tomorrow evening while you're at home passing out candy to all the little  trick-or-treaters.
Butternut Squash and Tahini Spread
Ingredients:
1 very large butternut squash, peeled and cut into chunks (net weight 970g)
3 tbsp olive oil
1 tsp ground cinnamon
½ tsp salt
5 Tbsp./70g tahini paste
1/2 cup/120g Greek yogurt
2 small garlic cloves, peeled and crushed
1 tsp mixed black and white sesame seeds (or just white, if you don't have black)
1½ tsp date syrup, maple syrup or molasses
2 tbsp chopped coriander(cilantro), optional
Directions:
Heat the oven to 180C/350F/gas mark 4. Spread the squash out on a medium-sized baking tray, pour over the olive oil and sprinkle on the cinnamon and salt. Mix well, cover the tray tightly with tin foil and roast for 70 minutes, stirring once during the cooking. (If using convection/bake mode 20-25 minutes is all that's needed - squash will be fork tender). Remove from the oven and leave to cool.
Transfer the cooled squash to the bowl of a food processor, along with the tahini, yogurt and garlic. Roughly pulse so that everything is combined into a coarse paste – you don't want it too smooth (you can also do this by hand using a fork or masher).
To serve, spread the butternut in a wavy pattern over a flat plate and sprinkle with sesame seeds, a drizzle of syrup and finish with chopped coriander.
Enjoy!!!