Squash Soup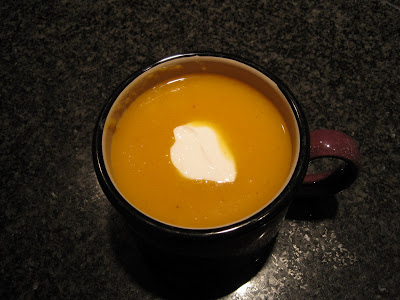 It's been so cold outside that I thought tonight I'd prepare a nice hot, but silky smooth Squash soup. The ingredients are simple and healthy with the exception of one tablespoon of butter. I often use curry powder but my family isn't fond of it so if you don't like it either you can add some ginger and nutmeg which is what I did this evening. This dish is so wonderful and soothing. I just know you're going to love it.
Squash Soup
(serves 10-12)
3 butternut squash, halved and seeded
2 acorn squash, halved and seeded
1 tablespoon butter
1 large yellow onion, coarsely chopped
2 large Granny Smith apples, peeled and coarsely chopped
1 teaspoon nutmeg
1/2 teaspoon ginger OR omit the ginger and nutmeg and add
(1 tablespoon curry powder)
2 tablespoons brown sugar
2 quarts low sodium chicken broth
salt (to taste)
black pepper (to taste)
Preheat the oven to 350 degrees
Place the squash halves, flat side down, on a flat, oiled baking sheet. Bake the squash for 30 minutes, or until soft. Let the squash cool. Scrape out the flesh.
In a large saute pan place the butter and heat it on medium high until it is melted. Add the onions and apples, and saute them for 6-8 minutes, or until the onions are translucent.
With an immersion blender or food processor place the cooked squash flesh, the sauteed onions and apples, nutmeg, ginger or curry powder (if using), brown sugar and chicken broth. Puree the ingredients so that a smooth consistency is achieved. If needed add more broth.
Season the soup with salt and pepper. Gently heat before serving. If you like you can add a dollop of yogurt or sour cream on top.
YUM!