Autumn Bounty Salad
There's nothing more glorious to me than going to the Farmers Market when the Autumn harvest is billowing over the baskets. With the exception of all the bees I can't think of a more pleasant way to spend my Saturday mornings. 
One of my favorites here in St. Louis is the Tower Grove Farmers Market.  The market is located at the beautiful Tower Grove park in St. Louis, Missouri with vendors selling produce, foods, and homemade goods from soap to socks.  With plenty of room to move around without bumping into others, the vendors and those attending are some of the most genuine people around.
I love butternut squash, but thought it would be fun and prettier to roast up some acorn squash, leaving the skin on for my Autumn Bounty Salad.  Using fresh arugula and spinach as the base I cooked up the hearty grain farro, to add to the top.
From fresh veggies, dried fruit, fresh fruit and grains my salad is a nutritional powerhouse.
This jewel of a salad will have you feeling good inside and out.  These are the types of salads and foods you need to remind yourself to indulge in, especially in the cooler months when flu season is rampant.  Healthy nutritional meals will keep your body on defense from outside germs attacking your system.
I know many of you will be thinking you don't have the time to create a salad like this. Basically all that's involved is roasting the acorn squash and then cutting up the rest of the fruit and veggies.  It doesn't even have to be done all at once.  Cook, and cut the ingredients up and place them in the refrigerator until you're ready to serve this.
I made a simple champagne vinaigrette to serve with my Autumn Bounty Salad so it wouldn't over power any of the ingredients.  It was the ideal compliment simply adding a bit of moisture, and subtle flavor. Of course your favorite salad dressing would work as well, and even substitute or add other ingredients that suit your palate.
My Autumn Bounty Salad is sure to please everyone.  Serve it at a party, Thanksgiving, on game day, or like I did – for my family!  I know you're going to love this.
Autumn Bounty Salad
My Autumn Bounty Salad is a jewel of a salad that will quickly become a family favorite.
Ingredients:
1/4 cup dry farro
3/4 cup water
1 Acorn Squash, rinsed, and sliced (see directions)
1 Gala Apple, halved, 1/4-inch sliced
1/4 cup Pomegranate Arils
2 1/2 cups fresh Spinach, or more
2 1/2 cups Arugula, or more
7-10 dates, halved, pit removed
10 Italian Plums, halved, pit removed
4 oz. crumbled goat cheese
salt & pepper to taste
Dressing:
1/2 cup extra-virgin olive oil
1/4 cup Champagne vinegar
1 heaping teaspoon Dijon mustard
1 teaspoon honey
Directions:
Prepare farro as it states on the package.  I purchase the quick cooking farro rather than the Perlato which takes longer. Set aside and allow to cool.
Wash skin of acorn squash.  Cut off each end, then cut in half lengthwise, remove seeds. (Leave skin on). Lie each end flat and slice horizontal 1/2-inch slices.  Set out on a foil lined sheet pan. Drizzle with olive oil, toss to coat, roast in a 425F degree for approximately 15-20 minutes or until softened.
Slice apple the same way, removing core and slicing into 1/2-inch slices.
Cut dates & plums in half removing pit.
After assembling all ingredients, plate by combining Arugula & Spinach in the base of the bowl. Place Roasted Acorn Squash slices around the perimeter of the bowl.
From left to right set out remaining ingredients in strips, side by side lengthwise on top of the greens, covering the entire bowl.
Whisk together ingredients for Champagne Vinaigrette. After bringing salad to the table for all to see your beautiful bowl, drizzle salad dressing liberally over the top.  Toss and serve.
Enjoy!!!
Hungry for more? Savor these!
Tuscan Kale Salad with Butternut Squash & Beets
Grilled Vegetable & Chorizo Salad with Chimichurri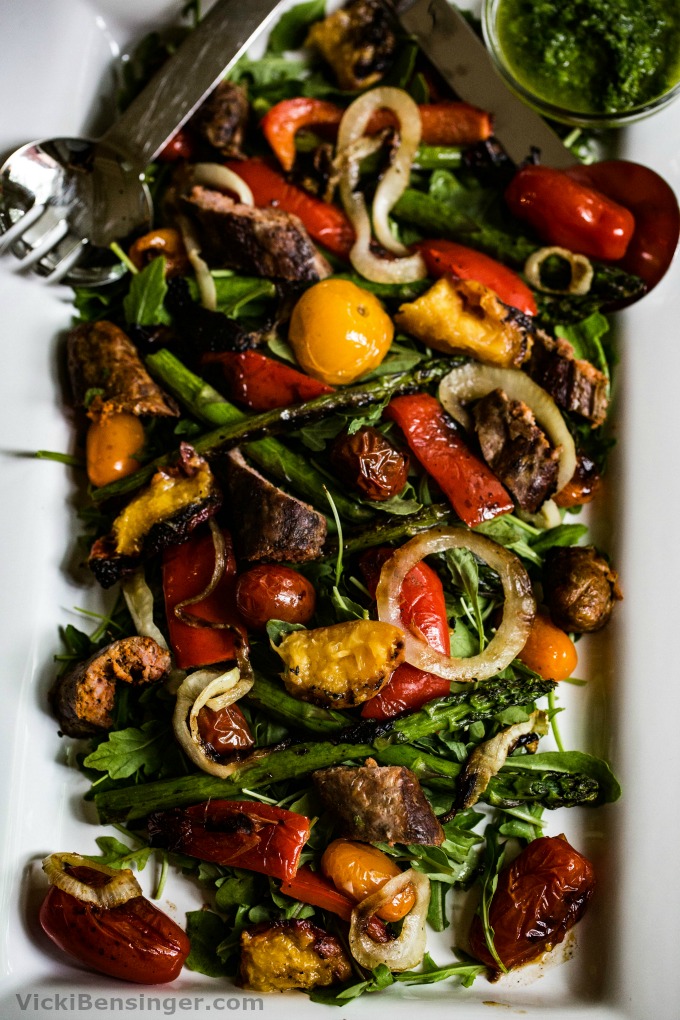 Farro & Arugula Salad with Honey Lemon Dressing