Grilled Vegetable & Chorizo Salad with Chimichurri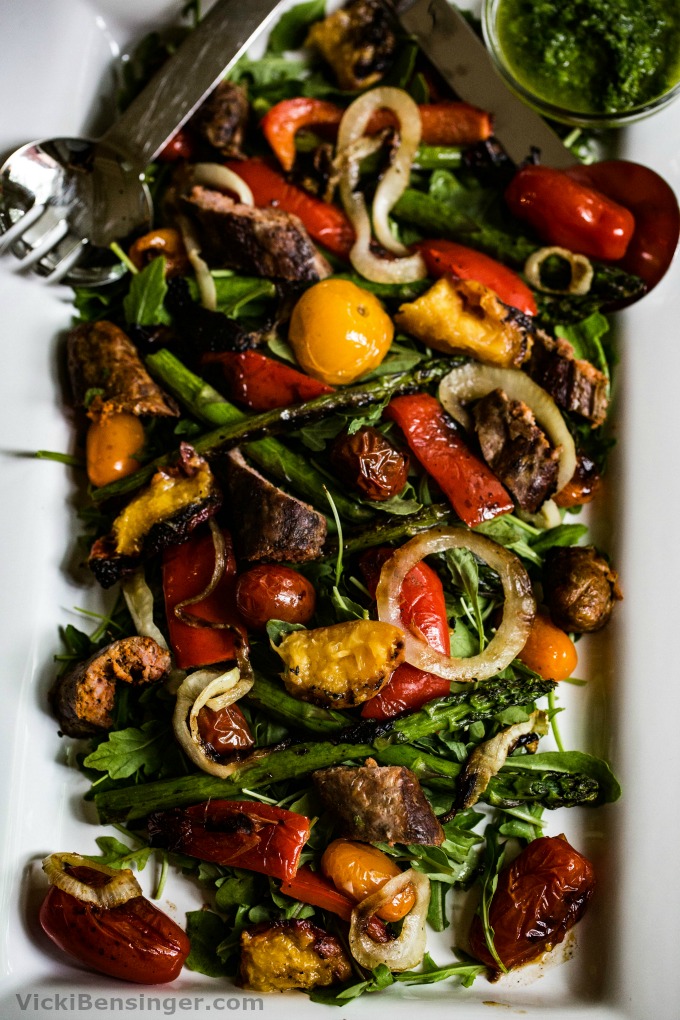 I'm all about chilled salads when the hot and humid weather sets in.  Lighter fare keeps me feeling cool, refreshed, and not weighted down. This Grilled Vegetable & Chorizo Salad with Chimichurri hits the spot. 
No one says you have to stay with a raw vegetable salad, although I enjoy those as well.  However, a salad with a variety of flavors, texture, and protein is simply more interesting to indulge in.
I especially like the chimichurri sauce with my Grilled Vegetable & Chorizo Salad.  It lends a fresh and light taste, that truly enhances the flavors of each component in this dish.
Chimichurri may sound complicated but it's actually so easy to create.  All you need to do is dump the chimichurri ingredients into your food processor, give it a wiz, and it's done.  How simple is that?
For my salad I chose to use arugula for that peppery and savory taste.  Pairing it with the  spicy Chorizo and Grilled Veggies leaves you feeling completely satisfied.
If you're not a fan of Chorizo then you could opt for:
grilled chicken,
bites of grilled tenderloin
grilled shrimp
Any one of these proteins would lend a new flavor to this salad.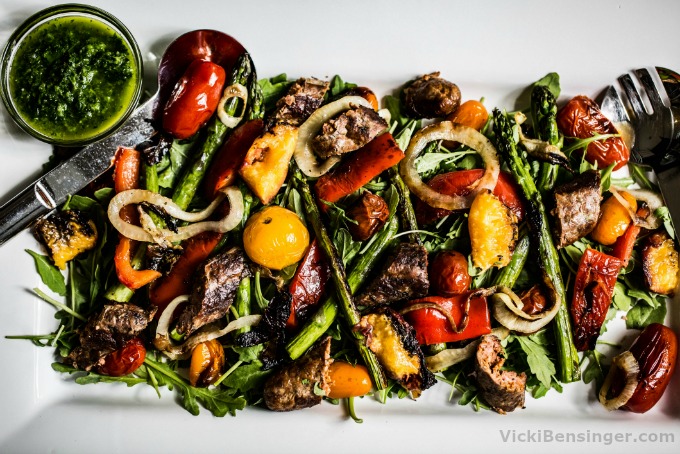 If you like to jazz your salads up even more then add in:
smoked gouda
brie
blue cheese
goat cheese
feta
walnuts
candied pecans
toasted almonds
grilled peaches (they're in this salad)
grilled pineapple
You get the picture?  You're the chef – create whatever sounds appealing to your palate!
I hope you'll give my Grilled Vegetable & Chorizo Salad with Chimichurri a try – I think you'll love it!
Grilled Vegetable & Chorizo Salad with Chimichurri
For a hearty salad try this Grilled Vegetable & Chorizo Salad with Chimichurri.
Ingredients:
Salad:
4 

fresh chorizo, halved lengthwise

Olive oil, for drizzling

1 

bunch asparagus, trimmed

1 red pepper, seeded & halved

¼ 

small yellow onion, thinly sliced

2 firm peaches, halved
10 baby tomatoes, halved

1 (5 oz.) package Baby Arugula
Chimichurri:
½ cup (

flat-leaf parsley, chopped

¼ cup 

cilantro,

chopped

2 tbsp 

oregano, chopped

2 

garlic cloves, chopped

1 

salad onion, chopped

½ 

jalapeño pepper, seeded & chopped 

½ cup 

olive oil

2 tbsp. 

apple cider vinegar
Directions:
Chimichurri: process herbs, garlic, onion and jalapeño in a small food processor until blended. Add oil and process until smooth. Then add vinegar, and season with salt and pepper, and combine.
Heat grill to medium-high. Drizzle chorizo  with olive oil and grill, turning occasionally, until browned and cooked through (3-4 minutes).
Drizzle peach halves with olive oil and grill, until grill marks appear about 3 minutes per side
To a grill pan add pepper, tomatoes, asparagus, and onions, and drizzle with olive oil.  Place on grill stirring occasionally for about 10 minutes until asparagus are bright green and veggies are  golden. Slice peppers into strips.
Set Arugula on a platter. Add chorizo, asparagus, peppers, tomatoes, peaches, and onion over the top. Serve with Chimichurri on the side or drizzle with a little chimichurri and toss to combine.
Enjoy!
Hungry for More? Savor these!
Farro & Arugula Salad with Honey Lemon Dressing
Grilled Peach Salad with Maple Balsamic Vinaigrette
Grilled Watermelon Salad with Goat Cheese & Balsamic Reduction