SuperBowl Party Food
SuperBowl is this coming Sunday, February 12th. The Kansas City Chiefs will be playing against the Philadelphia Eagles in Arizona.
Every year millions of people gather if not at the game itself then to watch the event on big screen TV's at friends and family homes . In fact stores even discount their TV's for the big day.
For those attending parties and giving them, food is also the main event.
Below are some of my family and friends favorite dishes to have at our parties. I think you'll enjoy them as well. There's a range of beef, chicken and vegetarian dishes, plus snack food. I think you'll find something here that appeals to you or your guests.
These Mountainous Chocolate Peanut Butter Cup Cookies are the #1 treat at our parties. Everyone loves these so much, I've had my kids friends call, email and even send me videos of how much they love these cookies. If you're a fan of peanut butter and chocolate then you DO NOT want to miss making these.
Have you ever attended a party where no sooner was an appetizer placed on the table it was gone? That's what happens with this Candied Bacon! It's insane how quickly it disappears. You can prepare batches of this ahead of time and cook as you go or cook it all ahead. Any leftovers can be placed on salads or simply gobbled up. I doubt you'll have any leftovers though unless your guests are all vegan or vegetarians. This candied bacon is addicting!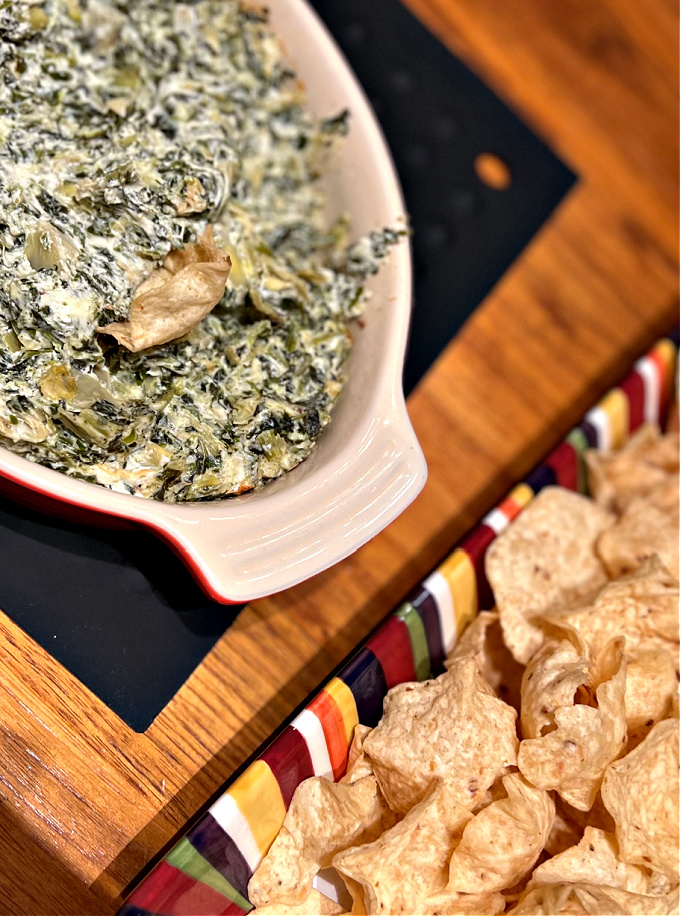 This Spinach Artichoke Dip pictured above, and the Charcuterie Board below I served this past Thanksgiving. The holiday was at my sons home this year, and he had lots of friends stopping by the entire evening. The rave reviews for both the dip and board were HUGE and both were devoured in no time. Everyone loves a Spinach Artichoke Dip and the Charcuterie board is ideal for those not always wanting to indulge in grub food, but snack food that's a bit healthier. It's doubtful you can order the board from Fab Slabs USA and get it in time for the SuperBowl, but if you're in the market for one, I recommend going to their site and ordering now so you have it for your next gathering. It's so worth it!
Of course SuperBowl wouldn't be SuperBowl without Chili. I have created a variety of different chili recipes over the years but this All Beef Chili with Espresso is my personal favorite. Everyone that tries it finishes their bowl and go back for seconds and some even thirds. What I love best, besides the taste, it's quick and easy to toss together. I think you'll agree it's a great staple to have around.
If it's not too cold outside where you live and you feel like putting something on the grill then my Beef Fajitas are a must!
These Skinny Loaded Sweet Potato Bites are a meal by itself. They feel indulgent yet are healthy with the exception of the cheese. But hey, it's SuperBowl!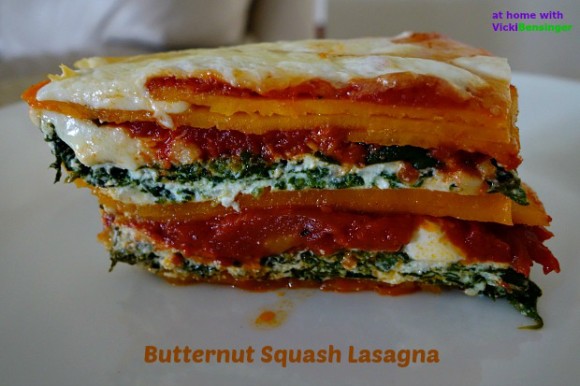 I created this No-Noodle Butternut Squash Lasagna years ago. You won't believe how delicious this is. This is ideal for a vegetarian main course. I know your guests will LOVE this!
There's something necessary about having foods around that you can simply pop in your mouth to crunch on especially when you're so excited. These Antioxidant Rich Crunchy Chickpeas above and my all time favorite creation of Caramelt Crunch Popcorn below do the trick!
I have so many dishes and treats I've done over the years. I'd love to post them all here but heavens I've already posted so many you're probably wondering how you'd ever have the time to create them all by this Sunday for SuperBowl.
Pick your favorites or if you have quite a few you'd like to try, then ask a friend or family member to chime in and help assist you.
If you're watching the game this Sunday I hope I've been able to give you some great ideas.
Have fun!!!