Holiday Decorating Platforms + Spinach Artichoke Dip
I thought it would be fun to share with you these decorating platforms, plus a tasty, ooey, gooey, Spinach Artichoke Dip ideal for any occasion!
We've all made it through Thanksgiving with many of us creating a smorgasbord of food.
Ever since I took over making Thanksgiving from my mom years ago, I always preferred making too much, rather than not enough food.
In fact, I enjoy filling everyone's belly and then having enough for everyone to take home. Honestly, nothing pleases me more during the holidays.
Besides creating some of our old time favorites along with some new, I love for my table to look outstanding as well.
This Thanksgiving I cooked at my son's home. My family of course was there, plus, my son's girlfriend, and her family. With the help of my daughter and son's girlfriend the food and dinner table looked beautiful! The centerpiece on the table that my son's girlfriend created was so pretty I wanted to share it with you. I think this would be ideal for whatever holidays you celebrate, as well as any occasion year round.
Rather than spending a fortune on a professional arrangement with this simple container, you too can create a professional looking centerpiece for a fraction of the cost. The possibilities are endless!
Imagine all the holiday flowers you can put in this container. If having a quiet dinner for two, use one of the containers with some soft romantic flowers, or even something fun and whimsical for a birthday celebration.
For this centerpiece she used 2 of the rectangular vases and simply purchased a bundle of fall flowers.
I thought this long rectangular vase was such a fun creative platform for flowers, that I wanted to share it with you.
In addition to the creative floral centerpiece, I had asked my daughter if she'd like to create a Charcuterie Board with the appetizers I had purchased to place on my favorite board from FabSlabsUSA.
FabSlabs are Naturally and Permanently antibacterial cutting boards and grazing platters. Handmade from Australian camphor laurel.
I love the FabSlabs boards and this one is extra long making it ideal for even dessert boards, etc. or serving meals on, like my Beef Fajita's.
My daughter's creation was gorgeous and so pleasing to the eye. The possibilities are endless!
On this board we had several types of cheese and crackers, grapes, mini bell peppers, carrots, celery, sugar snap peas, broccoli, Marcona almonds, olives, chocolate covered dried strawberries and cherries, and toffee. By the end of the evening there was barely anything left.
Both the floral centerpiece and charcuterie board got rave reviews from family and friends that popped by. I couldn't have been more impressed with their creations. It's so much fun to let others share their creativity on the holidays. Afterall it's a family affair!
In addition to these and all the typical Thanksgiving fare, I made a Spinach Artichoke Dip to go with the charcuterie board that if I say so myself, was DELISH!!!
This dip was so ooey, gooey and delicious I will be making it again and again. The Spinach Artichoke Dip is ideal for any type of gathering – large or small. I think you'll love it. The recipe is below.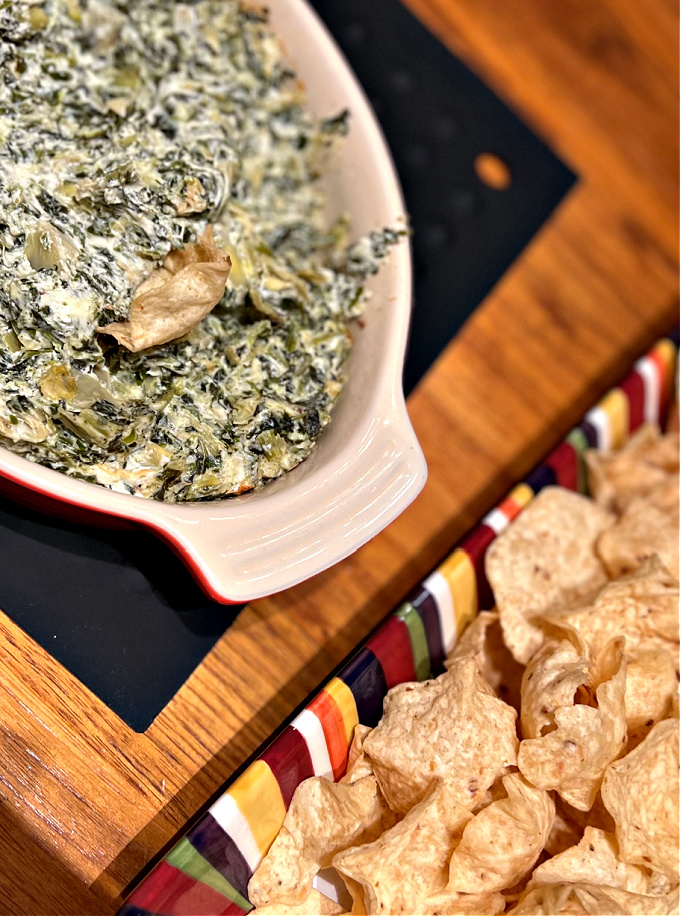 Spinach Artichoke Dip
This ooey, gooey, Spinach Artichoke Dip is always a favorite at any party.  It won't disappoint even the most discriminating palate!
Ingredients:
2

tablespoons olive oil

1

large garlic clove, finely chopped

1

12-ounce bunch fresh spinach, finely chopped (or 1 10-ounce package frozen spinach, defrosted, drained and finely chopped)
Pinch of red-pepper flakes (optional)
Kosher salt and black pepper

1

(14-ounce) can quartered artichoke hearts, drained and coarsely chopped

8

ounces cream cheese, cut into 1-inch pieces

4

ounces fresh mozzarella, torn or shredded

4

ounces sour cream or full-fat Greek yogurt

¼

cup Pecorino Romano or Parmesan, finely grated
Directions:
Heat olive oil in a medium pot over medium heat. Add garlic and cook, stirring until it's softened and fragrant, about 30 seconds.
Add spinach to pot one handful at a time, letting each handful completely wilt before adding the next. Add crushed red pepper, if using, and season with salt and pepper. Continue to cook, stirring frequently, until most of the liquid from the spinach has evaporated (no need to drain), about 3 minutes. Add artichokes and season with salt and pepper. Cook for a few minutes, just to take the raw edge off the artichokes.
Reduce heat to low and add cream cheese and mozzarella. Using a wooden spoon or spatula, stir until all the cheese has melted, about 3 minutes. Stir in sour cream and pecorino, and season with more salt and pepper. You can certainly eat this dip straight from the pot (or transferred to a serving bowl), but running it under the broiler for a crispy top is also an excellent option. To do so, transfer dip to a small ovenproof skillet (6 to 8 inches). Place in oven and broil until the top is golden and the dip is bubbling, 5 to 8 minutes. Let sit a minute or two before serving.
Notes: 
I made this recipe ahead of time and placed in my
LeCreuset casserole dish
.  I set it out an hour before to get to room temperature and then warmed it up in the oven until bubbling vs. placing under a broiler. (Mainly because I wasn't familiar with my sons ovens).  That said, placing all the ingredients into a small dip crock pot would be great as well depending on the type of gathering you're having.  Serve with chips or veggies! YUM!!!
Alison Roman - New York Times Cooking