No Noodle – Butternut Squash Lasagna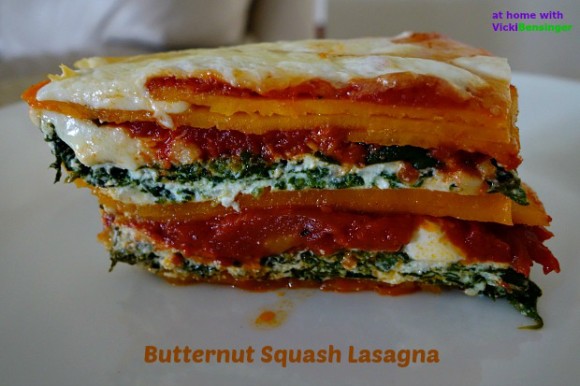 I have always loved lasagna but the older I get, I find I try to avoid having pasta. I got to thinking the other day that I"d love to try making lasagna without pasta, but with veggies instead. I've seen where others have made zucchini lasagna, although that sounded marginal at best, to me. 
Butternut Squash is a favorite in my home, so creating sheets of butternut squash with my mandoline sounded ideal.   I have 2 different mandoline's.  My OXO mandoline is wider and has legs to stand making it safer, due to the size and weight of a butternut squash.
I decided I'd make Butternut Squash and Spinach Lasagna with homemade ricotta and marinara sauce.  I prepped everything on Sunday, and finished it off on Monday to have for dinner.  It turned out perfect!  I decided to make a small portion, using an 8×8 pan since there would just be two of us eating it.
I had quite a few sheets of butternut squash leftover so decided to roll those up with the ricotta/spinach filling tucked inside, and place over a layer of sauce, then topped with fresh mozzarella  and Parmesan cheese.  Both were so tasty, but I enjoyed the ease of the butternut squash lasagna roll-ups – they were the right size, not too sloppy, and easy to remove and plate.
If you don't feel like making fresh ricotta, or homemade marinara sauce, your favorite store-bought is fine and quick.  I also used fresh spinach, but frozen will work.  Preparing my lasagna with ready-made ingredients can be done in a short time, and in one day vs. two – totally from scratch.
While I used few ingredients here for my layers, you could always add roasted red peppers, and mushrooms or any other type of veggie you like.  For us it was perfect, and while it may not have been low in calories because of the cheese, it was addictive and insanely delicious!
I hope you'll try my Butternut Squash Lasagna or Butternut Squash Lasagna Roll-Ups………………………………
No Noodle - Butternut Squash Lasagna
My No-Noodle Butternut Squash Lasagna is so good you won't even miss the meat! Don't believe? Try it and see!
Ingredients:
Marinara Sauce:
4 – cloves garlic, minced
Extra Virgin Olive oil
1 – 28 oz. can imported Italian tomatoes (San Marzano)
3 fresh basil leaves, torn in pieces
½ teaspoon black pepper
½ teaspoon hot red pepper
Ricotta Cheese:
1 half gallon whole milk (preferably organic)
1 cup heavy cream
1/2 teaspoon salt
2 tablespoons fresh lemon juice
Special equipment: large strainer, fine-mesh cheesecloth
Spinach:
16 oz. fresh spinach, rinsed & drained
1 Tbsp. butter
1 whole shallots, minced
1/4 tsp. freshly grated nutmeg
1/4 cup fresh grated Parmesan
1 large egg
1 tsp. fresh ground pepper
16 oz. pkg. fresh Mozzarella Cheese
2 Tbsp. Parmesan
1 large Butternut Squash, sliced into 1/16 - inch thick slices
Directions:
Marinara Sauce: Mince the garlic and cover the bottom of a large kettle with olive oil.  Saute the garlic in the olive oil until it is almost ready to brown, about 2 minutes.  Add the can of tomatoes, basil, black and red pepper.  Bring to a boil and ten turn down and simmer sauce for about an hour, until the tomatoes are broken down.  Use a wooden spoon to help break down the tomatoes while simmering.                                                                                                                           
Ricotta Cheese: See detailed instructions with photos here.
Spinach Mixture: Add butter to a large saute pan and melt.  Add shallots and cook for about 2 minutes on medium heat.  Add spinach and continue cooking until spinach is wilted and bright green.  Remove from heat, place into a strainer and allow to cool.  With a spatula or your hands squeeze out any excess moisture.
Place spinach on a cutting board and chop.  Place chopped spinach into a large bowl and add 16 oz. (2 cups) of ricotta cheese, 1/4 cup fresh grated Parmesan, pepper, and egg.  Mix together and set aside.                                                                                                                                                                              
Cut ends off butternut squash, removing bottom portion with seeds (reserve for another use if desired).  Then proceed to remove the skin with a knife or heavy-duty peeler making sure to have one side flat.  I prefer using a knife, I feel as though I have more control.                                                                                                                                                                                                                                                                                                                                                                                        Set flat side of peeled butternut squash onto mandoline.  Adjust thickness to approximately 1/16 of an inch slice until done.
Layering: Spray an 8x8-inch pan with non-stick spray.  Spoon 1/3 of marinara sauce on the bottom pan to cover bottom.  
Top with slices of butternut squash to cover entire surface.  Overlap if necessary.                                            
Cover with 1/2 spinach/ricotta mixture.                                                                                                                      
Cover mixture with slices of fresh mozzarella.
Repeat layers, then top with more tomato sauce, and fresh mozzarella slices and 2 Tbsp. Parmesan.         
Place in a preheated 350F degree oven, covered and bake for 1 hour.
Slice and Serve.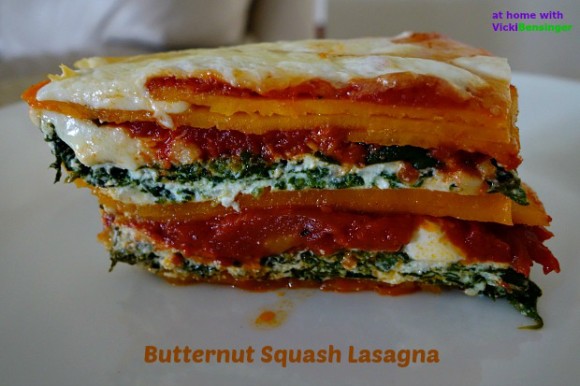 Enjoy!!! Hungry for more like this?  Savor these recipes: Towering Eggplant Lasagna Savory Layered Vegetable Torte Roasted Vegetable Tower with Sauteed Tomatoes Tomato Jam, Pesto, and Ricotta Jar
Notes: 
While I made this lasagna totally from scratch you can do a short cut version using prepared ingredients:
In place of homemade marinara sauce, use a jar of your favorite pasta sauce
Substitute homemade ricotta for a container of prepared ricotta
Substitute fresh spinach for 16 oz. of frozen spinach that's been thawed and drained well, squeeze dry if necessary!
If you prefer your lasagna with meat I think 1 pound of ground chicken would be ideal!