Salmon with a Red Wine Sauce for Valentine's Day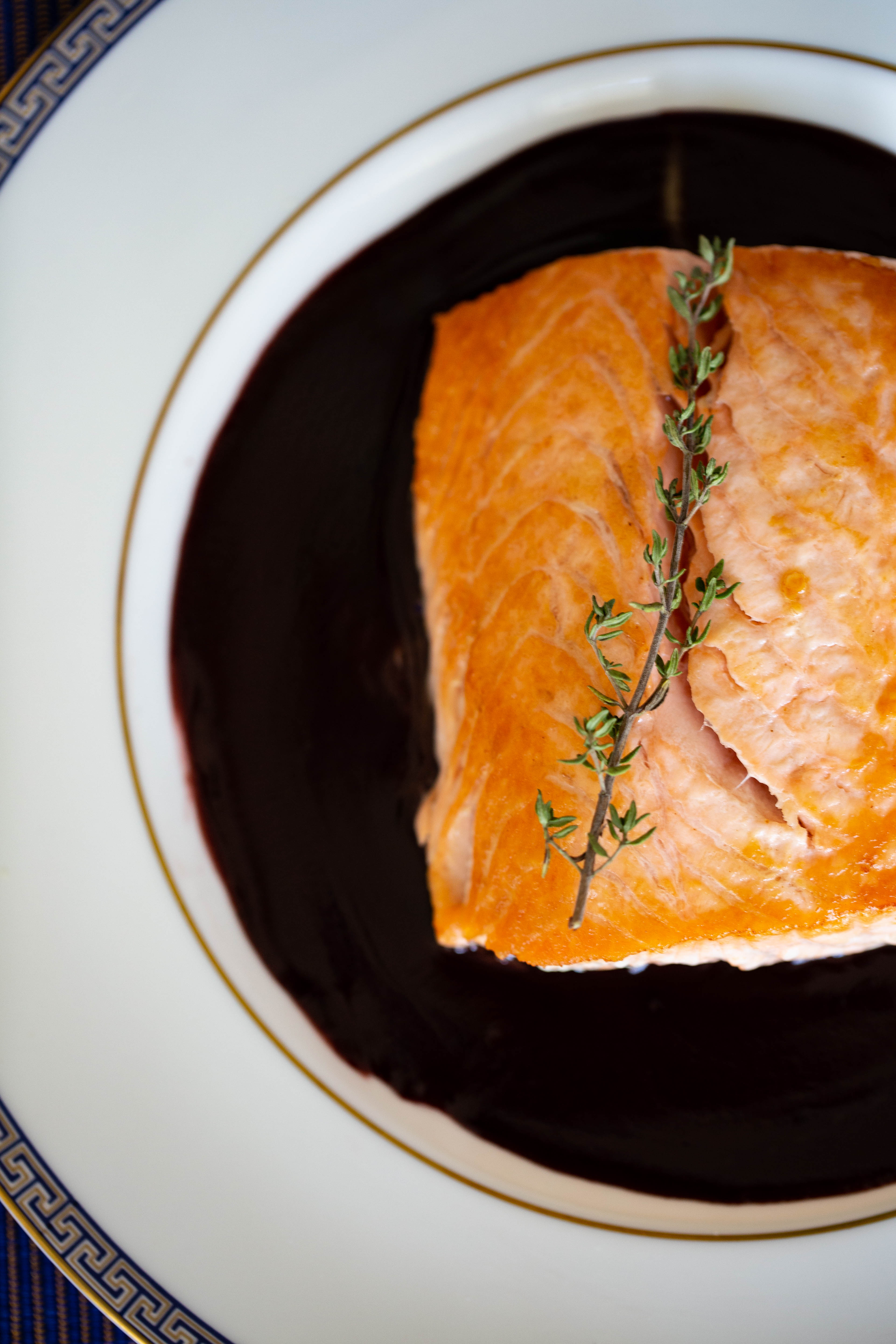 I know we just finished the holidays & New Years but Valentine's Day is just over a month away. If you're going to be cooking for a significant other then you might want to test out a few recipes first. This Salmon with a Red Wine Sauce has the most exquisite flavor. Simple to prepare with Michelin Star quality.
With few ingredients the only real effort involved is mincing the shallots. Like I said, this is simple to prepare.
What could be so flavorful about this dish? It starts with sauteing the shallots, pepper, and thyme in olive oil. Then when you add the liquid and reduce it to just a few tablespoons it becomes condensed, and thickened, accentuating all the flavors. Finish it off with a touch of cream and butter, and it's the icing on the cake.
So smooth and elegant tasting you won't be able to stop yourself from eating it!
What could be more fitting for Valentine's Day than this Salmon with a Red Wine Sauce? The deep red color of the sauce expresses your deep affection for those you serve this dish to.
I used a Pinot Noir (a full bodied red wine) to create the sauce. I'd suggest if drinking a full bodied red wine with your meal then use the same one for the sauce. It just makes sense!
If you're not a fan of salmon then try using bass, monkfish, or even tuna. Quite frankly I think this Red Wine Sauce would be killer on a piece of Beef Tenderloin.
If you try this recipe please be sure to come back and leave a comment here, and don't forget to tag your photo #vickibensinger on Instagram. If you don't follow me on Instagram already make sure you do. It's an easy way to see all the recipes posted in a single swoop through the page.
I know you're going to love this Salmon in a Red Wine Sauce. In fact, I venture to say it will become one of your favorites and those you serve it to.
Click here to watch the video for this recipe.
Salmon in a Red Wine Sauce
A blend of ingredients so flavorful you'll think you're in a Michelin Star restaurant! 
Ingredients:
2 tablespoons extra virgin olive oil
2 tablespoons minced shallots
½ teaspoon cracked black pepper
1 thyme sprig
¼ cup balsamic vinegar
2 cups full-bodied red wine (Pinot Noir)
2 tablespoons heavy cream
4 tablespoons (½ stick) unsalted butter, cut into 4 pieces
Coarse salt
Freshly ground white pepper
*2-4 skinless salmon fillets (8 ounces each)
Directions:
Heat 1 tablespoon of the olive oil in a wide, deep sauté pan set over medium-high heat. Add the shallots, cracked black pepper, and thyme, and sauté for 4 minutes. Add the vinegar and wine, raise the heat to high, bring to a boil, and let reduce until just a few tablespoons remain, approximately 10-15 minutes. Remove pan from heat and whisk in the cream. Then whisk in the butter, I piece at a time. Pour the sauce through a fine-mesh sieve set over a bowl. Discard the solids. Season sauce with salt and white pepper, and set aside, covered, to keep warm.
Warm remaining 1 tablespoon oil in a wide sauté pan set over medium-high heat. Season salmon on both sides with salt and white pepper. Add salmon to pan, skinned side up, and cook until lightly browned, about 4 minutes. Turn fillets over, lower heat to medium, and cook for another 4 minutes.
To serve, ladle small amount of sauce on individual plates then top with salmon (can leave skin on or remove). Alternatively: arrange fillets on a warmed serving platter and drizzle some sauce over each fillet. Pass the remaining sauce alongside in a sauceboat.
Notes:
In place of salmon you can use Tuna, striped bass, and monkfish. Beef Tenderloin would also be a delicious alternative for the carnivore in your life.
*If prefer a lot of sauce per each piece of fish then use only 2 pieces of fish for this recipe or double recipe for 4 servings. I like having lots of sauce pooled at the bottom of my plate.
I prefer having the fishmonger cut 1 pound pieces then I cut them in half so they're square rather than a long sliver. I think it looks prettier and more substantial setting on the plate.
Slightly adapted from: Alfred Portale
Hungry for more? Savor these!
Salmon Poached in Coconut Milk
Balsamic Maple Glazed Salmon with Spinach & Tomatoes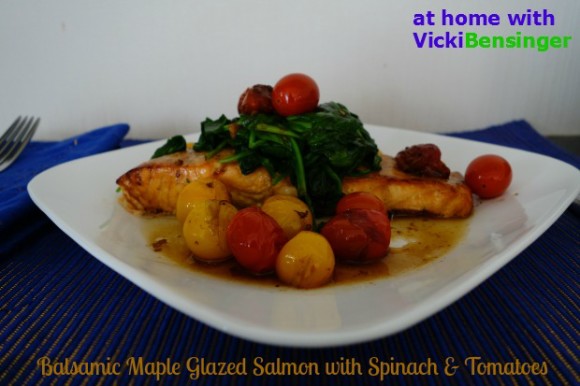 Poached Salmon with Cucumber Ribbon Salad
Tools used to make Salmon with a Red Wine Sauce:
OXO Good Grips fine mesh strainer