Video: Salmon in a Red Wine Sauce
A few weeks ago I shared the recipe for Salmon with a Red Wine Sauce. Not only is this dish elegant but the flavor is outstanding and the salmon literally melts in your mouth.
I had also mentioned the recipe would be ideal for Valentine's Day, a special event, or even when the boss comes to dinner. Since I had several people email me questions regarding the Salmon in a Red Wine Sauce I decided I'd create a quick video.
There's really nothing to this dish. In fact, if preferred you can prepare the sauce in advance, refrigerate, and then heat up just before serving. The salmon on the other hand, is best prepared just before indulging. This way it's served warm which also allows for the sauce to soak into the salmon.
I would suggest pairing the salmon with a nice light salad like my Farro & Arugula Salad, some fresh roasted vegetables or simple roasted asparagus or brocollini, my Mashed Red Potatoes with Creme Fraiche, and finish it off with these Decadent Chocolate Valentine Day Truffles. Of course a bit of champagne might be nice to help set the mood as well.
If you're not a fan of salmon then a piece of fresh tuna would be nice as well.
Here's my video for making Salmon in a Red Wine Sauce:
For the recipe please go to my original post for Salmon in a Red Wine Sauce for Valentine's Day.
As always if you have any questions please leave your comments here, or in the contact section in the tab above. I will get back to you as soon as possible.
Please don't forget to take a photo and tag your picture #vickibensinger on Instagram.
Enjoy!!!
Hungry for more? Savor these!
Baked Salmon over Avocado Mango Salsa with Coconut Lime Rice
Grilled Grouper with a Quinoa Melange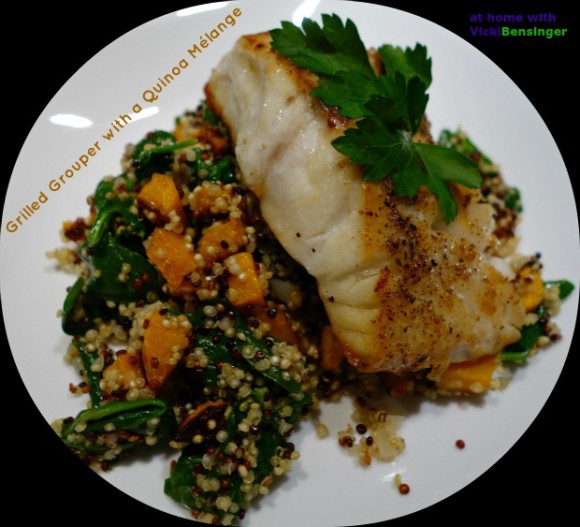 Salmon Stir-Fry with Zucchini Pasta