Balsamic Maple Glazed Salmon with Spinach & Tomatoes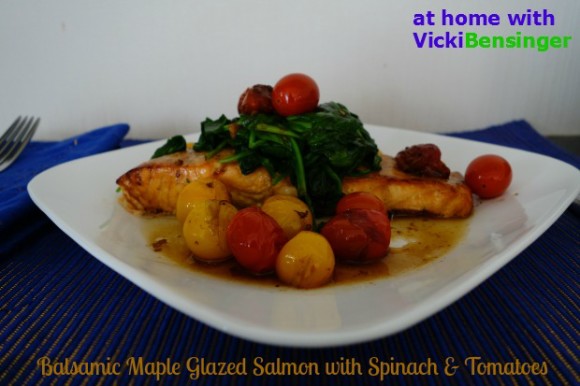 Salmon is the fish of choice in my home.  I like to prepare it as many ways as I can so my family doesn't get bored with it.  When I saw this recipe packed with healthy and flavorful ingredients I knew I had to try it.  To my surprise it was voted their all-time favorite – and I've made lots of salmon. 
There are several steps to this recipe, but each one is easy, and can all be done simultaneously.
Since our weather turned rainy and cold Tuesday evening, I opted to roast the salmon in the oven rather than grill it.  It turned out perfect.  While this isn't my first time preparing the dish, I can confidently say both cooking methods create stellar results.  If you can't find both red and yellow grape tomatoes, opt for whichever the grocer has on hand.
If adding carbs to your meal is important, then I'd suggest mashed potatoes, and plating them as described below.
While this dish is perfect any day of the week it also makes a lovely, and colorful meal to serve your guests.  I hope you'll try it.
Here's the recipe……

Balsamic Maple Glazed Salmon with Spinach & Tomatoes
Ingredients:
1/4 cup fresh orange juice
1/4 cup pure maple syrup
5 tablespoons balsamic vinegar
2 cloves garlic, minced
3 tablespoons olive oil
4 (6-8 ounce) pieces Salmon
Salt
Fresh Ground Pepper
10 ounces freshs spinach, washed
1 container (cup) yellow grape tomatoes
1 container (cup) red grape tomatoes
Directions:
In a small saucepan, combine orange juice, maple syrup, 3 tablespoons balsamic vinegar, and 1 clove garlic.  Bring to a boil and cook for 5 to 6 minutes.  Stir in 1 tablespoon oil.
Prepare grill (medium-high heat) or set oven to 450F degrees and line cookie sheet with foil.  Brush salmon generously with glaze, salt and pepper if desired, and grill (or roast) approximately 10 minutes or until cooked through.
Meanwhile, place spinach in a large saucepan over medium heat.  Cover and let steam with just the water clinging to the leaves, stirring once, until wilted.  Season with salt and pepper (if desired) and set aside.
Heat remaining 2 tablespoons olive oil in a medium sized skillet over medium-high heat.  Add tomatoes and remaining clove of garlic; saute 1 minute.  Add remaining 2 tablespoons balsamic vinegar; saute 30 seconds.  Season with salt and pepper.
To Serve: Place mashed potatoes (if using) on plate.  Top with salmon fillet.  Top salmon with some spinach.  Spoon tomatoes and sauce over and alongside salmon.  Serve immediately.
Adapted from: Rudi Sodamin