Poached Salmon with Cucumber Ribbon Salmon
Independence Day is today and here in St. Louis the temps should reach a scorching 100F degrees or more with the heat index.  That's not factoring in the high humidity.  That's when cooking indoors vs. barbecuing is a must.  This Poached Salmon with Cucumber Ribbon Salad isn't just refreshing but will give you the energy needed to withstand the heat. 
Last week I shared a couple of holiday desserts like my No-Bake Berry Tart   and my Red, White, & Blue Cookies. Both desserts will be enjoyed by all straight through the weekend.
I know most of you will probably be outside grilling even in the heat, I get it! However, many of you will have friends and relatives in town for the next few days which means not just one meal but multiple dinners.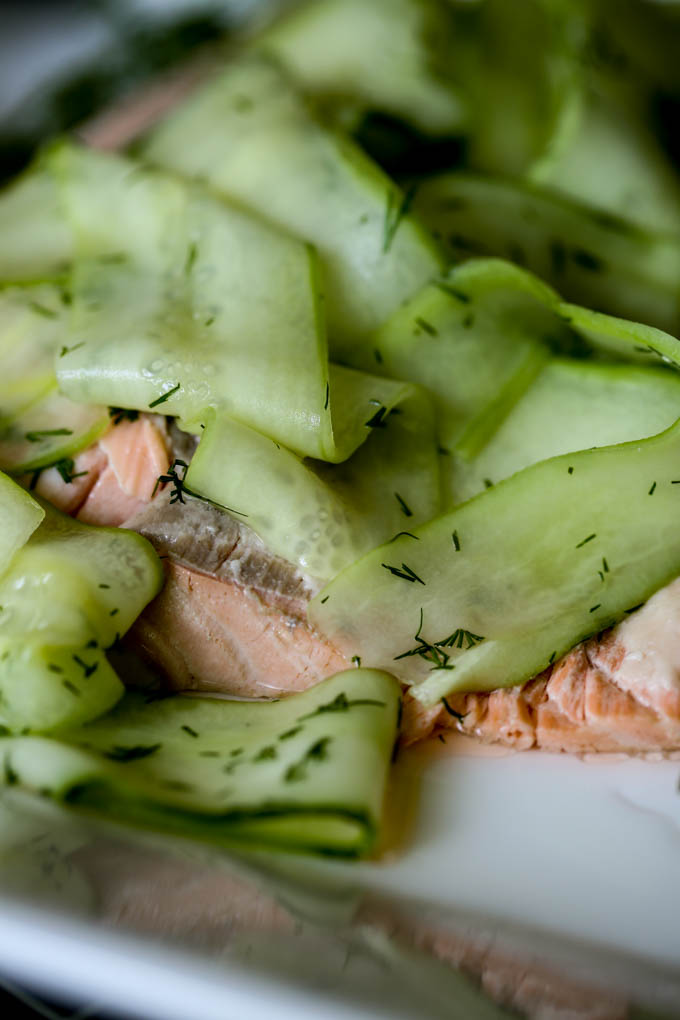 With that in mind my Poached Salmon with Cucumber Ribbon Salad is a light, refreshing and healthy alternative to most of that grub food served on the fourth. Who says every meal has to be artery clogging? Whatever leftovers you might have can be served the next day with eggs for breakfast, in a wrap for lunch, added to greens for a salad or even a Salmon Nicoise with potatoes, tomatoes, green beans and olives for lunch or dinner. The possibilities are endless!
Poaching fish is one of the easiest things you can do.  Place your fish in a warm bath for a period of time to slowly cook before removing from the pot and serving.  Your bath can have ingredients added to the poaching liquid like:
wine
broth
greens
acid or citrus
herbs
spices
or just water.  It's really whatever you want.  Adding additional ingredients to your water will definitely enhance the flavor of your food but it's not a requirement.  It's totally up to you.
This dish makes a court bouillon – (a flavorful liquid in which to poach foods), then removed from the liquid and finished off with a simple topping from a sauce to a salsa.  There are many recipes for court bouillon.  If you're not a fan of mine check out the varieties online.
If you don't feel like creating this recipe all at once you can certainly make the court  bouillon a day ahead eliminating one extra step. I would suggest if you have the time, make this recipe a day ahead.  Store the poached salmon in the refrigerated, covered with plastic wrap, and the cucumber ribbon salad no more than a day ahead or the day of, and refrigerate until ready to plate with the salmon. Working in steps makes everything a breeze, in my opinion.
This would be ideal served with my Chilled Avocado, Cucumber, and Melon Soup if you're not opposed to having cucumber in another dish.  I especially like serving this in shot glasses for a simple and cold appetizer.
You might also like to set on the table my Roasted Red Pepper Hummus for a healthy nibble before serving the entree. In addition a nice bowl of fresh fruit to accompany this light entree would be ideal.
Whether you serve the Poached Salmon with Cucumber Ribbon Salad as the only entree or have several, everyone is sure to enjoy it – at least those that love salmon.
I hope everyone enjoys the day with family and friends. Be Safe & Happy 4th of July!
Poached Salmon with Cucumber Ribbon Salad
This Poached Salmon with Cucumber Ribbon Salad is ideal on a hot summers day - light, refreshing, and energizing!
Ingredients:
Court Bouillon
1/2 cup fennel sliced, include stalk and bulb
1 yellow onion, sliced
1 tsp. whole black peppercorns
1 1/2 cups dry white wine
3 fresh bay leaves
1 Tbsp. salt
2 lbs. fresh salmon filet (center cut) with skin on
Cucumber Ribbon Salad
2 English Cucumbers, peeled, sliced into thin ribbons using a mandoline or peeler
1/3 cup white wine vinegar
2 Tbsp. fresh dill, chopped
1 Tbsp. fine sugar (granulated will work too)
Directions:
Court Bouillon & Salmon: Place fennel, onion, peppercorns, wine and bay leaves in a large saucepan with 12 cups water and 1 Tbsp. salt.
Bring to a boil, then reduce and simmer for 10 minutes.
Strain into a deep, roasting pan, fish kettle, or pasta pot like I did. Discard solids.
Bring the court bouillon to a boil, then set fish into pot, skin-side up.
Return bouillon to a simmer over medium heat, and simmer for 1 minute.
Remove pan from heat, leaving salmon to poach, uncovered, in the liquid.
Leave fish in the pot until the liquid has cooled.
Carefully lift the salmon out of the pot, allowing the excess liquid to drain.  Place on a serving plate and peel away the skin.
Cover with plastic wrap, and refrigerate.  Remove from refrigerator 30 minutes before serving to allow salmon to reach room temperature.
Cucumber Ribbon Salad: Peel the cucumber then cut in half.
Using a mandoline or peeler, create thin slices of cucumber and place in a bowl or rectangular dish.
Add the vinegar, dill, sugar and pinch of salt in a small bowl or mug.  Combine, then pour over the cucumber ribbons and mix gently to cover all surfaces of cucumber ribbons.  Cover and refrigerate until ready to serve.
Serve: With Salmon on a platter, using tongs, carefully place cucumber ribbons on top of the poached salmon decoratively.  Can serve additional cucumber ribbons on the side if have any remaining.
Hungry for more? Savor these!
Baked Salmon with Avocado Mango Salsa over Coconut Lime Rice
Salmon Poached in Coconut Milk
Salmon Stir-Fry with Zucchini Pasta
Tools Used to Make Poached Salmon with Cucumber Ribbons:
OR