Chicken Milanese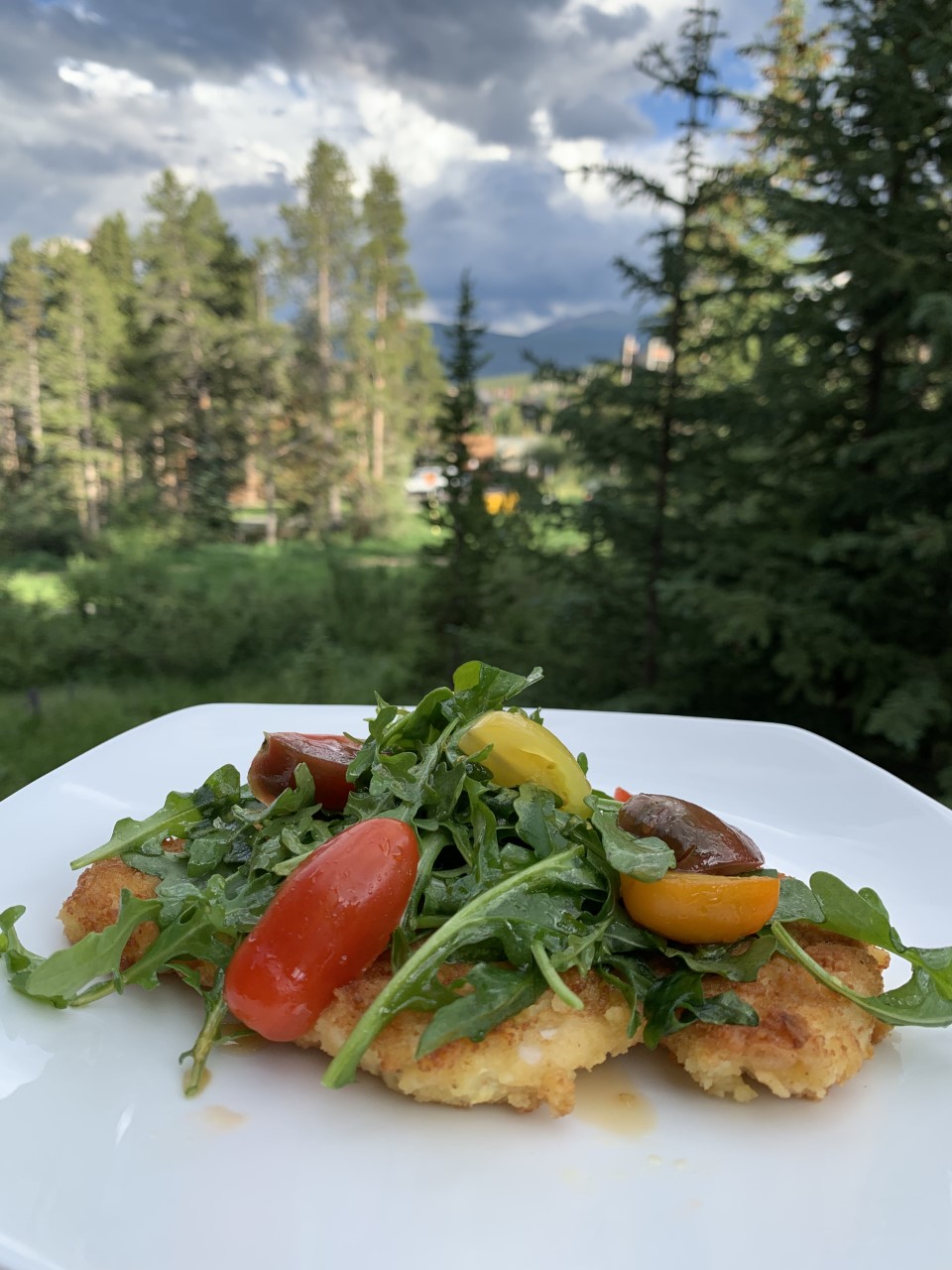 I'm always looking to create new and healthy recipes that also won't take my clients and followers hours to prepare.  When I came across this recipe from Katie at Katie's Pizza & Pasta restaurant in St Louis, I couldn't resist.
This isn't my recipe, but when I saw Katie create it I decided I needed to make this for dinner last night, and I did.  It came together so quickly and tasted incredible!
To top it off, this dish looks like it takes hours to prepare, and is so beautiful – it's ideal to serve guests.
Some people feel the best dish to serve guests is one that's fattening. I'm here to tell you though that serving a dish like this Chicken Milanese, will leave your guests fully satisfied, and not like they need to go home and go to sleep.
If you're cooking for guests this dish is a win win.  Why? Because it's comes together so quickly, you're not slaving over the stove and can actually enjoy your company.  What could be better than that?
The blend of flour, panko, and parmesan puffs up beautifully on the chicken breasts, leaving it with a golden and flavorful crust – you won't want to miss!
Once cooked, top with this simple arugula and tomato salad, lightly dressed with lemon and olive oil, then drizzled with a bit of honey.  It's perfect!
Try this recipe for Chicken Milanese, and I guarantee you'll love it!  I'm sure it will become a staple on your weekly menu.
Thank you Katie!
Watch Katie prepare Chicken Milanese here!
Chicken Milanese
This Chicken Milanese is sure to wow your guests, and with minimal prep or cooking time making it ideal for the cook!
Ingredients:
1 chicken breast, butterflied and pounded thin
1 egg
1 Tbsp. flour
1 Tbsp. Panko breadcrumbs
1 Tbsp. parmesan
handful of fresh arugula
4 baby heirloom tomatoes, halved (or large heirloom)
squeeze of half a lemon
drizzle of olive oil
drizzle of honey
salt & pepper
Directions:
Take chicken breast and butterfly. Place in plastic bag and flatten with a mallet.
Heat oven to Bake 350F degrees.
On a separate plate whisk egg.
On another plate combine flour, panko and parmesan. (Katie did this differently but this worked perfect for me and saved me a plate).
Coat chicken on both sides with the egg, then dip both sides and coat in flour mixture. Sprinkle both sides salt and fresh ground pepper.
In a heavy skillet cover bottom with olive oil. Heat until you see ripples or smoke rising.
Place one edge of chicken in the oil and lay the rest down away from you. This will avoid getting splattered with oil. Cook on medium heat for 3-4 minutes. Lift chicken and flip over, setting down the chicken again in the oil and away from you so as not to splatter you. Cook for an additional 3-4 minutes.
Remove chicken and place on a sheet pan in the oven for 5 minutes.
In a small bowl place a handful or arugula, sliced tomatoes, lemon juice, olive oil, salt & pepper.
When ready to serve put chicken on a plate, toss salad and carefully place on top of chicken. Drizzle with honey.
Serve and Enjoy!
Hungry for more? Savor these!
Chicken Meatballs over Butternut Squash Noodles
Pomegranate Roasted Chicken Breasts