Chicken Meatballs over Butternut Squash Zoodles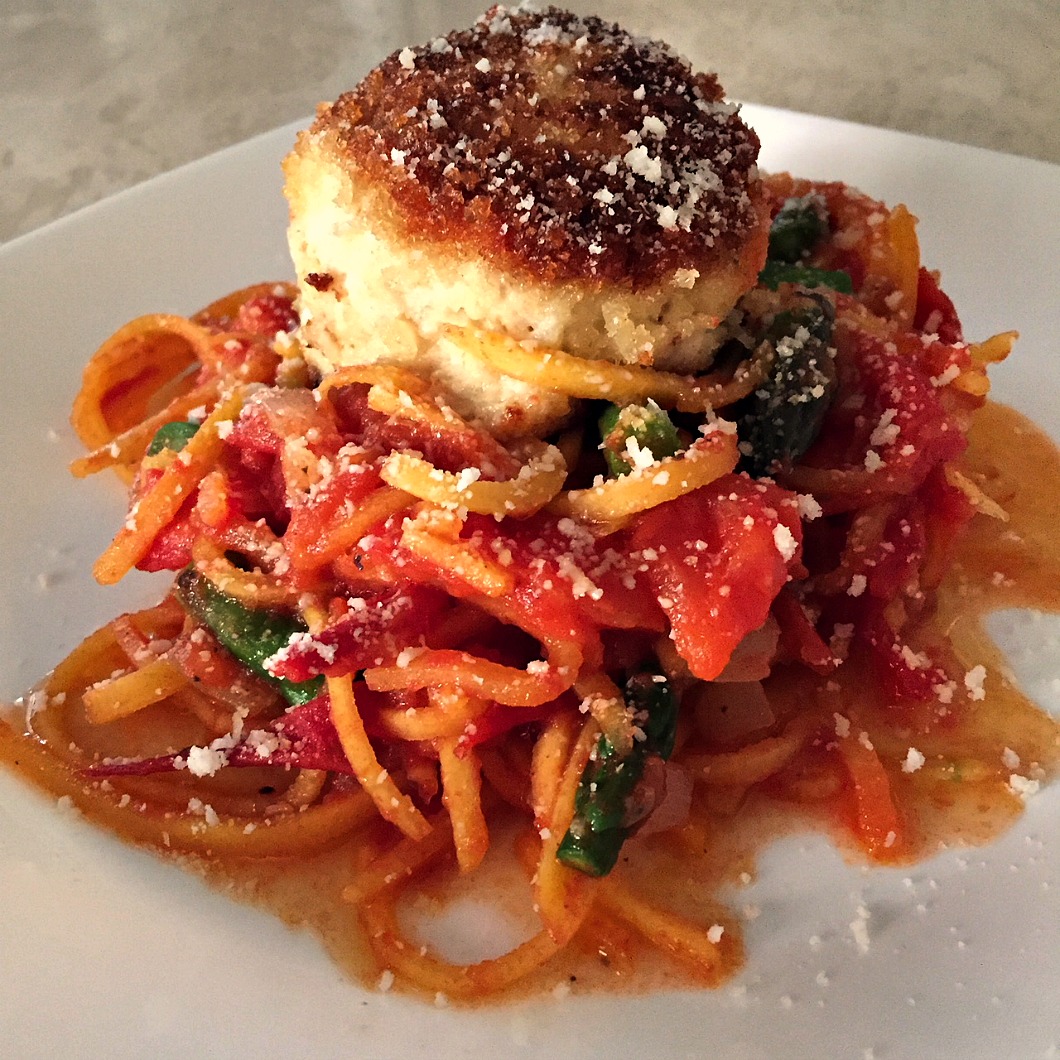 I must be feeling lazy lately because I keep coming up with recipes from the food I have in my frig and pantry. I guess that's a good thing.  At least I'm using what I already have at my disposal rather than going and purchasing new ingredients. 
I love chicken burgers, newly discovered about 5 years ago.  I can eat them without feeling sick afterwards.  That is so long as I don't overdo the ingredients I add to the ground chicken meat.
I had a craving for spaghetti and meatballs from a local owned restaurant here in town, but knew I'd regret it almost immediately following my last bite.  However, indulging in butternut squash spaghetti or zoodles wouldn't give me that same stuffed, and miserable feeling.  Especially since it's actually a veggie rather than a starch.
I had purchased some ground chicken yesterday with the intent to make either spaghetti and meat sauce, using the ground chicken or my typical Grilled Chicken Burgers. Instead I decided to use the Butternut Squash Zoodles I had purchased at Whole Foods.
I do have a spiralizer but just didn't feel like going to the trouble of cleaning it up afterwards.  I was feeling kind of lazy.
I did go out and get about 10 Roma tomatoes to add the the dish while using my half unused batch of fresh asparagus, yellow onions, and minced garlic.
It truly is amazing what you can come up with to create for a meal if you just think about it, or think outside the box.
I was pleasantly surprised with the entire dish, as was everyone else that tried it.  I'll definitely be making it again.
Unfortunately, I didn't measure anything so I'm going to give you what I think they should be, and how each component of the dish should look.
If you love spaghetti and meatballs then I hope you'll try my healthier version of Chicken Meatballs with Butternut Squash Zoodles.
Chicken Meatballs with Butternut Squash Spaghetti
You won't even miss the beef when you try my Chicken Meatballs with Butternut Squash Zoodles!
Ingredients:
1 pound ground chicken breast
1 egg
1/2-3/4 cup Progresso Italian Bread Crumbs
1/4-1/2 cup Parmesan cheese
1/2 cup Panko Bread Crumbs
Salt & Fresh Ground Pepper
Butternut Squash Zoodles (Whole Foods)
10 Roma Tomatoes, seeds removed (or Large Can of San Marzano Whole Peeled Tomatoes)
1/2 bunch asparagus, cut into bite size strips
1/4 cup chopped onions
1 clove garlic, minced
4 fresh basil leaves, sliced chiffonade
1 Tbsp. olive oil
Directions:
Meatballs: In a large bowl add ground chicken breast, and egg to combine.  Add in Progresso bread crumbs, Parmesan, salt & pepper.  The texture should be sticky but able to hold a shape when rolled into a ball, not dry.  If not add additional bread crumbs.  Using a tablespoon, scoop up a heaping scoop of chicken mixture.  Roll into a ball (golf ball size). Repeat with remaining meatballs.
Roll meatballs into Panko Bread Crumbs. Set aside or in the refrigerator until ready to cook.
In a large saute pan add olive oil. Once hot add chicken meatballs and cook.  Roll to brown all sides. If oil starts to splatter, reduce heat, and place a lid on top until meatballs are cooked through. Don't overcook!
Zoodles: In a large saute pan, add olive oil.  When hot add in chopped onions and garlic.  Saute until onions have softened and translucent. Add tomatoes and cook until juices come out and tomato skins have softened. Add fresh ground pepper, butternut squash zoodles and asparagus.  Blend together and cook until asparagus gets bright green and butternut squash are al dente, add basil. Remove from heat.
Plate: Add butternut squash spaghetti, top with 1-2 meatballs, sprinkle with fresh grated Parmesan. Serve
Hungry for more? Savor these!
Tri-Squash Zoodles with Fresh Tomato Sauce and Chicken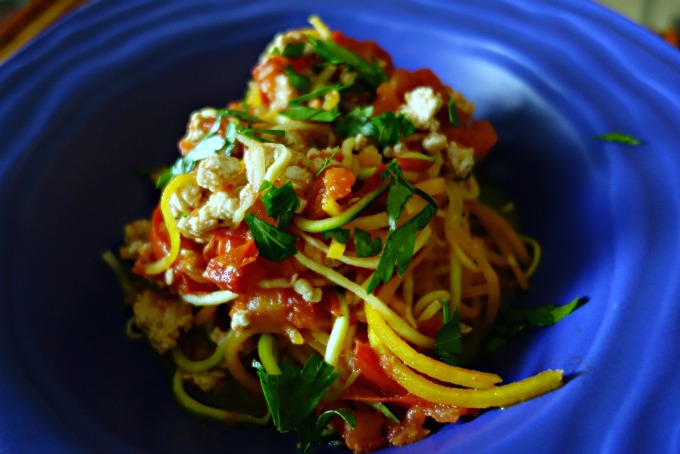 Towering Eggplant Lasagna with Fresh Mozzarella
No-Noodle Butternut Squash Lasagna