Pomegranate Roasted Chicken Breasts
Fall officially begins this Saturday, September 22nd. While I love fresh summer fruits and vegetables, I'm always eager for autumns bounty. 
The jewels of the fresh autumn harvest are as comforting to me as snuggling up on the sofa in my sweats, socks and piping hot tea, while watching the red, yellow, and orange leaves float to the ground. Then as the leaves pile up in our yard, heading outdoors to rustle through them with our dog.
We use to play in the leaves with our kids, but they're grown and out of the house. Fortunately they still come by to visit often, as we all play with our pup in the autumn leaves.
The leaves haven't started changing colors yet, but this weekends forecast calls for rain, thunderstorms and cooler temperatures. With that I'm sure the leaves will begin to change color, eventually leaving the trees bare.
In anticipation of falls arrival I couldn't help myself but to create an autumn dinner this past weekend. The farmers market had an abundance of fall vegetables that I couldn't resist.
With my purchases I created Pomegranate Roasted Chicken Breasts, an Autumn Bounty Salad, and a Fig dessert that I'll be sharing all this week.
I'm a huge fan of a making a whole roasted chicken, but decided to get boneless chicken breasts with the skin left on. My family prefers chicken breasts and roasting without the skin would only produce a dry meat. Most grocers don't carry boneless chicken breasts with the skin on so you'll have to ask them to remove the bones.
I rubbed each breast with oil and tucked a slice of a Cara Cara orange underneath for additional flavor and moistness.  The Cara Cara navel oranges appear just at the beginning of fall. They're super sweet, and flavorful. Their flesh is red, which was perfect for my Pomegranate Roasted Chicken Breasts.
After I poured some sauce on top, I sprinkled the zest of the Cara Cara navel orange over each breast along with salt & pepper. Then I began roasting!
I didn't include any additional vegetables on the roasting pan – I could have, but opted not to.  Plus my salad was packed with autumns bounty so I was confident we would all get a healthy dose for dinner.
All that indulged in my creation raved about it. There was barely anything left on the table except empty plates, and bowls.  A sure sign my dinner was a hit!
I literally put this entire meal together from start to finish in all of an hour, and 15 minutes.  That said, I did roast my chicken on convection/bake so if you only have the bake mode it may take a bit longer.
As always, before you start to cook be sure to Mise en Place  your ingredients to insure you have all on hand – plus it saves time.
If you make my Pomegranate Roasted Chicken Breasts please be sure to tag #vickibensinger on Instagram so everyone can see.  I hope you enjoy this meal as much as we did.
Pomegranate Roasted Chicken Breasts
My fall Pomegranate Roasted Chicken Breasts are sure to comfort you on those cool autumn nights.
Ingredients:
6 boneless chicken breasts, skin on
zest of an orange (Cara Cara), set aside
1 navel orange, Cara Cara if available, sliced in rounds (1/4-inch)
1 cup low-sodium chicken broth, homemade or store bought
1/2 cup POM pomegranate juice
1/2 cup pure maple syrup
sea salt or kosher salt
fresh ground pepper
extra-virgin olive oil
Directions:
Preheat oven to 400F degrees.
Line a large sheet pan with heavy-duty foil. (See Notes)
Zest the orange being sure not to get any of the pith (white) or it will be bitter. Set zest aside.
Slice orange in the round into 1/4-inch slices.
Using your fingers separate one side of the skin from the meat of each chicken breast, and place one slice of orange underneath.
Rub olive oil over each breast, and sprinkle with salt & pepper.
Place pan in oven for approximately 25 minutes.
In a measuring cup combine chicken stock, POM, and maple syrup. Stir to combine.
After 25 minutes open oven door and add half the stock, pouring over the chicken as you add it to the pan. Sprinkle top of each breast with orange zest. *With remaining sauce place in a saucepan on top of the stove and reduce until ready to serve. (See Notes) Bake chicken for an additional 30 minutes or until skin is deep golden brown.
If needed check temperature to insure it's reached 165F degrees.
Remove from oven.
Plate: Transfer chicken breasts to a platter. Serve remaining sauce in a gravy boat on the side. (See Notes)
Garnish: Sprinkle with pomegranate arils, thyme, and any remaining orange slices.
Serve & Enjoy!
Notes:
For added flavor add cloves of garlic scattered on the sheet pan.  They can be left in the skins then squeezed out once served.
You can also layer the pan with baby potatoes and stemmed carrots.
Alternatively if you have a large, deep roasting pan that will hold all the chicken breasts without touching, you can add all the sauce to the pan. Otherwise if using a shallow sheet pan you stand the chance of the sauce bubbling over or spilling, once removed from the oven. (You need space between the chicken breasts so they can adequately crisp up).
I forgot to sprinkle my Pomegranate Roasted Chicken Breasts with Arils prior to serving which would have created an additional pop of color to the platter. (Optional but pretty)
I cooked my chicken on convection/bake which takes less time.  If your oven only has the bake mode you may need an additional 15 minutes in the oven.  To insure proper temperature, use a meat thermometer for accuracy.
Hungry for more? Savor these!
White Balsamic Glazed Chicken Breasts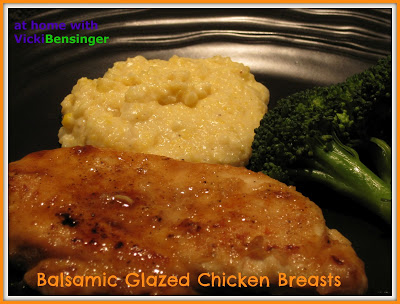 Orange Glazed Chicken with Wheat Berry Salad
Tools used to Make Pomegranate Roasted Chicken Breasts: