Decadent Chocolate Valentine Day Truffles
Valentine's Day was created as a day to celebrate and express our affection to those we love, care about, and those we feel grateful to have in our lives.
Many individuals show their gratitude by giving flowers, and cards.  However, have you ever considered gifting a sweet homemade treat to those special to you, like these Decadent Chocolate Valentine Truffles? 
Chocolate & roses are the top gifts for Valentine's Day.  Roses have a sensual fragrance and chocolate is said to be an aphrodisiac. In fact, eating chocolate sends out numerous neurotransmitters (here are a few) into the brain increasing levels of:
Endorphins – work to lessen pain and decrease stress.
Serotonin – known as an anti-depressant from the chemical tryptophan found in chocolate.
Phenylethylamine – called the "chocolate amphetamine" or "love drug"
Basically if eating chocolate makes you happy, then those that indulge are more open to romance. While this theory isn't proven, the simple act of gifting something so luscious and velvety can make one swoon! So why wouldn't you consider gifting chocolate then, this Valentine's Day?
Truffles have become an all-time favorite for chocolate lovers, since its origination in France in 1895.This ball of chocolate ganache, dusted with cocoa powder quickly received the name, truffle, because of their resemblance to the dark wrinkled mushroom.
Store bought chocolate truffles can have a hefty price tag, but cost only a fraction to make yourself. Quick & easy to create with no baking involved, these smooth and creamy balls of chocolate can practically be made with your eyes closed.
Over the years I've shared various recipes that I've linked to below, for making truffles with Oreo's, avocados, and infused with flavored vinegar's and liqueurs. You can create shapes or roll them in a ball, and coat them in whatever you desire.  When the holidays come around or a special occasion such as a baby shower or birthday, use your imagination.
Select superior ingredients for the best tasting truffles.  Always use full fat cream NOT reduced fat.
Roll ganache in:
cocoa powder
crushed pecans or other nuts
sprinkles (jimmies, non-pareils)
edible glitter
coconut
toffee bits, etc.
Chocolate ganache on its own is heavenly!  However, if you'd like to jazz up the flavor, try adding splashes of:
Raspberry balsamic vinegar
Strawberry balsamic vinegar
Fig balsamic vinegar
Other flavored vinegar's
Brandy
Baileys
Liqueurs
extracts
The possibilities are endless. You're the chef in your kitchen – create your own masterpiece this Valentine's Day! Don't forget to tag your photo #vickibensinger on Instagram!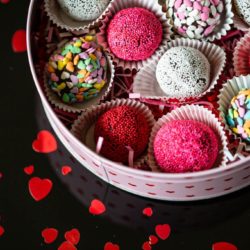 Decadent Valentine Day Truffles
These Decadent Valentine Day Truffles are a simple yet luscious treat to share with your significant other or to gift to someone special. They're so beautiful you may find you don't want to spoil their beauty by indulging!
Ingredients:
1/2 cup heavy cream
10 ounces of dark chocolate (I used Nestle dark chocolate chips)
2 teaspoons flavored balsamic vinegar (raspberry, strawberry, etc.), or liqueur, optional
Directions:
Put cream in microwaveable safe bowl. Heat on high until cream starts to simmer, about 1 to 1 1/2 minutes. Add chocolate, allow to sit for 5 minutes without stirring.
Stir chocolate and cream together until smooth and glossy, add flavoring if desired. Lay film of plastic wrap onto chocolate sealing around edges. Refrigerate for 2 hours or longer to firm ganache.
Using a mini ice cream scoop or teaspoon, portion out ganache, then roll into a 1-inch ball with your hands. Immediately roll into topping of choice, until completely coated. Set on a foil, parchment lined tray, or mini baking cups.
Refrigerate truffles once coated.
Serve on a platter or in gift boxes for all to enjoy!
Hungry for more? Savor these!
Chocolate Avocado Snowball Truffles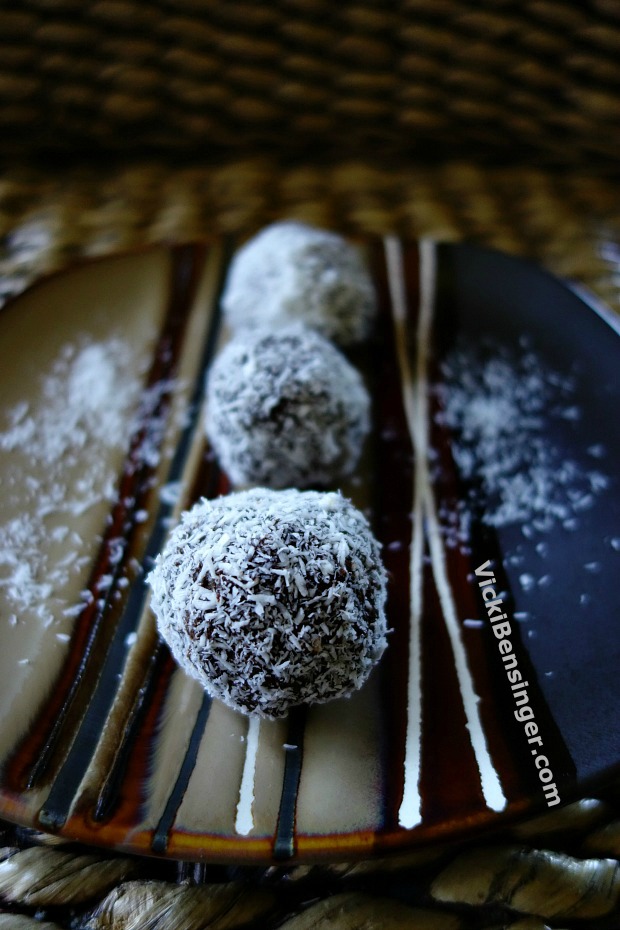 Chocolate Raspberry Balsamic Truffles
Tools I used to make these Valentine Truffles: