Shredded Brussels Sprouts Salad
I'm sure I've mentioned before that growing up, and even until recently, I detested Brussels Sprouts. Trying them roasted though changed my tune and since then have loved trying new versions.
This past weekend I had this wonderfully light and tasty Shredded Brussels Sprouts Salad that I had to recreate. I think you'll love it!
Brussels Sprouts are just mini cabbages and when shredded taste very similar to Cole slaw.
After eating at a local restaurant this weekend I knew I had to try their Shredded Brussels Sprouts Salad with Apples, Cherries, and Apple Cider Vinaigrette. My friend Julie had raved about their salad saying, "it's the best I've ever had!"
The restaurants salad had candied pecans and white cheddar in it, which I omitted. I wasn't up for making candied pecans, and hated to purchase them when mine are so good. I totally forgot about the white cheddar. However, I liked mine just as well. Pepitas have been added (pumpkin seeds) for that extra crunch – they just don't have the sweetness that candied pecans would have. I didn't miss it at all.
This is a salad you'll love – it's light, healthy, and so flavorful. Plus, you can always add chunks of chicken, bacon, salmon or other protein to make it an entree.
After rinsing the Brussels Sprouts in a colander I cut off the ends of each, then sliced in half.
To shred, I sliced by hand using my Santoku knife, simply cutting across making thin strips. This did take some time, but I enjoy that. Otherwise toss the sprouts into the food processor using the shredding blade. Doing it that way will cut your time substantially!
Alternatively you could also purchase shredded Brussels Sprouts in the bag, they sell it at various locations. However, my daughter had a bad experience after purchasing some, and got quite ill. That said, I'd rather buy fresh, whole Brussels Sprouts, and figure out which way to slice them myself.
The Apple Cider Vinaigrette is what makes this salad so light and tasty. I use the Bragg's which is suppose to have tons of medicinal benefits. I figure the healthier the better, right?
With the exception of shredding the Brussels Sprouts this salad comes together in no time at all.
I hope you enjoy it!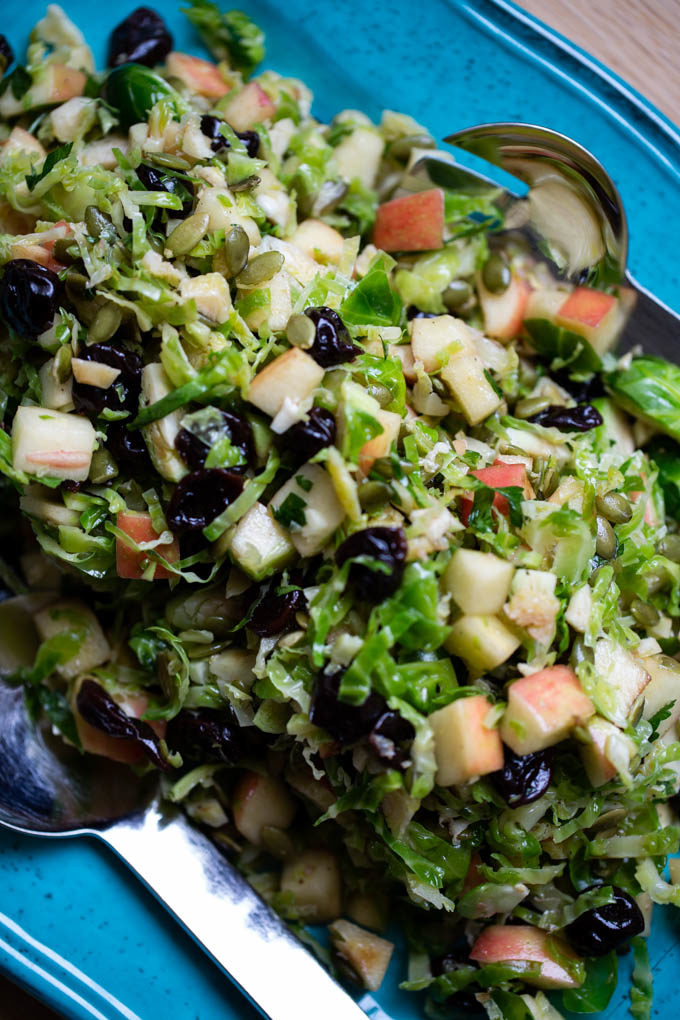 Shredded Brussels Sprouts Salad
This Shredded Brussels Sprouts Salad is a light, refreshing salad to enjoy year round.  Serve as is, or add a protein for a hearty entree'.
Ingredients:
Slaw
16 oz. bag fresh whole Brussels Sprouts, rinsed, halved, loose leaves removed
2 Honeycrisp apples (or your favorite), cubed
1 cup Pepitas (or candied pecans, or other nut of choice)
1 cup dried cherries
1/2 cup fresh parsley, chopped
1/2 cup white cheddar, shredded (optional) I omitted
Apple Cider Vinaigrette
1/4 cup

 apple cider vinegar (or preferred brand)

1 1/2 tablespoons

pure maple syrup (not Aunt Jemima)

1 teaspoon

Dijon mustard

1/4 cup

 plus 2 tablespoons olive oil
Directions:
Whisk together apple cider vinegar, maple syrup, Dijon mustard, and olive oil, until combined. Set aside.
In a large bowl combine Brussels Sprouts, apples, Pepita's (pumpkin seeds or other nut), dried cherries, and parsley.
Drizzle lightly with dressing. Blend to combine. Add salt & pepper to taste if desired.
Serve
Note:
To clean Brussels Sprouts - rinse in colander.  Cut base of stem, then slice in half.  Remove loose leaves. If shredding with a knife, slice thinly across or place in food processor with shredding blade.
To make this an entree: Add protein of choice - chicken, fish, beef, tofu, etc.
Change it up: Add your favorite nuts, cheese, dried fruit, etc. to make this your own.
Not a fan of raw Brussels Sprouts? Then try roasting them first with a touch of oil. Once cooled, thinly slice and proceed with the recipe above.
Hungry for more? Savor these!
Lentil & BBQ Corn Salad with Cilantro Lime Vinaigrette