Rainbow Slaw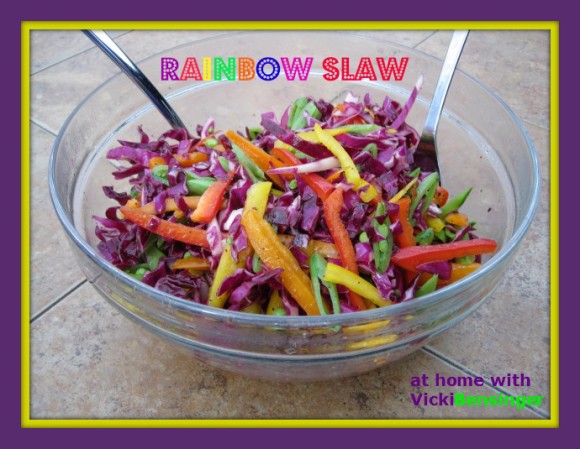 I hope everyone had a fun 4th of July.  Last week we made our way to the Colorado mountains, to escape the Midwest heat.  The weather has been cool and beautiful.  Perfect biking, and hiking weather.  Our dogs love it here, even though they always get sick from drinking the water from the streams.  You'd think by now their systems would be use to it, but I guess they aren't exposed to it enough.
The 4th of July was a quiet day for all of us.  In fact we all hit the sack early.  However, everyone wanted the typical fare for dinner, so I prepared barbecued ribs, baked beans, watermelon and slaw, a favorite of mine.  This year I decided to add lots of colorful veggies to my slaw – it looked like a rainbow and tasted spectacular.
My favorite is an oil and vinegar slaw, but if you prefer it creamy, simply add a bit of mayo to this dressing.  I hope you'll try this.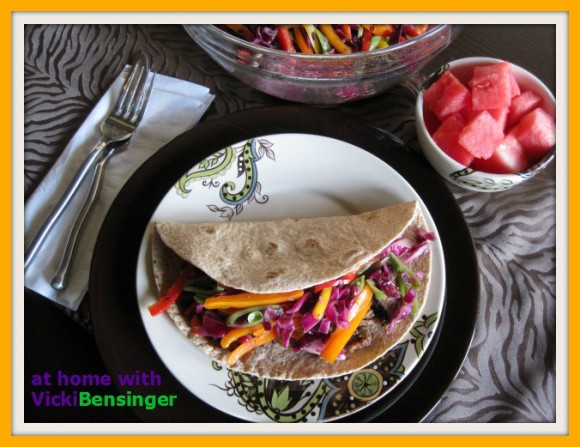 For leftovers the next day, I cut the beef off the rib bones, heated it, then set it on a whole wheat tortilla, and topped it with my rainbow slaw.  Wow, it was like a party in my mouth with all the flavors.  Of course, you could do the same thing on a bun, if that's what you prefer.
My rainbow slaw is perfect for a barbecue, it packs easily to bring to a party as a side, great added to dishes or even as an entree' with some protein added.
Here's the recipe, I think you'll like it.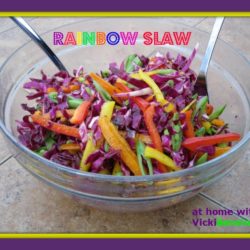 Rainbow Slaw
Ingredients:
Slaw:
1/2 head of Purple Cabbage, shredded
1 package Sugar Snap Peas, cut each on bias
1 each of Red, Yellow, and Orange Bell Pepper, julienne sliced
1/2 Red Onion, sliced (optional)
Dressing:
1/2 cup cider vinegar
1/3 cup canola oil
1/2 cup granulated sugar
1 teaspoon celery seed
1 Tbsp. prepared mustard
salt & pepper to taste
Directions:
Combine cabbage and remaining vegetables in a large bowl.
Whisk dressing ingredients together.
Pour dressing over slaw and mix to combine.
Add salt and pepper to taste.
Serve.