Caprese Quinoa Salad
The other day I made a batch of pesto. In an effort to use it up I decided to create this Caprese Quinoa Salad.
I find people either love or hate quinoa.  When they tell me they dislike it I ask if they washed it before cooking.  In most cases if they were the ones preparing it they've told me "NO" I didn't wash it. 
The key to delicious tasting quinoa is to wash/rinse it before cooking. Why? Quinoa has a natural insecticide built into it called, "saponin."
Saponins are bitter compounds that are naturally present in quinoa—along with lots of other foods, including  a wide variety of legumes, vegetables, and herbs. They get their name because they lather up in water, like soap suds. In fact, the herb soapwort is one of the most concentrated sources of saponins and can be used to make a natural cleanser.
Like many other phyto-compounds, saponins are produced by plants as a method of natural pest control. The bitter taste of these compounds makes the plant less palatable to birds, insects, and humans.
When people tell me they don't like the taste of quinoa I simply tell them to try it again. Only next time you decide to make quinoa rinse the amount you plan to use, well, under a fine mesh strainer.  Then cook as directed on the package or as stated in your recipe.
Caprese – meaning Isle of Capri, is well known for its fresh tomatoes, mozzarella and basil.  Hence, the reason for the title of my dish.
I did however decide to use fresh spinach as part of my salad since I already had made a basil pesto that I planned to use for the dressing of my salad.
Even though the star ingredients of this dish is fresh mozzarella, basil and tomatoes, I highly recommend adding other ingredients to suit the type meal you plan to serve.
The bulk of my salad is quinoa, however, I've added the fresh mozzarella, tomatoes, and basil.  Other ways I could jazz this recipe or recreate it, would be by using:
matchsticks of raw zucchini
strips of grilled chicken breasts
grilled shrimp
variety of cheeses – jack, cheddar, feta, etc.
sliced scallions, chopped garlic
sliced bell peppers, or cucumbers
slivered almonds, pistachios, or nut of choice
variety of salad dressings or pesto
By adding a variety of ingredients such as the ones above, you could create an entirely new salad to suit your palate or those you're serving.  If you do change up the name to make it your own version. For instance you might enjoy creating a Greek Quinoa Salad by using:
quinoa
grilled chicken breasts
chopped cucumber
feta
olives
scallions, fresh garlic, fresh chopped oregano
slivered almonds or pistachios
zest of a lemon
lemon vinaigrette
I think you'll find quinoa to be so forgiving to whatever you add to it. You could say it's like working with tofu – it becomes whatever you want it to.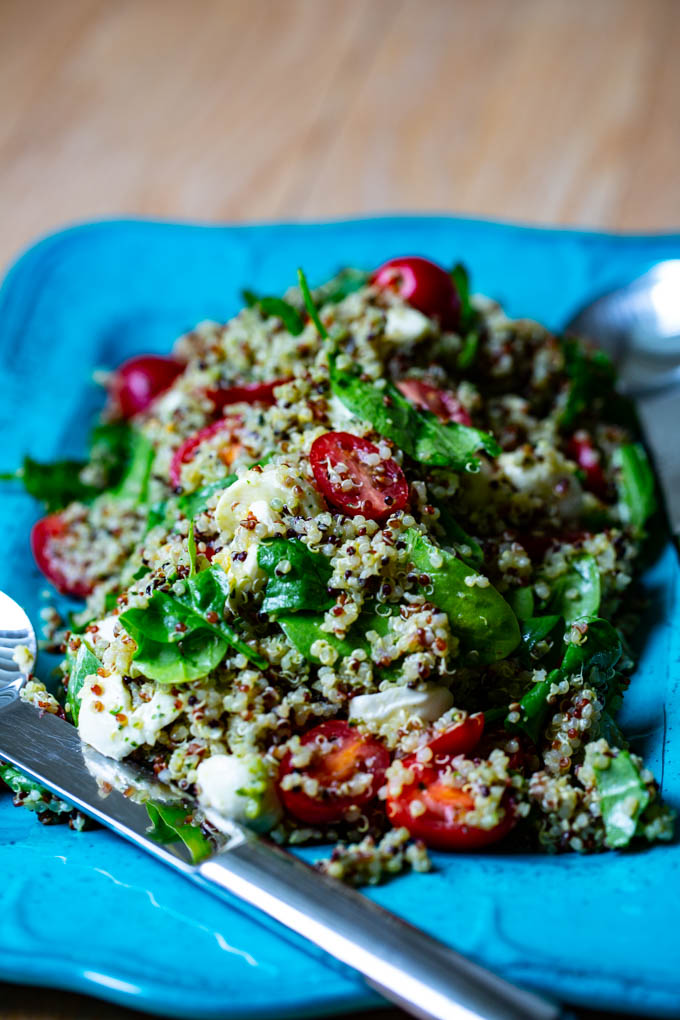 Quinoa is considered a SuperFood, packed with vitamins, minerals, high in antioxidants, along with a host of other health benefits that you can read about here. Since it's high in protein, this Caprese Quinoa Salad would be ideal to bring to the office for lunch – keeping your stomach full to the end of your day. Of course you could also enjoy it as a midday snack, or even dinner.
I made this on Monday, and enjoyed it each day for lunch, plus it's saved me from snacking on foods I don't need.  If you get tired of the same thing, then stuff it inside a wrap, a bell pepper, or even rice paper for an on-the-go meal.
My Caprese Quinoa Salad is so delicious and satisfying – I hope you'll give it a try.
What kind of creation will you come up with? Please be sure to take a photo of quinoa salad and tag #vickibensinger on Instagram for all my viewers to see.
Caprese Quinoa Salad
My Caprese Quinoa Salad is a SuperFood packed with flavor and color, keeping you sustained throughout the day!
Ingredients:
1 cup quinoa, rinsed
16 baby tomatoes, halved
2.5 oz. fresh spinach
8 oz. BelGioioso Ciliegine Mozzarella, halved
Directions:
Prepare Pesto according to instructions.  Set aside or refrigerate until needed.
Cook quinoa according to package directions.  Note: if you would prefer a more pronounced nutty flavor, saute first in about a teaspoon of olive oil  When it becomes fragrant add water based on package directions and continue. Set aside to cool.
To a large bowl add tomatoes, spinach, and mozzarella to cooled quinoa.  Mix gently together.
Add in pesto and mix together to incorporate the pesto.  Add salt & pepper to taste, if desired.
Serve immediately or chill in the refrigerator until ready to serve then toss again, adding more pesto if needed.
Note: Add other ingredients if desired to suit your taste. See blog post for additional ideas.
Hungry for more? Savor these!
Southwest Chicken & Quinoa Salad
Quinoa SuperBowl Stack with Spinach Pesto
Grilled Grouper with a Quinoa Mélange