Baked Avocado Toad in the Hole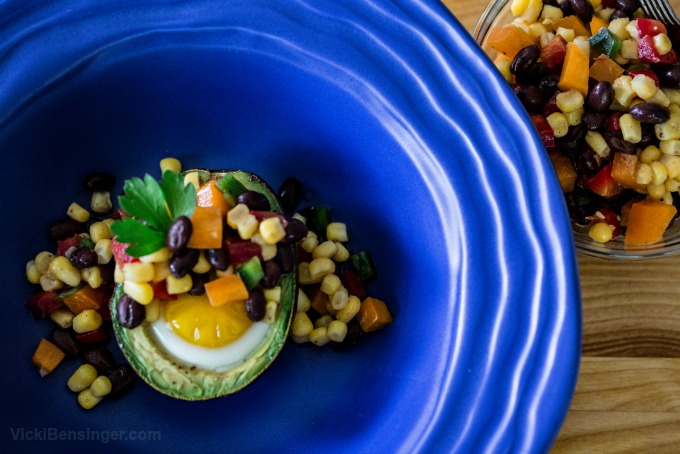 You've heard of Toad in the Hole,haven't you? Well today I'm going to share with you how to create a healthier version that I call, "Baked Avocado Toad in the Hole." 
I'm one of those people who loves to eat breakfast anytime of the day. Breakfast is considered the most important meal of the day.  It's the perfect way to give your body a jump start, keeping it revved up for hours.
Of course, if you eat an unhealthy breakfast laden with fat, salt, and sugar you'll end up feeling sluggish instead of energized.  So be mindful of what you put into your body.  The same goes true for lunch, dinner and any in between snacks you may have.  I know we can't always be perfect.  Just remember, moderation is key!
The other night my son and his girlfriend came over for dinner.  I made Grilled Beef Fajitas a favorite of ours.  Along with the beef and balsamic grilled onions I decided to make a Black Bean and Corn Salsa. I replaced the jalapeno for a pablano pepper that I already had.  I also omitted the red onion from my recipe since his girlfriend isn't a fan of onions. I left out the tomatoes since we had those in the guacamole.  Basically I adjusted my original recipe to please all those having dinner with us.  That's the best part about cooking your own meals. You can make modifications or substitutions when needed.
Since I made a large portion of the Black Bean and Corn Salsa I had leftovers. Yesterday morning for breakfast I decided to use up the avocado I didn't touch and attempted to bake it. Then added an egg inside the hole, and finished it off once plated with my Black Bean & Corn Salsa.  Wow what a delicious treat that was!
Creating my Baked Avocado Toad in the Hole dish was super easy, and didn't take long at all.  The most challenging part was putting the yolk into the hole of the avocado, then filling the remaining space with egg whites.
Filling the hole with the egg whites was a bit tricky. Some of the egg whites spilled over, but nothing that couldn't be fixed, and certainly didn't hurt the dish.
If you're making this for a crowd you could easily set the avocado halves cut side up, resting on top of the holes of a muffin tin.  This would keep the avocado halves from turning on their sides. Alternatively you could slice the rounded part that sits on a flat surface so it wouldn't roll.  Just be sure if you do it this way, you don't cut too much.
You'll need to slightly increase the size of the avocado hole after removing the pit.  This makes room for the egg yolk with additional whites added.
What a fun dish this was to create.  The avocado once baked had a lovely nutty flavor.  Topped with the baked egg when cut into, paired perfectly with my Black Bean & Corn Salsa.
I hope you give my Baked Avocado Toad in the Hole a try, for breakfast, lunch or dinner.  I think you'll definitely enjoy it!
Baked Avocado Toad in the Hole
A healthy twist on an old classic.
Ingredients:
2 ripe avocados
fresh ground black pepper
sea salt
4 large eggs, separated
Black Bean & Corn Salsa
Parsley or Cilantro, garnish
Directions:
 Cut each avocado in half; remove and discard pits. (To keep avocados level, set halves on the openings of a muffin tin or slice about 1/4 inch from the back of avocado halves so they sit flat.) Enlarge the hole by scooping 1/8 to 1/4 inch of flesh from around the hole. Sprinkle avocados with pepper and salt. Place avocado halves on sheet pan or muffin tin
Bake at 425°F until holes are moisture free, about 8 minutes. Remove from oven. Working with 1 egg at a time, break eggs separating yolks from whites. Place 1 yolk into each hot avocado half. Add enough egg whites to fill hole completely. Cover avocados with foil and return to oven. Bake until egg whites are set and yolks are runny, about 5 minutes. Times will vary with each oven.
Remove and top with Black Bean & Corn Salsa.  Garnish with Cilantro or Parsley sprig.
Enjoy!
Notes: If using a sheet pan I'd suggest lining it with heavy duty foil in the even some of the egg whites spill over.  Making clean-up much easier!
Hungry for more? Savor these!
Farro Cake Topped with Tomato, Avocado, Egg, and Arugula Salad