Perfect Herb Crusted Roast Prime Rib of Beef
The holidays are here and it's the ideal time to pull out all the stops when it comes to cooking for family and friends. Forget the typical fare, cook something you can truly be proud of, and have all those indulging rave about!
While I try to limit the amount of meat I eat I just can't resist a good piece of Prime Rib.
They say certain foods people relate to memories, good and bad. For me, Prime Rib reminds me of my dad who has been gone now for just over 28 years. My dad loved the end cut. I suppose that has great flavor because the roasting creates more of a crust on the exterior. For me though I love the interior where it cuts like butter and oozes with flavorful juices.
My dad use to love going to a restaurant here in town called Kris's. In fact, I can still recall in later years him bringing by the leftovers of his end cut for my husband. They both loved that Prime Rib and what my dad couldn't finish he'd share with my husband.
I haven't been to Kris's in years but now that I know how to make this tender cut of beef I'd rather make it myself. Plus it's definitely less expensive than ordering it out.
The Herb Crusted Roast Prime Rib of Beef I create is topped with a blend of herbs making an incredible crust. The herbs pair perfectly with almost every single bite you take.
Years ago I use to think that making a whole Prime Rib of Beef would be a laborious task. While it may look challenging to prepare, by following my simple tips, I guarantee your Herb Crusted Roast Prime Rib of Beef will turn out perfect, juicy, and succulent! This will be one of the easiest dishes you'll ever prepare, and is perfect to serve family, and guests for the holidays.
I realize purchasing an expensive cut of meat to prepare with the chance it could be ruined, is terrifying! However, mark my word, if you follow my instructions to the "T" you'll end up with a stellar piece of prime rib. Just remember, this recipe is for a BONELESS Prime Rib of Beef.
Watch my video, take notes, and read the instructions below as well. If you're still on the fence, but desperately want to try this, please contact me and I'll walk you through it, or gladly Skype a call with you.
If your family loves beef, they'll love this – Perfect Herb Crusted Roast Prime Rib of Beef!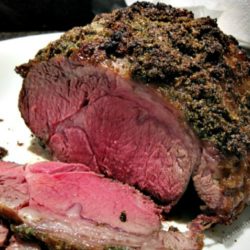 Herb Crusted Roast Prime Rib of Beef
My Herb Crusted Roast Prime Rib of Beef is the ideal entree to wow your guests during the holidays! It's simple to create with stunning results!
Ingredients:
Prime Rib of Beef:
1 Whole Boneless Prime Rib of Beef (weight depends on number of people serving)
Herb Crust:
4 cloves garlic
8 fresh sage leaves
4 teaspoons fresh thyme leaves
4 teaspoons olive oil
2-4 teaspoons salt, (I use kosher)
1 1/2 teaspoons fresh ground black pepper
Prime Rib Roast - (boneless @ room temperature)
Horseradish Sauce:
1/2 cup sour cream
1/4 cup prepared white horseradish
Directions:
With a food processor running, drop garlic into processor, blend until finely chopped. Add sage, thyme, oil, salt and pepper, process until paste forms.
Pat meat dry with paper towels. Rub meat all over with herb paste. Cover and chill at least 3 hours. (Can be made 1 day ahead. Keep refrigerated).
Approximately 1 hour prior to placing Prime Rib into the oven take beef out of the refrigerator and allow to get to room temperature - very important.
Preheat oven to 500F degrees.
Roasting time? To calculate the amount of time required for a perfectly Roasted Prime Rib, multiply the total weight of the roast by 5 minutes.  Be accurate - the amount will be listed on your package. Example:
Roast weighs 5.42 pounds. Multiply 5.42 (pounds) by 5 (minutes) which equals = 27.10.
This means the meat will roast for 27.10 minutes or approximately 27 minutes at 500F degrees.
 After 27 minutes immediately turn oven off.
DO NOT open oven door during the next 2 hours, the roast is still cooking.
This method will cook any size prime rib roast to perfection.....Rare to medium rare, the classic way to prepare prime rib with a crispy crust.
Horseradish Sauce:
Blend together and serve with Rib Roast.
This recipe is so delicious and simple. It makes Perfect Prime Rib Roast every time – your family and guests will be amazed!
Enjoy!!!
While I'm certain this recipe will come out perfect you can always check with an accurate thermometer. I recommend using the ThermoWorks Thermopen Mk4. It's been rated the #1 on the market. Plus ThermoWorks currently has a special going on making it an ideal gift for the holidays!
Wondering what else to serve with the Prime Rib? Check out these recipes!
Mashed Red Potatoes with Crème Fraîche
Farro & Arugula Salad with Honey Lemon Dressing