Fusilli Pasta with Roasted Vegetables
I use to eat pasta like nobody's business, but  as I got older I didn't enjoy the way I felt after eating it. So over the years I've limited how often I indulge to 2-3 times a year, tops! Of course now that I've created this Fusilli Pasta with Roasted Vegetables and Fresh Yellow Tomato Sauce, I may be eating pasta more often!
However, there's something about being in the mountains, hiking and biking that makes you crave pasta.  Yesterday was one of those days.  Not only did I crave pasta, but also vegetables.  I felt like I was being deprived.  So I drove over to Whole Foods and filled my basket with vitamin rich vegetables.
I found bunched fresh carrots, red bell peppers, poblano peppers, spinach, eggplant, asparagus, and fresh basil. I also got a head of broccoli, but decided not to use it at the last minute.
I wanted a fresh tomato sauce so I purchased 3 containers of baby yellow tomatoes. For added flavor I picked up garlic, a yellow onion, some pine nuts to toast and add as a garnish, along with some fresh grated parmesan cheese.
Not knowing what type of pasta I wanted to purchase, I walked down the aisle and found a gourmet box of long fusilli dried pasta.  I debated getting whole wheat pasta, but I'd always loved fusilli, so opted for that.  Are you familiar with fusilli pasta? It resembles long strands of very wavy hair, only in dried noodles.  It's so tasty, and never seems too soft, but just right, absorbing the ideal amount of sauce.
While making this dish does take a bit of time, it's super simple, and honestly, you can't mess it up!
Plus, I couldn't wait to use my new Pillivuyt Basketweave Serving Bowl I purchased at Williams Sonoma.  For years I've had my eye on this bowl.  It's stunning, and so elegant with the basketweave border. Best of all it was on sale for a great price!  I couldn't resist!  Y0u have to admit, this bowl makes the pasta pop and look so enticing! Doesn't it?
If you're a fan of pasta and veggies you need to make this.  The blend of flavors was so heavenly, especially finished with the touch of toasted pine nuts and parmesan on top.  I was a happy camper to have indulged.  Even though my belly was still full at bedtime, I woke up feeling great! So no harm done.
I hope you'll give my Fusilli Pasta with Roasted Vegetables a try.  If you're not a fan of some of the veggies I used, then select your favorites.
Fusilli Pasta with Roasted Vegetables and Yellow Tomato Sauce
This luscious Fusilli pasta with Roasted Vegetables will satisfy your vegetable and pasta craving, and leave you feeling nourished.
Ingredients:
1 box fusilli pasta
1 bunch fresh carrots, on stem
1 red bell pepper, halved, seeds removed
2 pablano peppers, halved, seeds removed
1 bunch asparagus
1 eggplant, sliced
5 oz. box fresh spinach
3 (5oz) containers fresh baby yellow tomatoes
1 small (or half large) yellow onion, chopped
1 clove garlic, minced
1/2 cup pine nuts, toasted
parmesan, for garnish
5 fresh basil leaves, chiffonade, for garnish
fresh ground salt & pepper to taste
Directions:
To a small skillet add pine nuts and toast until golden brown and gives off a fragrance.  Remove from heat and set aside.
On a sheet pan (I used two) drizzle veggies with olive oil and roast carrots, poblano peppers, red bell peppers, asparagus, and eggplant at 425F degrees for about 20 minutes or until roasted to your liking.
Cut carrots and asparagus into bite size chunks. Slice peppers and eggplant into bite size squares.
In a large saute pan add olive oil and heat until gives off a wisp of smoke.  Add chopped onions and saute until translucent.  Add minced garlic and saute for 1 minute.
Slice yellow baby tomatoes in half and add to the onion garlic mixture.  Saute until tomatoes release their juices.  Add salt & pepper to taste.
While sauce is cooking prepare fusilli pasta until cooked to al dente.
Add spinach to sauce until bright green.  Remove from stove. Add veggies and sauce to pasta, mix. Pour into serving bowl.
Top with pine nuts, basil chiffonade, and parmesan.
Serve.
Hungry for more? Savor these!
No-Noodle Butternut Squash Lasagna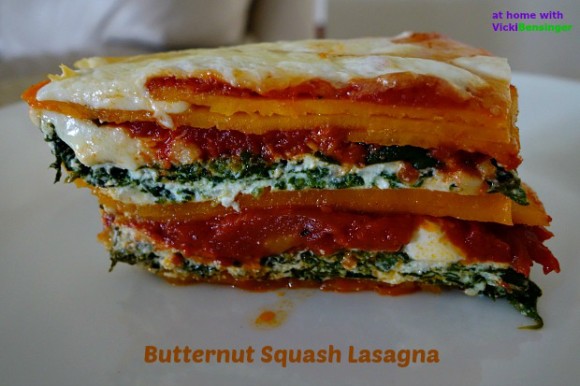 Chicken Meatballs over Butternut Squash Zoodles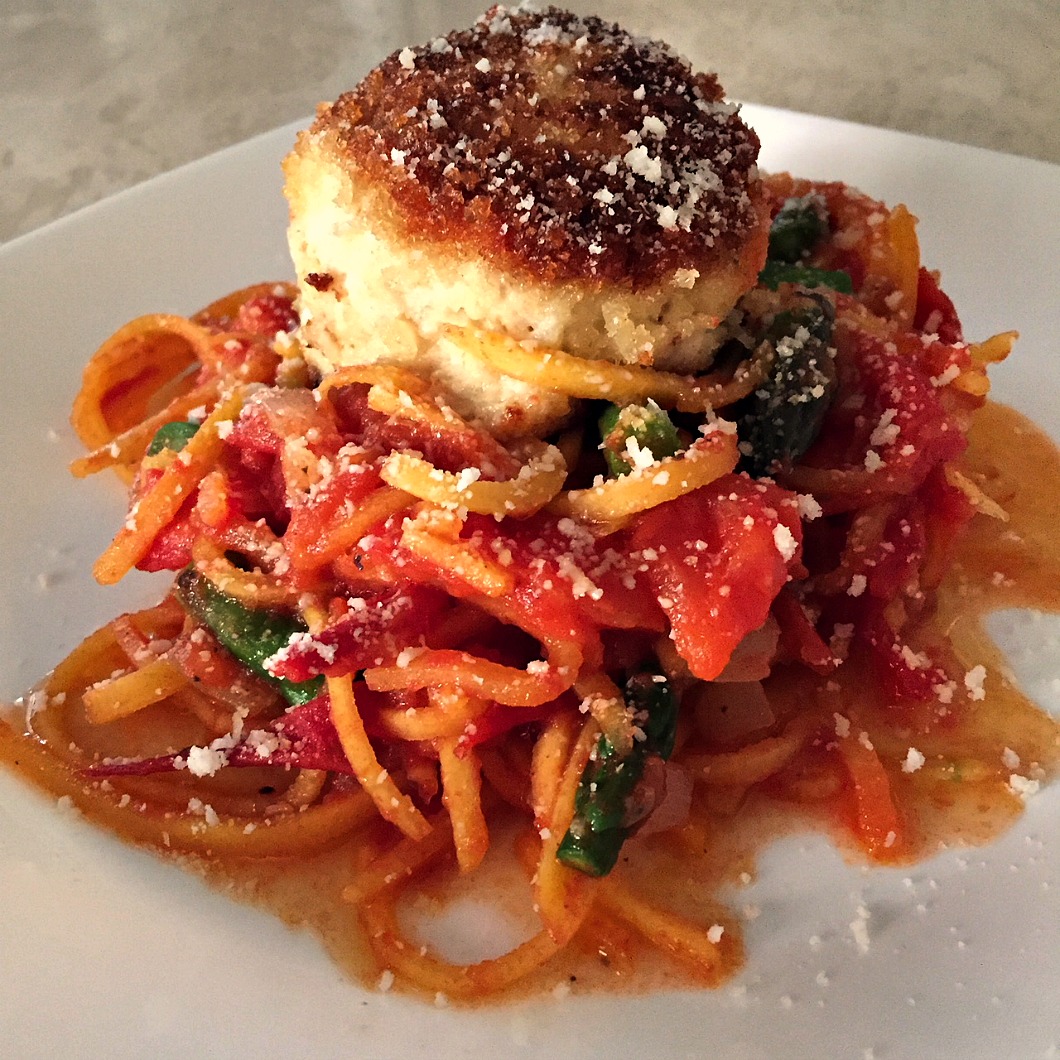 Tri-Squash Zoodles with Fresh Tomato Sauce and Chicken