Tri-Squash Zoodles with Fresh Tomato Sauce & Chicken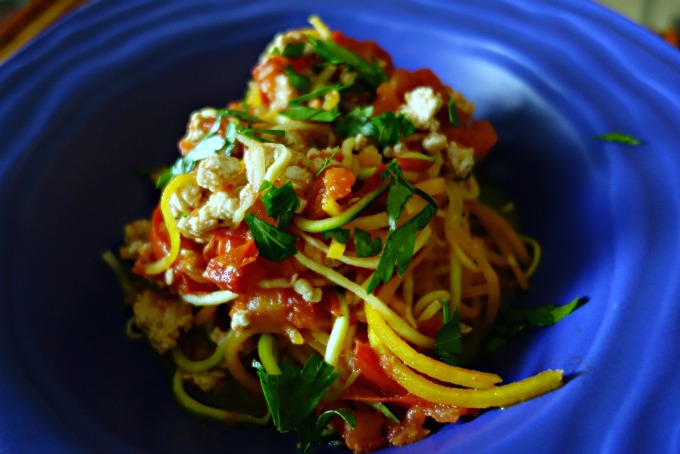 Have you ever had one of those days where because of frustration you find yourself eating all the wrong foods?  Monday was that day for me……………..
If you've been following At Home with Vicki Bensinger then you're aware that I'm in the process of making some changes to my site.  On September 7th I migrated my site over to a different hosting company.  In the process my email was dropped and between the hosting company, where my domain is registered, my designer and tech guy, we couldn't figure out what happened to it.  I'd spent last week trying to figure it out and on Monday morning when it still wasn't fixed I spent from 8:30am – 4:00pm talking with everyone and conference calling.  The worst of all is I don't know enough on the tech end to have an educated conversation with any of these people, especially when they start talking their jargon.
At 4:00pm I decided to feed my dogs. I was so exhausted from the day and while preparing their dinner I looked over at Trek my oldest dog, and started to cry.
Trek had his Bordatella nasal vaccine in May before we left for Colorado.  The vet advised it since they could be exposed to wild animals while hiking in the mountains, something they've had for years prior to taking them to Colorado.  However, this time within 12 hours Trek's nose became inflamed, and running like a faucet.  Two weeks later with virtually no change, I took him in for testing only to find the nasal vaccine caused nasal cancer.
Slowly but surely his nose is deteriorating, and while Trek is a real trooper, watching his nose wither away along with his muzzle is almost more than I can bear, especially after my day on Monday.  The icing on the cake is the fact I've had little to no sleep over the past month with his snorting and gurgling all night long.
In spite of all that, he still wags his tail and wants to go on walks, so he's certainly not ready to leave this world yet.
Long story short, my day was spent eating the worst foods, which is totally unlike me so………………..Tuesday night for dinner I decided to make something very healthy.
I call this my Tri-Squash Zoodles with Fresh Tomato Sauce and Chicken.  The chicken was for my husband since I was sure he wouldn't just eat veggies.  It was perfect!!!  Even my husband went back for thirds, the best testimonial of a tasty meal.
You will need a spiralizer to prepare this dish although I believe there are tools similar to carrot peelers that can do something similar.  You can also purchase zoodles (I think that's what they call them now) at places like Whole Foods Market – they have quite a few varieties.
While this dish has a few steps it comes together very quickly.  Add ground chicken, like I did, turkey, beef, shrimp or some other seafood, tofu, or don't add any protein at all – that's your choice, you are the chef!
I know I'll be making this again, especially when I saw my husband get it out of the refrigerator when he came home from work today to indulge in a bit more.
Tri-Squash Zoodles with Fresh Tomato Sauce & Chicken
You won't miss the carbs with my Tri-Squash Zoodles with Fresh Tomato Sauce & Chicken!
Ingredients:
Zoodles:
1 yellow squash
1 zucchini squash
1 butternut squash, peeled and cut into 2-inch square long strips
Tomato Sauce:
12 firm Roma Tomatoes, halved and cubed
2 tbsp. olive oil
1 medium Shallot, (1 heaping Tbsp.) minced
1 clove garlic, minced (or more if you love garlic)
fresh ground pepper
italian parsley, chopped for garnish
Chicken:
1 lb. ground chicken breast
1 tbsp. olive oil
Directions:
Squash: Using your spiralizer, spiralize each type of squash and set aside.
Chicken: In a heavy skillet on medium heat, add olive oil and swirl to cover pan.  Add ground chicken and cook until no longer pink.  Set aside.
Tomato Sauce: On medium heat add olive oil to a large saute pan or stock pot.  Add shallots and saute for about 5 minutes.  Add garlic briefly for about 1 minute. Add tomatoes, fresh ground pepper and saute on medium heat for approximately 20 minutes or until they release their liquid and tomatoes have softened.
Combine: Add spiralized squash and chicken (remove from pan with a slotted spoon) to tomatoes.  Mix together and warm until zoodles are flexible.  Plate and serve with grated parmesan, cheese of choice or simply plain.
Enjoy!!!
Hungry for more? Savor these:
Portobella Mushrooms Stuffed with Vegetable Spaghetti, Drizzled with Pesto & Tomato Coulis
Grilled Sea Bass over Zucchini Pasta with Roasted Tomatoes