Chai Tea Concentrate
Chai Tea also known as Masala Chai tea seems to be all the rage these days. It wasn't until last weekend that I actually even tried it. I always thought it was more like a milkshake, but after sampling it at an event I realized I was wrong.
Chai Tea or Masala Chai is a flavored tea beverage made by brewing black tea with a mixture of aromatic Indian spices and herbs. This blend offers tremendous health benefits as you can see below.
Originating in the Indian subcontinent, the beverage has gained worldwide popularity, becoming a feature in many coffee and tea houses.
Not a fan of tea or coffee? Replace the tea with Rooibos herbal tea – caffeine free and high in antioxidants among other health benefits. Rooibos can be found in loose form or tea bags. Whether you use regular, decaf, or an herbal tea, this Chai tea recipe tastes basically the same.
Creating you own Chai tea is super easy and substantially less expensive than buying ready-made. Simply purchase your herbs and spices, then steep for a specified amount of time.
Once strained you'll have the Chai tea concentrate. Once cooled the concentrate can be refrigerated in jars and ready to drink when you want it.
To prepare a mug of Chai Tea or Masala Chai, mix equal portions of Chai concentrate with your milk of choice, heat and enjoy!
I purchased a bottle of Chai Tea from the event I attended and shared it with my sisters. Then I made my own batch. We loved my homemade version much better. Maybe it was the orange zest I used in it and the star anise vs. fennel seeds. Both adding flavor but not overpowering.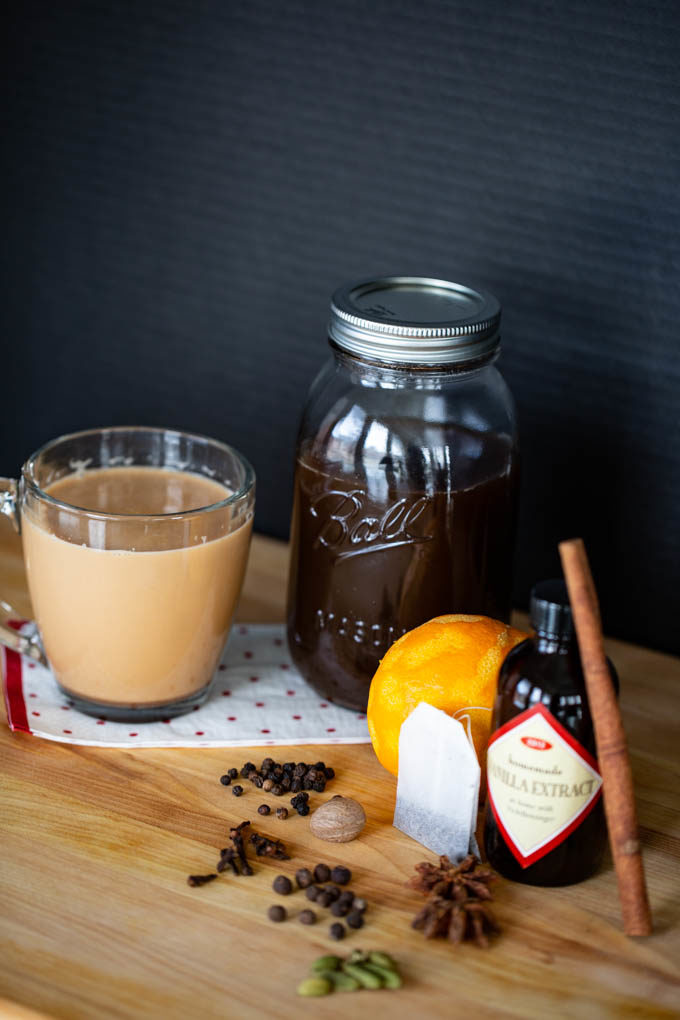 Tip: Prepare my recipe first. Then if needed, modify to suit your taste. Even if you're not a fan of one of the ingredients in my recipe try it anyway, unless of course you're allergic.
None of the flavors are that pronounced. When all the aromatics are combined they create a soothing blend that's comforting and delicious!
I think you'll love this. If you make a batch please share your photos on Instagram using the hashtag #vickibensinger and share you thoughts.
This Chai Tea Concentrate will be ideal to serve Christmas morning or to place in jars to gift to friends and family.
Chai Tea Concentrate
This Chai Tea Concentrate with milk is the most comforting aromatic blend of spices that will soothe anyone.  
Ingredients:
5 cups water
10 tea bags (English Breakfast Tea or Rooibos Tea)
1 large cinnamon stick
1/2 cup brown sugar
1 thumb size piece of fresh ginger
Zest of 1 orange
8 whole cloves
8 green cardamom pods, slightly crushed
10 peppercorns
pinch of ground nutmeg (or zest a pinch of whole nutmeg)
1 Tbsp. honey
2 teaspoons pure vanilla (try homemade)
Directions:
In a pot, place the water, tea bags and spices - stir to dissolve the sugar
Bring to a boil. Lower heat and cover pot. Simmer gently for 20 minutes
Remove pot from heat. Add honey and vanilla.  Set aside to cool.
Strain using a fine mesh strainer and store Chai Tea Concentrate in a glass jar. Refrigerate until ready to use. (Best used within 1 week).
Serve: Combine equal portions of Chai Tea Concentrate with milk of choice in a mug. Heat & Serve.
Enjoy!
Hungry for more? Savor these!