Homemade Hot Cocoa Mix in Jars
It's certainly not beginning to a lot like Christmas here in Missouri, but it is cold out today. However, all the sites and smells around town tell me that the holidays are here. 
I love this time of year, when I can snuggle up on the sofa, drink hot cocoa, all while watching one of my favorite movies, "The Holiday."
If you're still trying to come up with a creative gift idea to give, that won't break the bank, why not gift your favorite movie with a homemade jar of hot cocoa mix, topped with marshmallows?  This is a gift everyone can enjoy during the holidays, and it's so easy and inexpensive to create. Even the kids will have fun putting this gift together!
Here's all you need to do……………..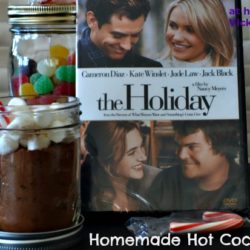 Homemade Hot Cocoa Mix in Jars
Ingredients:
1/2 cup unsweetened  cocoa powder (Dutch-processed is best)
1/2 cup sugar (Turbinado or Coconut sugar is best)
3 tablespoons powdered milk
1 (3 ounce) bar bittersweet chocolate, chopped fine
1/8 teaspoon salt
marshmallows
Milk, milk substitute or water (for serving)
Directions:
To make the mix: Combine all ingredients in a large bowl and stir until fully incorporated.
Pour into a large airtight jar or 2 smaller jars, and store in a cool, dry place for up to 3 months.
To make a single serving: Take 3 tablespoons of hot cocoa mix and place in a microwave safe mug.
Add  1 cup of milk, milk substitute or water) and stir to combine.  Microwave on high for 1 minute or until desired temperature is reached.
If desired jazz up your cocoa by:  sprinkling with cinnamon,  adding 1 ounce Kahlúa, topping with marshmallows, or adding fresh whipped cream.
For gift-giving: top cocoa mixture with marshmallows then seal jar.
Enjoy!!!