Homemade Vanilla Extract!
The holidays will be here before you know it.  If you receive my monthly newsletter then you're aware that the next few months I plan to share recipes for homemade "gifts from the kitchen," that you can give as a hostess, shower or holiday gift.
Most of us enjoy giving gifts to family, friends and co-workers during the holiday season, but with the economy in the toilet it makes it a bit harder on the pocketbook!  However, creating homemade treats is not only affordable but it tastes better.  Plus, you can afford to give to everyone on your holiday list and then some, and still have money leftover to throw a party!
Last week I shared how to make homemade
Limoncello
.  Today I'm going to share how to make Homemade Vanilla Extract.
If you're a baker then you know how often you use Vanilla Extract.  Pure Vanilla Extract which is what I'll be sharing with you, can be $10-$15 for a 4 ounce bottle.  To make your own it's a fraction of the cost.  Plus, I even had labels made for mine – I'll share that with you in a minute.
Homemade vanilla extract is so easy and fun to make. It's not as strong as the store bought varieties but will have a fuller and fresher flavor. The best part though, is knowing you made it yourself.
It doesn't matter what alcohol you choose for making extract – it's more a question of which alcohol you prefer. The flavor of Vodka doesn't interfere with the taste of the vanilla and is what you'll typically purchase in the stores.  However, Rum or Brandy can also be used and are nice if drizzled over freshly baked cakes or added to stewed winter fruits.
When I decided to make homemade vanilla I opted to order amber colored glass bottles from
Specialty Bottle Company
, although you can purchase
Vintage Bottles
 which can be fun, or clear bottles.  Since you're making these yourself, whatever bottles or vessel you choose is up to you.
For the Vanilla Beans I purchased in bulk, which saves you quite a bit.  I ordered 50 Madagascar Vanilla Beans from
Beanilla
for a mere $38.99. I love the aroma of the Madagascar Vanilla Beans and prefer those for making homemade extract and to use when baking.  If you're partial to another type,
Beanilla
offers a variety to choose from.
Madagascar Vanilla Beans are superior, with flavor and aromatic qualities that make these beans the most popular and sought after vanilla variety. The flavor is rich, dark and creamy with an overwhelming sweet, buttery aroma. These are well suited for many baking recipes, drinks and desserts. To learn more about the various vanilla beans; the best types, how to store them, how to use them, how they're graded and what makes them different, view
here
.
Of course, to make your gift complete there's nothing like a fancy label to adhere to your bottle.  If you're talented you can easily make your own.  However, if you're like me and don't have the time or don't have the technical skills, you'll love going to
My Own Labels
.  They literally have labels for everything.
Be sure to check out each of these sites. I'm sure you'll have fun browsing and may even find something you like, whether for Homemade Vanilla Extract or some other gift your creating.
Below is the recipe for Homemade Vanilla Extract – I hope you have fun with it!…………..
Supplies Needed: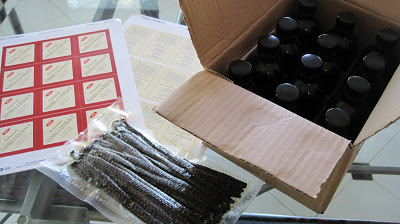 Labels (optional)
Vodka
Vanilla Beans (I used Madagascar)
Bottles with a tight fitting lid
Scissors or paring knife
funnel
Directions:
Split vanilla beans lengthwise (using a scissors or paring knife), down the center to expose the seeds,
keeping the ends of the beans intact. The seeds inside the vanilla bean are called the "caviar."
Place one full split bean, folded in half, in a 4 ounce bottle. I use one bean per 4 ounce bottle and feel it's enough.  If you like you can add 2 beans for a fuller flavor.
Note: Five beans per 16 ounces of alcohol is the ratio that the FDA requires for commercial production of a single-fold vanilla extract.  This ratio is the most important aspect of making homemade vanilla.
Using a funnel, fill with high-quality vodka, rum or brandy, covering the top of the beans.
Seal bottles and let steep for 6 to 8 weeks in a cool, dark place such as a pantry. Shake the bottle 1-3 times a week, until  ready to use. The extract will last practically forever.
Eventually, the beans will lose their strength, but they should maintain their flavor for many months.  Add more alcohol as needed to keep the bottle replenished – you will never run out of extract.  At some point you might want to add a couple of split fresh vanilla beans to the bottle.
ENJOY!!!