Summer Harvest Infused Water
Have you ever tried Infused Water?  My preferred beverage of choice is pure water and I drink glasses of it daily.  Don't give it to me lukewarm or I'll never touch it. Fill it to the brim with ice and I can't get enough of it. 
I find it hard to believe since I'm such a fan of H2O that many find it a challenge to drink even a single glass in a day.  They say it's "boring" and "tasteless" so what's the point?  The point is it's great for our bodies, keeping us hydrated, and flushing it of any toxins.  When you're hydrated you feel good inside and out and your skin will too.
Have you ever gone to a spa and while in the "relaxing" or "calming" room they offer Infused Water with slices of cucumber or lemons in it?  I find it so refreshing, and for me it has a calming effect.
I'd like to say I invented Infused Water, but I didn't.  However, I enjoy coming up with flavor combinations that maybe no one has thought of.  If that were the case then maybe I invented this Infused Water blend.
Coming up with variations is quite simple.  Create a list of your favorite fruits, veggies, and herbs.  Think about which ones would compliment each other or go out on a limb and try something exotic or spicy like:
jalapenos
pablanos
chili peppers
Why not some herbs such as:
lavender
cilantro
cardamon
fennel
rosemary
What about fun fruits like:
kiwi
cherries
mango
dragon fruit
Of course it doesn't have to be exotic or spicy to taste good.  The blend I've created here were with ingredients I had on hand.  I simply added in my sliced fruits, veggies and herbs.  I filled a glass pitcher with water, gave it a good stir, and refrigerated it for about 3 hours.  OMG you have no idea how refreshing this is!
Glass is key to infusing water for a pure flavor vs. putting everything into a plastic pitcher that could leach other flavors into the water.  If you have the choice choose glass over plastic – plus it's better for you!
I hope you'll try my refreshing blend of Summer Harvest Infused Water I think you'll love it! Don't take my word for it though, try it for yourself.  I'd love to hear what you think.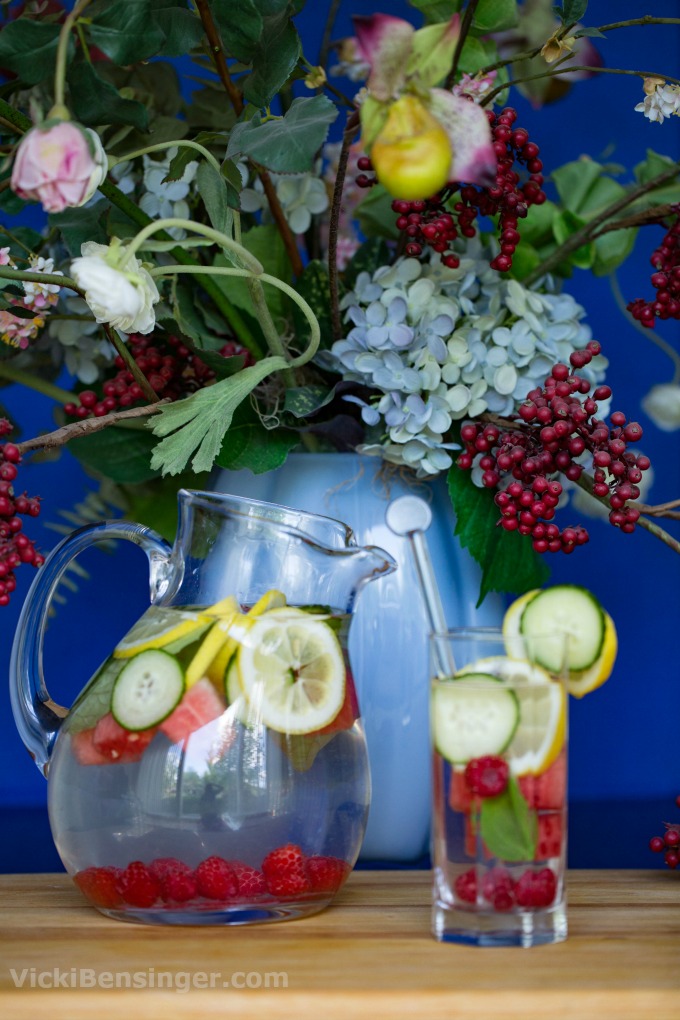 Oh and by the way, Infused Water is ideal after a long hard workout – it definitely quenches your thirst!
Raspberry, Lemon, Watermelon, Cucumber, and Basil Infused Water
Just can't seem to hydrate with simply pure refreshing water? Infuse your water and bring it to a whole new level. You'll never call water boring again!
Ingredients:
Glass pitcher or Jar
Watermelon, cubed (1-2 handfuls depending on size of pitcher)
Fresh Raspberries (6-8 oz.)
English Cucumber, sliced (to scatter in pitcher & garnish)
Fresh Lemon, sliced
Basil leaves, 3-4 or more if desired
Directions:
Glass is key to infusing water for a pure flavor. Fill pitcher with water.
Add vegetables, fruits, and herbs, or be creative and come up with your own combinations.
Using a long spoon, stir to start the infusion. Place pitcher into refrigerator for 2-3 hours for optimal flavor.
Serve: Add additional ingredients to each individual glass, then pour chilled infused water into glasses. Garnish with lemon & cucumber.
Notes: Every time water is poured into glasses replenish pitcher with more water. Chill to keep the infusion going for up to 3 days.  For optimal freshness serve within 2-3 hours.  Over time fruits, veggies, and herbs will lose their vibrancy. That's when you know it's time to discard them and start over.
Hungry for More? Savor these!
Pure & Fresh Watermelon Raspberry Lemonade