Skinny Napa Tuna Salad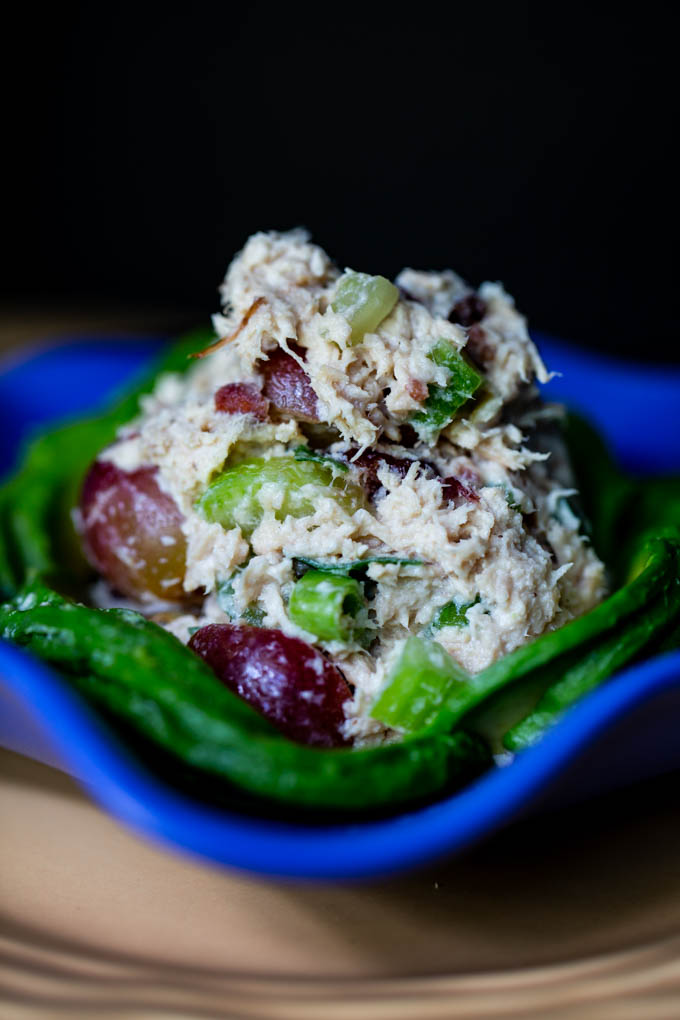 Are you a fan of tuna or chicken salad? I am, but over the years I've tried to make it so it's a little bit healthier. Even though the full fat versions are amazing, I think you'll enjoy my Skinny Napa Tuna Salad. 
What makes it Napa? I haven't got a clue and trust me I looked. My guess is, when I think of the Napa Valley I think of healthy meals, exercising, and fit individuals both young and old. My Skinny Napa Tuna Salad makes this ideal to carry that name.
My tuna salad is made with a blend of 0% plain Greek yogurt, low-fat mayo, and a touch of honey mustard to bring it all together. Then to add pizzazz I added dried cranberries, chopped celery, seedless red grapes, scallions, and seasoning.
Most Napa type salads have almonds, pistachios or some sort of nut. I didn't feel like adding any but feel free to.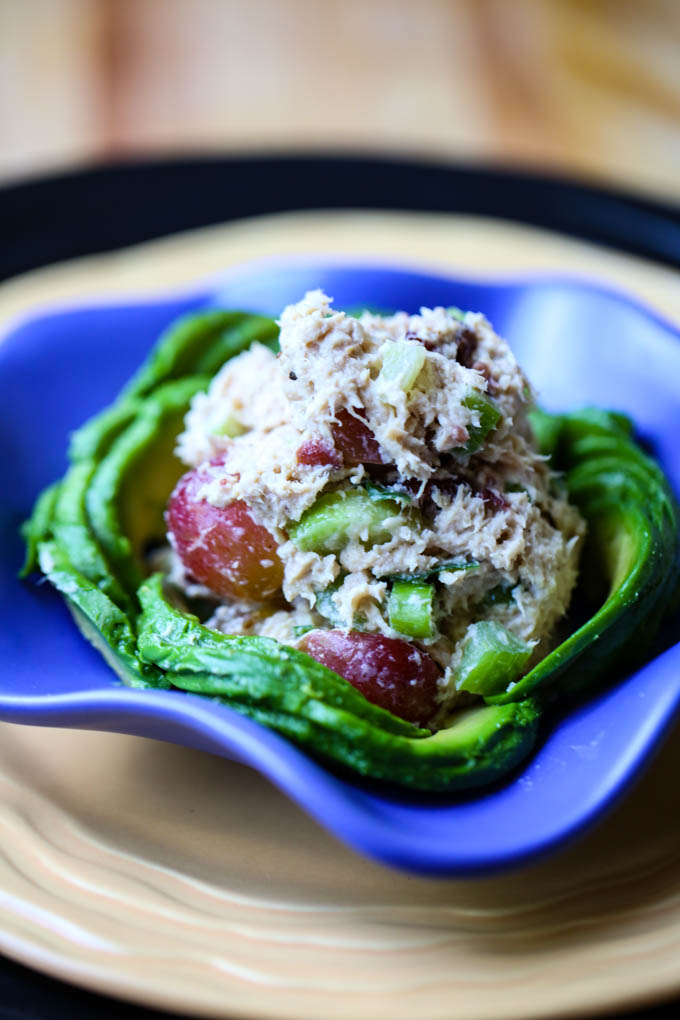 The combination of ingredients is fantastic. It's savory, yet has a touch of sweetness with the dried cranberries and grapes, but also has the added crunch from the addition of celery. Surprisingly the blend of yogurt, mayo, and honey mustard is perfect!
My Skinny Napa Tuna Salad is so refreshing it will be hard to stop eating. Even though it's low in fat and calories I wouldn't suggest eating the entire bowl, although it will be tough restraining from doing just that.
One of the most important tips when making this salad is to be sure to drain and rinse the tuna in a fine mesh strainer. Plus be sure to press out all the liquid, otherwise your salad will be watery.
Skinny Napa Tuna Salad
My Skinny Napa Tuna Salad is so tasty, you won't believe it's a skinny version!
Ingredients:
30 oz. canned white Albacore tuna, packed in water, rinsed and drained
3 stalks celery, diced
1/2 cup dried cranberries, or more if desired
2 scallions, sliced
1 cup red grapes, halved
Dressing:
1/3 cup 0% plain Greek Yogurt
1/3 cup low-fat mayo
1 tsp. honey mustard dressing
salt & pepper to taste
1/2 tsp. Beau Monde, optional
Directions:
Mise en place all ingredients. Place all but dressing into a large bowl and mix to blend.
Combine ingredients for the dressing, except seasonings, and pour over the salad.  Blend thoroughly. Add seasonings to taste, if desired.
Cover and place in refrigerator to chill until ready to serve.
Serve with avocado and fresh fruit, in a sandwich, wrap in a tortilla, wrapped in rice paper, grilled sandwich, or simply plain on a plate.
Note: You can substitute cubed or shredded chicken in place of the tuna.
Hungry for more? Savor these!
Towering Salad of Tuna Nicoise
Tools Used to Make Skinny Napa Chicken Salad:
Wusthof Classic 7-inch Santoku Knife