Quick & Easy Nutritional Meals without a Recipe!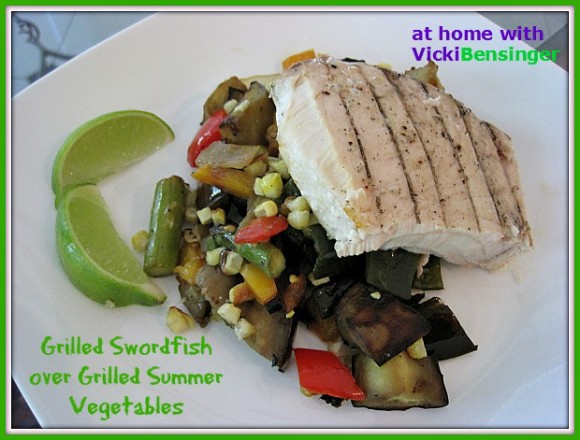 I admit I have a cookbook fetish with 100s lining the shelves in my home kitchen, downstairs, bedroom closet, nightstand, and just about anywhere else you can think of.  The truth is though, I use them mostly for inspiration.  Oftentimes, I'll try a cookbook recipe, then change it to suit my taste and my families.
However, most often I don't use a recipe at all.  I tell my clients they can do this as well, if they just follow their instincts. 
You know the foods you like, don't you?  You know the flavors that taste best on your palate, don't you?
Cooking doesn't have to be an all day event or one that you tediously sweat over to follow a recipe. Sure there are those recipes that you want to duplicate like the photo. Having never tried it before you carefully read over, and over, the recipe to insure you don't miss a thing.  Just like I did on my Boston Cream Pie.  More often than not, simple, is best – tastes better, and is healthier for you.
Last week was crazy! I barely had time to breath, let alone find time to go to the grocery store, then come home to cook – but I did!  My family counts on me for that, yours may as well.  I certainly didn't have a minute to browse cookbooks for fancy or sauced up recipes.  So what did I do?  The same thing I tell my clients to do!
Head over to your favorite grocery store  (mine is Whole Foods) – and let your eyes decide what's on the menu.  When I walk into Whole Foods, my eyes immediately gravitate to the beauty of all the fresh, colorful produce so artistically displayed in baskets on tables, lined and sorted neatly in refrigerated coolers with germ free samples of nutritious earthly goods.  Who can resist?
Oftentimes, before selecting the fruits and vegetables I want to serve with my meal, I'll head over to the fish and meat department to see what looks best, and if they have any specials.
On this particular day the fish department was sampling Swordfish, not what I'd had in mind when walking in, but it was so fresh and flavorful, I selected that.  I went back to produce and gathered up all that looked pleasing to the eye, and felt would blend well together.
You don't have to be a brainiac to do this.  Go with your gut – you know what you like.  What you're unsure of, ask someone in produce, they most likely will offer suggestions.
A simple dish of Swordfish, with mounds of grilled summer vegetables, drizzled with fresh squeezed lime juice, completely satisfied my family.  Not one carb was at the table, and they didn't miss it.
You too can make dishes like this using basic ingredients of just olive oil, fresh squeezed lime/lemon juice, salt and pepper to add more depth of flavor.  No slaving, no fuss, no sweat!
Here's all I did…….
Grilled Swordfish over Grilled Summer Vegetables
Ingredients:
4 (8 ounce) pieces of Swordfish
1 ear of corn
1 each of Red, Yellow, Orange Bell Pepper, seeded and cubed
2 Pablano Peppers, seeded and cubed
1 small Eggplant, sliced then cubed
1 yellow or red onion, sliced the cubed
1 bunch asparagus, (use 1/2, reserving rest for another time), cut into 1-inch pieces
olive oil
2 limes
salt
pepper
Directions:
Rinse fish and pat dry with paper towels.  Drizzle both sides with olive oil then season with salt (Sea or Kosher) and freshly ground pepper.  Set aside.
Place cut vegetables in grill pan (or roasting pan if cooking indoors) and lightly drizzle with olive oil and toss vegetables to blend, along with the corn.
Put veggies on a medium grill, cook for approximately 20 minutes or until softened but not gushy, stirring vegetables and rotating corn about every 5 minutes to insure even heat distribution.
After veggies have been on the grill for 10 minutes add Swordfish.  Grill 4-5 minutes per side.
Remove Swordfish after 10 minutes of grilling and 20 minutes of grilling vegetables. Pile grilled veggies in the center of a large plate or bowl, gently lying Swordfish steaks onto vegetables, surrounding the plate.  Garnish with sliced lime wedges.  Serve.
Light, refreshing, satisfying and nourishing.  What more could you ask for?
If there are leftovers the next day, use them in a salad, omelet,  fritatta or even a wrap.