White Balsamic Glazed Chicken Breasts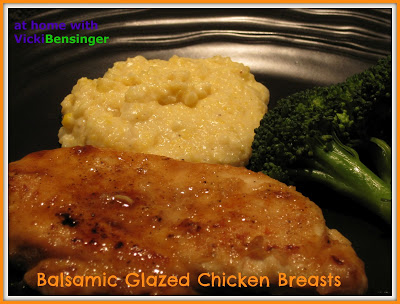 If you're a follower of my blog you know I had food poisoning over the holidays.  Unfortunately it's stayed with me and my stomach just isn't back to normal, hence, the reason for my lack of posts.  I just haven't been up to cooking much.  Toast, soups and bland foods have been what appeal to me most, nothing thrilling that I felt was blog worthy.
However, I did decide to make White Balsamic Chicken Breasts, a Canyon Ranch dish that boasts great flavor. I knew this would work well with my unsettled stomach pairing it with Soft Corn Polenta and steamed asparagus.  Perfect for company and an upset tummy!
To top it off my husband and I were suppose to go out of town this past weekend where it would be sunny and warm. He came down with the flu, so we cancelled the trip, and both spent the weekend in trying to recover.  We rarely get sick so I'm hopeful the rest of 2013 will be better.
If you're looking for a nice simple dish that's sure to please your family and guests I recommend Balsamic Glazed Chicken Breasts. Here's the recipe……

Balsamic Glazed Chicken Breasts
Ingredients:
Ingredients for Glaze:
3 tablespoons white balsamic vinegar
2 tablespoons honey
1/4 cup chicken stock (low sodium)
Chicken breasts:
4 boneless, skinless chicken breast halves
1/2 teaspoon kosher or sea salt
1/2 teaspoon fresh ground pepper
1/2 cup flour
Directions:
Glaze: Mix together the vinegar, honey, and chicken stock in a small bowl. Set aside.
Chicken: Pound each chicken breast with a meat mallet until it's 1/4 inch thick. Season with salt and pepper.
Spread the flour on a small plate. Dredge the chicken in the flour.
Lightly coat a large saute' pan with non-stick spray. Sear the chicken breasts on each side over medium-high heat.
Deglaze the pan with the glaze. Reduce the heat to medium-low and cover. Continue to cook the chicken until the internal temperature reaches 165 degrees F, approximately 5 minutes.
Place individual servings on a plate and spoon additional glaze over the chicken. Serve with creamy polenta, mashed potatoes, mashed butternut squash, etc., and a vegetable.
Enjoy!