Peach Galette for Two
If you're like me then you love sweets, but making a huge batch can be dangerous especially if an empty nester.  That's why my Peach Galette for Two baked in a mini cast iron skillet is ideal.  It's just enough to satisfy your sweet tooth, fun to share, and saves your waistline from over indulging. 
Galettes are a free form sort of pie.  They're super simple to prepare and can be made using your favorite whether sweet or savory.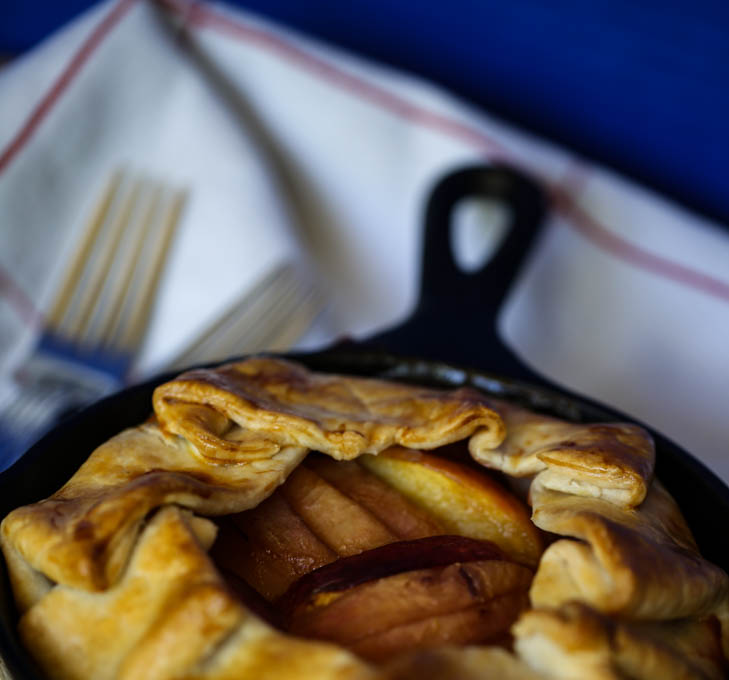 It's not necessary to put them in a cast iron skillet or any vessel at all.  In fact you can simply lay the dough on a parchment lined cookie sheet, fill, bring up the edges, and pop it in the oven.
The thing is, I have found that oftentimes the galettes stick to the parchment paper when the juices ooze out, making them challenging to slice & eat.  Plus there's something to be said about sharing food. Depending on who it's with – it's either romantic – if sharing with a significant other, or just fun to indulge with friends.
This recipe serves two using a 6.5 inch Lodge cast iron skillet, but certainly you can double it making it for four, using two cast iron pans.  If doubling and you have one large skillet, then put the galette filling all into one.  It's your dessert and creation, so you're the boss.
Many galettes call for adding a layer of jam in the bottom to help seal the dough so the juices don't flow out.  However, in my recipe adding a bit of cornstarch to the fruit helps to thicken the juices as they start to ooze from the fruit.  This in turn keeps them from coming out the bottom (the same if spreading jam) and sticking to whatever it's setting on.
With school just starting I think creating galettes is the ideal way to get that after dinner dessert in quickly.  No fuss and virtually no mess.  Afterall when the kids get home from school or after school sports, and you've had a challenging day, quick and easy without sacrificing flavor is key! Wouldn't you agree?
I hope you'll try this tasty treat in skillets for two or larger.  If you prefer, go ahead and make your own dough or do it the quick & easy way with store bought – it's ready when you are.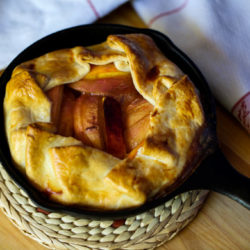 Peach Galette for Two
This Peach Galette for Two is the ideal way to create a dessert without having too much left over.  It satisfies the belly without stretching your waistline too much! Make for two or double for more!
Ingredients:
1 ready-made Pillsbury Pie Crust, or homemade
3 peaches, halved, pitted, 1/4-inch sliced
1 1/2 tsp. cornstarch
1 Tbsp. fresh lemon juice
1/2 tsp. vanilla
sea salt, pinch
1 Tbsp. light brown sugar
1 egg
1 Tbsp. milk
Directions:
Preheat oven to 400F degrees.
Half peaches, remove pit, and slice into 1/4-inch slices
Place sliced peaches in a bowl.  Add cornstarch, lemon juice, salt, & vanilla and gently blend all together. Set aside.
Remove one (1) sheet of pie crust from the box and unroll. Place into 6.5-inch cast iron skillet.
Place peaches on the pie crust.  You can either mound them up inside or assemble them in a pattern. Sprinkle the sugar over the peaches.
Once the peaches are assembled on the pie crust you should have about a 2-inch overhang. Since you'll probably have more, trim off any excess so that when the edges are folded in onto the peaches, you have a nice size opening.
Place filled skillet in the refrigerator for 10-15 minutes to chill.
Remove from refrigerator and brush exposed pie dough with egg/milk wash.
Bake in preheated oven for approximately 30-35 minutes or until the crust is golden.  Remove galette from oven and allow to cool.  Can be served warm or at room temperature.  Serve as is or with a scoop or two of ice cream.  If desired drizzle with a balsamic reduction which makes everything taste even better!
Enjoy!!!
Note: Galette's can be made using whatever fruit is in season. Follow my instructions substituting your fruit of choice or savory ingredients.
Hungry for more? Savor these!
Cast Iron Fresh Blueberry Galette
Savory Layered Vegetable Torte
Tools Used in this Recipe:
Lodge 6.5 inch Cast Iron Skillet