Cast Iron Fresh Blueberry Galette
My family enjoyed my Cast Iron Fresh Peach Galette so much last week I decided to make a Cast Iron Fresh Blueberry Galette this week.  It was equally as delicious and even easier this time.  Why? I decided to use the ready-made Pillsbury Pie Crust. 
I don't mind making my own pie crust, in fact it's actually quite simple.  However, sometimes I'm just not in the mood.  What was ideal about the Pillsbury Pie Crust was literally all I did was remove it from the package, unrolled it, and placed it in my Lodge 6 1/2-inch cast iron skillet.  I mean what could be easier?
I did snip a little of the sides off with my kitchen scissors so the dough wouldn't cover the blueberries too much. Part of making a galette is so it has that rustic look – not perfect, which is what I love about it.
I'm a huge fan of blueberries and literally have them every single morning in my oatmeal with plain cinnamon and almonds.  I can't seem to get enough of them.
Are you aware of the power these little berries provide your body when eaten?
Blueberries are:
Low in Fat
one cup contains only 80 calories with virtually no fat
Packed with Vitamin C 
one serving has 25% of the daily requirement of Vitamin C
aids collagen formation and helps maintain healthy gums & capillaries
helps to keep your immune system healthy
A good source of fiber
keeps the body regular
heart healthy
cholesterol in check
An excellent source of Manganese:
plays an important role in bone development
converts proteins, carbohydrates & fats into energy
Blueberries have been know to help in:
Cardiovascular health
Brain health
Insulin Response
Cancer
Ongoing research is being done in these last 4 areas listed above.
As I mentioned in my previous post for my Cast Iron Fresh Peach Galette, this recipe is super simple to create.  If you don't have two Lodge 6 1/2-inch cast iron skillets then you could use a pie plate, tart pan, any oven proof bowl, or simply set the dough on a foil lined sheet pan with parchment.  Fill the center and bring up the sides. I prefer adding the foil on the bottom since the juices typically will ooze out.  This way clean-up is a cinch.  No one likes to spend time scraping the pan of burnt fruit.
I hope you'll try my recipe below.  If you have any questions please don't hesitate to message me on my facebook page At Home with Vicki Bensinger, post a comment below, or click the "contact" link above and shoot me a message.  I'll return a response quickly.
For a quick holiday weekend dessert, or anytime of year, I hope you'll try my Cast Iron Fresh Blueberry Galette!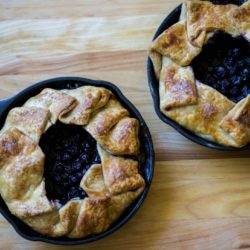 Cast Iron Fresh Blueberry Galette
With blueberries in season whip yourself up a skillet of my Cast Iron Fresh Blueberry Galette!  It's perfect for tow or use 2 skillets and make it for four.  So flavorful and good for you too!
Ingredients:
Two 6 1/2-inch cast iron skillets
Pie Filling:
1 box Pillsbury Pie Crust
4 cups fresh blueberries, stems removed
zest of 1 lemon
1/2 cup packed light brown sugar
2 tsp. cornstarch
1 tsp. vanilla
1/8  tsp. fresh nutmeg
1/2 tsp. ground cinnamon
pinch of salt
1 1/2 Tbsp. unsalted butter, cut into small pieces
Egg Wash:
1 egg
pinch of water
2 Tbsp. granulated sugar
Directions:
Preheat oven to 350°F .
Pie Filling: In a medium size bowl, combine all filling ingredients EXCEPT butter and blueberries and blend.  Once blended fold in blueberries and set aside.
Egg Wash: combine egg and pinch of water and set aside
Remove one package of dough from the box and unroll.  Center pie crust and place into one cast iron skillet.  Be sure to have the pie crust set into all the edges at the bottom and sides.
Add half the blueberry mixture to a skillet.
Fold up the sides of the pie crust.  If it covers too much of the berries, using a scissors, snip some of the edges off.
Brush egg wash over the top of the pie crust and sprinkle with half of the granulated sugar. Dot exposed blueberries with half of the butter. Set filled cast iron skillet onto a foil lined sheet pan.
Repeat steps above with second cast iron skillet.
Place skillets into the oven on the center rack and bake for approximately 50-60 minutes or until the crust is golden brown and blueberry filling is bubbling.
Remove from oven and cool for at least 2 hours.  Serve at room temperature, plain or topped with vanilla ice cream.
Enjoy!!!
Hungry for more? Savor these?