Grilled Lime Marinated Boneless Sirloin with Peppers, Onions & Chimichurri

FabSlabs
The temperature got up into the 50s this past weekend and it felt like a heatwave. Since the days are getting longer again I decided I needed to grill. So I fired up the grill to barbecue my Grilled Lime Marinated Boneless Sirloin with Peppers, Onions, & Chimichurri. It hit the spot!
You could do this dish like fajitas, but we weren't in the mood for tortillas or any sort of bread for that matter.
Boneless sirloin is a little more expensive than flank steak which many people prefer using for a dish like this. However, unless you have plenty of time to marinate the flank steak or have an instant marinator, I find it tends to be tough and chewy.
It definitely felt like springtime having this dish and I was excited to set it all out on my new FabSlabs cutting board. I purchased the large cutting board.
FabSlabs are naturally and permanently antibacterial boards. I happen to spot them online and had to check them out. I'm instantly a fan!
In fact FabSlabs are:
the WORLD'S MOST HYGIENIC CUTTING BOARD – tested extensively by NATA approved lab for E Coli, Staph, Salmonella, & Listeria. Testing showed after a short time the virus's were unable to survive on the board. Test also showed after a 7-10 year period that there was ZERO bacteria growth.
Made from one single solid slab & free from chemicals & glue.
100% Australian Made & Owned
FabSlabs also come in a variety of shapes and sizes. Their grazing boards are ideal for the times you're having a crew of friends over. They come in 5 different lengths to accommodate whatever type of gathering you're having. That's going to be my next purchase.
The FabSlabs individual chopping boards also come in a variety of shapes and sizes, even a heart shape, pizza board and more!
In fact they have a huge variety of shapes, sizes and even sets that you may just want to check out on your own.
I think the most unique fact about the FabSlabs that makes them Hygienic is that they come from Camphor Laurel trees. This timber is naturally and permanently antibacterial. Besides looking super cool now, I don't have to worry that any slices from my knives in the FabSlabs board will harbor bacteria.
These aren't just ideal for professionals but also home use for the everyday cook.
Now that I've tried mine out numerous times, I'm a HUGE fan and thrilled that I read about these and contacted FabSlabs to get my own.
Whether you make my Grilled Lime Marinated Sirloin with Peppers, Onions, & Chimichurri or your favorite dish, be sure to check out FabSlabs to insure all your food is safe in the future using FabSlabs boards.
**If interested in purchasing from FabSlabs in the United States, please go to: FabSlabsUSA.com apparently the other links I've provided are only good for Australia deliveries.
Grilled Lime Marinated Boneless Sirloin with Peppers, Onions, & Chimichurri
Get ready for spring with my Grilled Lime Marinated Boneless Sirloin with Peppers, Onions, & Chimichurri.  This simple dish is light, yet satisfies your cravings.
Ingredients:
2 large onions, peeled, cut into wedges
2 ½ tsp. Balsamic vinegar
¼ cup fresh lime juice
2 ½ tsp. sea salt – divided
3 tbsp. olive oil – divided
2 ½ lbs. boneless sirloin, flank or skirt steak
Red & Yellow Bell Pepper, grilled, then sliced
2 ½ tsp. freshly ground black pepper
Flour tortillas (optional)
Directions:
Stir together lime juice, 2 tsp salt, and 2 tbsp. olive oil in a small bowl.
Make Chimichurri, cover and set aside in the refrigerator until ready to use.
Add steak to marinade and toss to coat.  Set aside, covered, for 30 minutes to several hours to marinate in the refrigerator. Remove from refrigerator 30 minutes before placing on the grill.
Toss onions with 1 tbsp. olive oil and peppers. Grill onions in a grill basket  and set peppers on the grill for approximately 20 minutes or until tender.  Transfer to a cutting board.  When cool enough to handle, chop onions into 1-inch pieces and slice peppers into strips.  Toss onions with vinegar and ½ tsp salt.
Remove meat from marinade, and pat dry.  Add freshly ground pepper.  Grill steak 3-5 minutes per side (medium – medium/rare). Allow to rest 5 minutes, and then thinly slice on the diagonal.
Place tortillas directly on grill if using, turning once, until puffed and slightly browned.
Serve steak, with grilled onions, peppers, chimichurri and  if desired, in warmed tortillas.
Enjoy!!!
Hungry for more? Savor these!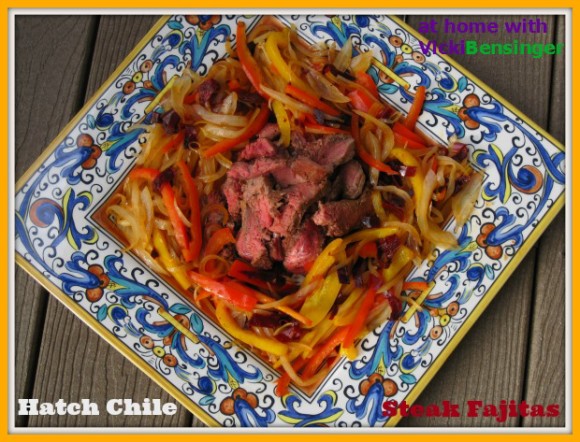 Grilled Vegetable & Chorizo Salad with Chimichurri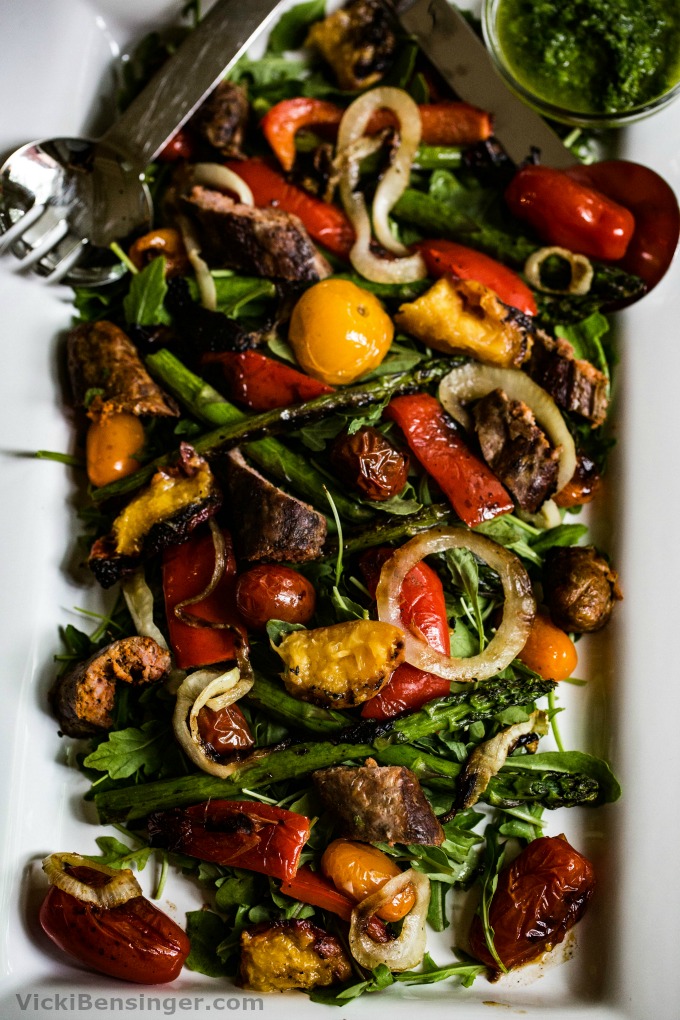 Freekeh Tabbouleh with Lime Marinated Sirloin over Flatbread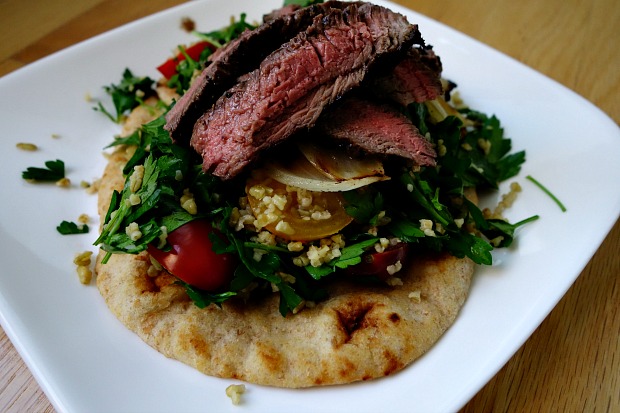 Tools Used:
Wolfe 10″ High Carbon Steel Slicer Knife
Williams Sonoma 12″ Stainless Steel Tongs