Hatch Chile Steak Fajitas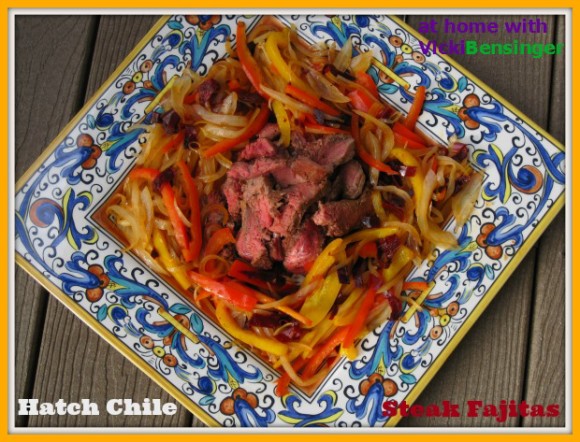 I'm embarrassed to say I've never had a Hatch Chile before, have you?  When Melissa's sent me a bag of their dried Hatch Chiles, Hatch Chile Hot & Mild spice powders along with their new Hatch Chile Cookbook I couldn't wait to try them. 
I immediately browsed through the cookbook.  There were so many flavorful and unique recipes I didn't know what to make first.  I decided to have my husband look through the book, he selected the Hatch Chile Steak Fajitas, Shredded Beef Burritos with Hatch Chiles, and Huevos Rancheros.   I made the Hatch Chile Steak Fajitas for starters, then next week when I receive my fresh batch of Hatch Chiles I'll make the other recipes.  Melissa's Hatch Chile cookbook has recipes ranging from Breakfast to Desserts & Drinks – I can't wait to try them.
Fresh Hatch Chiles are available for a brief period of time – once a year during August and September.  They range from mild to extremely hot, with the mild and medium heat varieties most prominent.  Since they're available for a few short weeks a year,  go ahead and order yours now, so you can try them before they're gone.
I rehydrated my dried Hatch Chiles in hot water for about 15-30 minutes before using them in my recipe.  However, if you order a fresh batch it's recommended that you roast them immediately, and freeze them to use throughout the year.
A single medium-size Hatch Chile has as much Vitamin C as six oranges.  Hot chile peppers are believed to burn calories by triggering a thermodynamic response in the body that speeds metabolism.  So if you're looking to rev your metabolism you'll certainly want to order a batch.
Never having tried these before I found the flavor (I had mild dried Hatch Chiles) smooth, and with a wonderful taste that I honestly can't explain.  I wasn't sure what to expect but was pleasantly surprised.  My Hatch Chile Steak Fajitas were so delicious that my family ate every last bit during dinner.  Next time I'll have to make a double batch.
If you've never tried these before don't miss out on them before they're gone.  They truly took an ordinary meal and brought it to a new level.
Here's the recipe and don't forget to check back for more in the weeks to come….
Hatch Chile Steak Fajitas
Ingredients:
Steak:
1 -1/2 pounds flank steak, trimmed ( I used Top Sirloin)
Freshly squeezed juice of 2 limes
8 cloves garlic, minced
1 (12-ounce) bottle lager, such as Dos Equis (I used Budweiser)
1 teaspoon sea salt
2 teaspoons Melissa's Hatch Chile Powder (whatever heat you prefer)
1-1/2 teaspoons ground cumin
1-1/2 teaspoons dried oregano
1/3 cup packed brown sugar
4 green onions, end trimmed (I sliced them)
*3 Hatch Chiles, roasted, peeled, stemmed, seeded, and chopped
1/3 cup extra-virgin olive oil
1/2 bunch fresh cilantro, chopped
Vegetables:
2 tablespoons extra-virgin olive oil
2 Melissa's Perfect Sweet onions, slivered
*3 Hatch Chiles, roasted, peeled, stemmed, seeded, and cut into strips
1 red bell pepper, julienned
1 yellow bell pepper, julienned
8 (8-inch) flour tortillas, warmed
Directions:
To marinate the steak, in a large resealable plastic bag, combine the meat, lime juice, garlic, lager, salt, chile powder, cumin, oregano, brown sugar, green onions, chiles, 1/3 cup olive oil, and cilantro.
Seal bag and shake to mix well.  Set bag in refrigerator to marinate overnight if using flank steak or several hours if using Top Sirloin or higher quality steak.
Preheat grill to high.  Place steak on grill and cook approximately 5 minutes per side or until the internal temperature reaches 160F degrees for medium, or to your liking.
Remove from grill and set aside to rest for 5 minutes before slicing.  (This will allow the juices to redistribute).
Slice steak into thin strips on a diagonal (especially if using flank steak), and combine with pepper mixture.  Serve with warm tortillas for delicious Steak Fajitas.
Melissa's Hatch Chile Cookbook by Sharon Hernandez and Chef Ida Rodriguez
Enjoy!!!