Gazpacho Sorbet for a Hot Summers Day!
Summertime is the perfect time for ice cold soups and a favorite of mine is Gazpacho.  Back in 2004 I came up with this recipe while chatting with a chef friend of mine on a site I use to frequent – no longer in existence.  After perfecting it, I've taught it in my in-home culinary classes with rave reviews.  So today I decided to share it. 
I love gazpacho – it always hits the spot on warm days, while still being very nutritious.  But with temperatures expected to soar into the 100s this week, my Gazpacho Sorbet will be the most satisfying meal to eat.  It will nourish your body and cool it down, without feeling too full.
If you've never made Gazpacho before it's simply a matter of taking fresh vegetables and pureeing them in a blender, chilling, then ladle into bowls for a refreshing summertime soup.  Packed with nutrition, high in lycopene and antioxidants, it's sure to leave you feeling satisfied after a bowlful.
Sometimes the heat can be brutal in the summer as it is right now in the Midwest.  When that happens you can choose to stay indoors or keep yourself hydrated and cool in order to tolerate the high temperatures and humidity.
With the extreme heat iced beverages, and desserts are a welcome treat.  My Gazpacho Sorbet with a drizzle of Cilantro Pesto fits the bill for a savory entree or appetizer I think you'll enjoy.
Before making this recipe I would suggest reading it from start to finish.  Each of the five quick recipes can be made in advance, although I prefer serving the sorbet straight from the ice cream machine when the texture is more velvety.
I hope you'll give this a try.  Serve to family or a gathering of friends.  They're sure to want the recipe to recreate on their own.
Are you a fan of Gazpacho?  If so, I'd love to hear what your family and friends have to say once you serve this to them.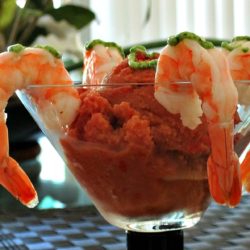 Gazpacho Sorbet
A refreshing twist on an old classic is sure to have you coming back for more!
Ingredients:
Sorbet:
1 clove roasted garlic, smashed *
1/2 tsp. salt (optional)
1 pound tomatoes (I used Campari)
1/2 red bell pepper chopped
1/4 cup chopped sweet onions (I used a small onion, rather than a 1/4 of a large)
1/2 English cucumber, peeled, and chopped
2 Tbsp. balsamic vinegar
2 Tbsp. vodka
2 Tbsp. Simple syrup **
2 Tbsp. Extra-virgin olive oil
Grilled Shrimp:
Jumbo shrimp, peeled, leave tail on and devein
Olive oil
S&P
Cilantro Pesto:
1 cup chopped cilantro (packed)
2 tablespoons fresh lime juice
¼ cup light olive oil or to desired consistency
¼ cup pine nuts
¼ cup freshly grated Parmesan cheese
1-2 cloves garlic
Directions:
Sorbet: Add all ingredients in a blender and puree.
Chill for about an hour then place into ice cream maker.
Mix in ice cream maker approx. 20-30 minutes and serve.  Best served when freshly made.
Shrimp: Clean and rinse shrimp and toss in olive oil to coat with S&P.  Place on grill 2-3 minutes per side or until turns pink.  Set aside until sorbet is done.
* Roasted Garlic – Take entire head of garlic and cut off top exposing tips of garlic.  Place head of garlic in heavy duty foil, drizzle olive oil over top and add a pinch of S&P and seal tightly. Put in 375 degree oven for 1 hour.  May be stored in refrigerator for up to a week.  To use, squeeze out cloves as needed.
**Simple Syrup = 1 cup sugar to 1 cup water.  Bring to a low boil in saucepan for about 2 minutes until sugar dissolves.  Can be refrigerated for up to 1 month.
Pesto: Combine ingredients in blender and drizzle over shrimp, seafood or pasta.
Serve:  Scoop sorbet into a martini glass, adding shrimp - tail out, drizzle with cilantro pesto.
Garnish with a sprig of cilantro, if desired.
Notes:  
This recipe is best to prep the Roasted Garlic & Simple Syrup a day ahead or earlier in the day, then set aside.
If you prefer your sorbet to be a different color use yellow tomatoes and yellow peppers. 
If you don't feel like roasting the garlic you can place it in the blender raw and it will be more prominent.  Roasting mellows and sweetens the taste of the garlic.
Adding the vodka is necessary to keep the sorbet from getting rock solid.
Hungry for More? Savor These!
Avocado, Cucumber, and Melon Soup