Watermelon Salad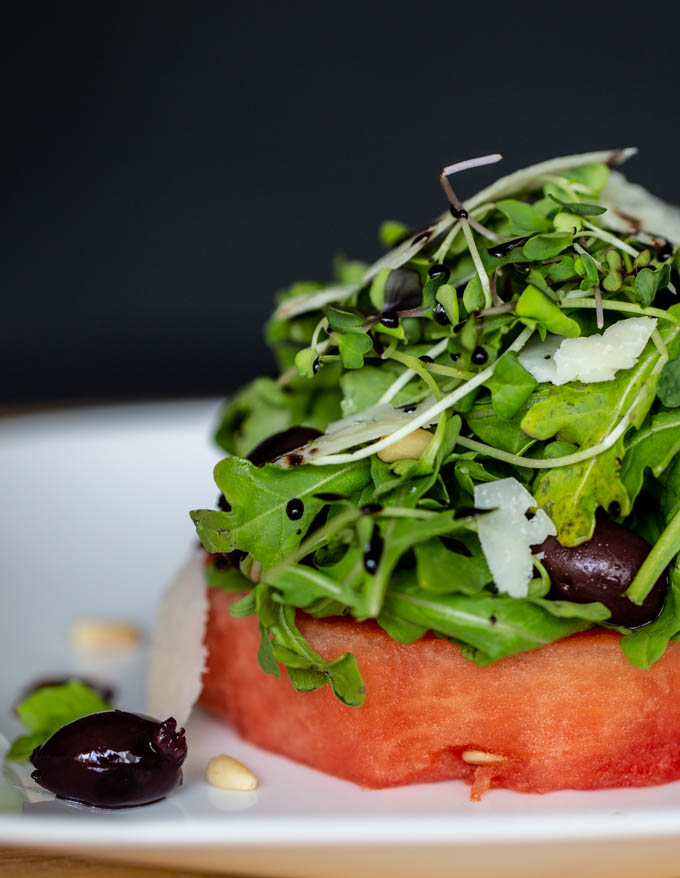 Looking for a quick salad to serve on a hot summers day?  Look no further! This Watermelon Salad with Arugula. pine nuts, Kalamata Olives, Pecorino cheese, and a Balsamic reduction is so refreshing to eat and quick to prepare. 
Create individual servings using one large square, rectangle, or triangle, you get the picture, or cut the whole watermelon into chunks. Then add the toppings and you're set to go.
Did you know that this refreshing fruit consists of  mostly water — approximately 92 percent, and is soaked with nutrients? Each juicy bite contains vitamins A, B6, C, lycopene (anti-inflamatory), antioxidants, amino acids, and potassium.
These nutrients when ingested help to lower the risk of heart disease, reduce hypertension, cholesterol, and lower blood pressure in obese adults. In addition watermelon:
protect against diabetes
lowers the risk of asthma attacks, and periodontal disease, due to high amounts of Vitamin C
helps you lose weight faster – satisfying sweet cravings while filling you up not out
helps regulate nerve function – rich in potassium, relieving numbness, tingling and leg cramps
helps balance your pH – since watermelon is an alkaline food, it helps neutralize the acidic components in our diets, thereby helping our bodies maintain a proper pH level.
prevents heat stroke and heat exhaustion – due to high concentration of water and contains electrolytes
digestive aid – high amounts of water and fiber in watermelon
keeps your kidneys healthy and clean – thanks to the toxin fighting nutrients of calcium & potassium
Since Watermelon is fat-free, low in sodium and has only 40 calories per cup it makes the perfect summertime snack.
Of course, if you cut up a huge watermelon and worry that you won't be able to finish it before it goes bad, then juice it! Watermelon juice is known to provide a slew of benefits as well.
Drinking watermelon juice  before an intense workout helps reduce next-day muscle soreness and heart rate. This can be attributed to watermelon's amino acids citrulline and arginine, which help improve circulation. In fact citrulline has been noted to also improve athletic performance.
The next time you reach for a post work out drink that contains L-citrulline, reach for a wedge of watermelon or watermelon juice instead. The restorative amino acid helps accelerate the rate of lactic acid removal from your muscles, giving you a quicker recovery time after your tough workout. Because watermelon has a high water content, it will help you rehydrate in one of the most delicious ways possible.
Simply fill up your blender with chunks of watermelon, seeds included, and puree.  Then strain through a fine mesh sieve. and serve for a cold refreshing and healthy beverage.
Besides all these health benefits, eating watermelon is just plain good! It's refreshing, quenching, satisfies your sweet tooth all while filling you up.
This simple recipe below can be modified any way you choose.  Cut up your entire watermelon in chunks or individual large pieces. Then top with the arugula, micro-greens, pine nuts, Pecorino cheese, Kalamata olives and Balsamic reduction.
If you prefer other greens or olives then change these out.  Maybe you'd prefer feta instead of Pecorino, or a different vinaigrette.  It's your recipe, so change it up to suit your taste.
No matter how you cut it, or dress your watermelon, it's sure to please.  Here's my recipe – I hope you'll give it a try!
Watermelon Salad
This Watermelon Salad while an unlikely combination, will have you making it over and over again. So refreshing & delicious!
Ingredients:
4 (1-inch) round slices, watermelon, rind removed
1 (5 oz.) container arugula
micro-greens of choice for garnish
12 Kalamata Olives
1/4 cup Pine Nuts or Pisachios
Pecorino Cheese, shaved
Balsamic Reduction or vinegar
Directions:
On individual plates place slices of watermelon.
Combine arugula with micro-greens, olives, and pine nuts.  Top a mound onto each round of watermelon.
Using a carrot peeler, shave slices of Pecorino Cheese over the greens.
Drizzle generously with Balsamic Reduction. Place dots around plate for design.
Serve.
Hungry for more? Savor these!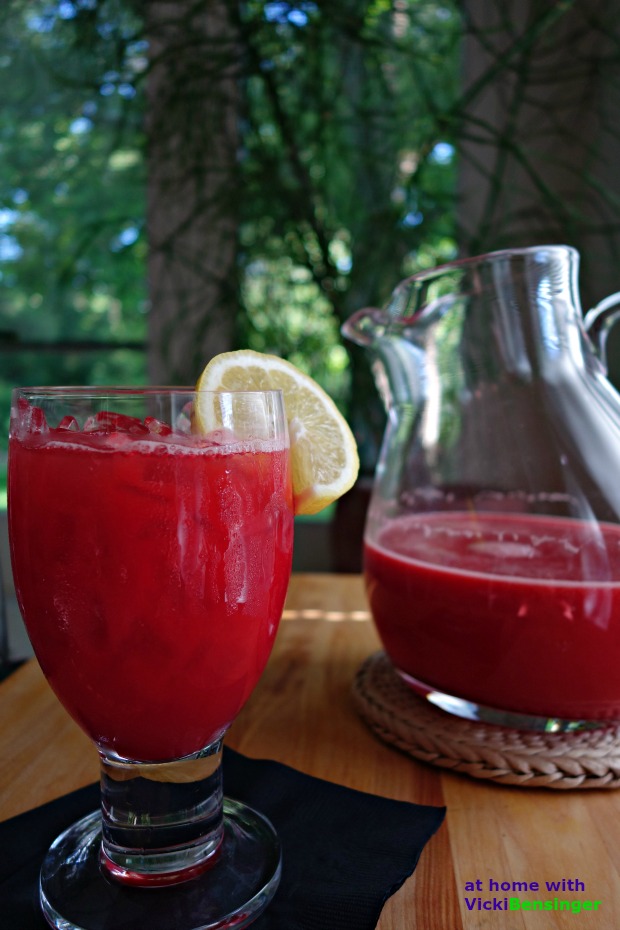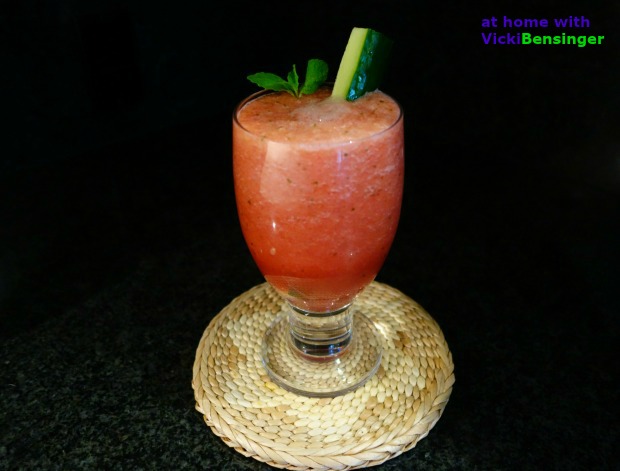 Tools used to create this dish: