Smoked Gouda Mac 'n Cheese
Over the years I've tried to change much of how I cook to heart-healthy recipes.  Not only do we feel better after eating, but our bodies are healthier for it. 
However, once a year we do tend to indulge as many of us do during the holidays.  Over the past 5-6 years my son has had a thing about Mac 'n Cheese for the Thanksgiving table. Only he prefers to purchase the Mac 'n Cheese from Fleming's Restaurant.  He loves the smokey flavor and how rich and creamy it is.
This year I decided I'm going to try and come up with my own version that while similar, doesn't have quite the bite as Fleming's does.  In fact, IMO theirs is so rich you can barely eat more than a spoonful.  Or shall I say everyone except my son, who eats it until he can't take another bite.
Last week when he came over for dinner I decided to surprise him with my Smoked Gouda Mac 'n Cheese. My son was pleasantly surprised but he actually gave it 2 thumbs up, which is HUGE for him!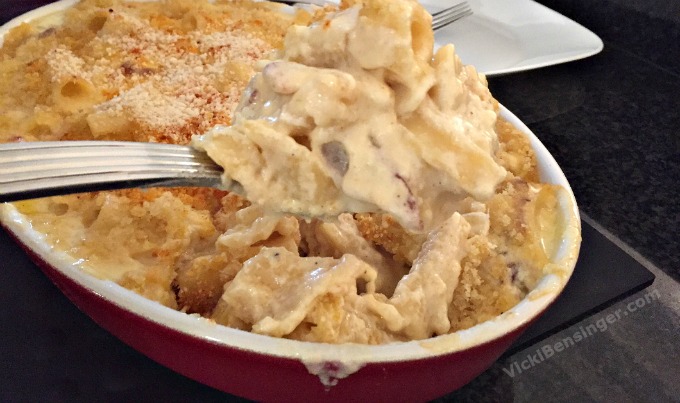 I'm not sure of all the ingredients in Fleming's Mac 'n Cheese.  I saw a recipe for it years ago, but decided I'd go by what I thought would be flavorful, while still trying to duplicate the flavor of their recipe to some degree.
I did add bacon, smoked paprika, cayenne & Panko Bread Crumbs to the recipe which I'm not certain is in Fleming's.
If I do say so myself my version was quite tasty! Homemade Mac 'n Cheese this Thanksgiving remains to be seen, even though my son loved it. He definitely has the final say!
Try my Smoked Gouda Mac 'n Cheese if your a fan.  It's rich, and creamy, with ooey gooey smoked cheese and spices, that stick to your ribs.
This is not dietetic or even healthy.  In fact, I'd confidently say it's a heart attack waiting to happen, especially if you indulge too much.  Certainly not for someone who needs to watch their salt, fat, & cholesterol intake, among other factors.
That said, if you have the desire to be a glutton for one evening, I definitely recommend my Smoked Gouda Mac 'n Cheese.  It tastes amazing going down!
Just remember to pace yourself…………………..
If you try my Smoked Gouda Mac 'n Cheese I'd love to hear your thoughts, and comparison to your favorite Mac 'n Cheese recipe.
If you've never made homemade Mac 'n Cheese here's an interesting article from Fine Cooking Magazine on the Science of Melting Cheese.
Here's my recipe………….
Smoked Gouda Mac 'n Cheese
If you love Mac 'n Cheese you'll love my rich, & creamy Smoked Gouda Mac 'n Cheese.  Be sure to wear loose fitting pants prior to eating!
Ingredients:
4 Tbsp. butter
4 Tbsp. all-purpose Flour
2 cups heavy cream
2 cups milk
8 oz. Vermont Cheddar, shredded or cubed
8 oz. Smoked Gouda, shredded or cubed
4 oz. whole milk low moisture mozzarella cheese
1 tsp. kosher salt
1 tsp. smoked paprika
1 tsp. black pepper
¼ tsp. cayenne pepper
2 strips Applewood Smoked bacon, cooked and chopped
1 lb. rigatoni noodles, cooked al dente
½ cup Panko Bread Crumbs
Directions:
Preheat oven to 350F degrees
Melt butter in a large stockpot over medium high heat. Add flour and whisk to combine.  Cook for 1-2 minutes.
Slowly whisk in heavy cream and milk. Continue to whisk until thickens, 5-7 minutes
Remove pan for heat
Add Cheddar, Smoked Gouda, Mozzarella, salt, pepper, cayenne, & smoked paprika, to stockpot. Stir until melted and blended well.
Add chopped bacon & cooked pasta to cheese mixture and stir to combine.
Pour Mac & Cheese into an oven proof baking dish (sprayed with non-stick spray) and top with Panko bread crumbs. Bake for 20-25 minutes, uncovered, or until bubbling.
Serve & Enjoy!!!
Hungry for more? Savor these!
Baked Mac 'n Cheese with White Truffles & Mushrooms
Skinny Loaded Sweet Potato Bites
French-Toasted Turkey & Cheese Party Sandwich Bites
Ooey Gooey Cheese Dip with Homemade Tortillas
Tools I used when making Smoked Gouda Mac 'n Cheese: