Grilled Beef Filet with Chimichurri & Farro Salad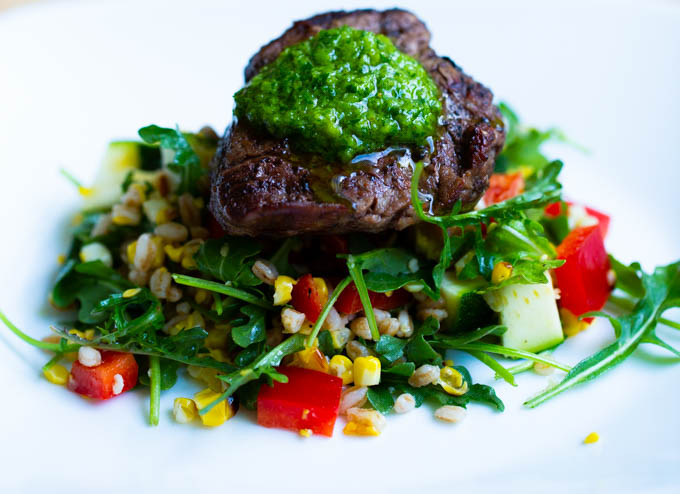 I love creating meals, so when I was asked if I'd be interested in receiving a box of grass fed meats from Strauss Direct it was a no-brainer.  Of course I said, "yes!"
I pride myself on purchasing the very best food that I can.  It's important to know that the foods we eat have been grown using safe farming practices for the good of the animals, environment, our children and ourselves. 
The Strauss family is committed to raising the very best meats — ethically raised, family farmed and masterly butchered. They are driven by a strong ethical commitment to improve the welfare of their animals, and the environment for our children's future. Their community of farmers and butchers are dedicated to making a difference – good for the animals, good for the Earth, and good for you.
When the box arrived there were 10 varieties of meats:
Burgers
Chicken Wogs
Chicken Wings
Lamb Loin Chops
Grass Fed Beef Franks
Grass Fed Beef Ribeye Steaks
Pork St. Louis Ribs
Pork Bratwurst
Long Bone Pork Chops
Grass Fed Beef Filet
With the holidays this weekend I'll have no need to go out and purchase anything. We will have a smorgasbord of food to select from.
However I couldn't wait! So I decided to create a dish using the Strauss Beef Filet – was it ever good!
I wanted the dish to feel light, refreshing and healthy – not overpowering with a heavy sauce.  Instead I chose to grill the filet with a light sprinkling of fresh ground pepper & sea salt.  Cooking the beef to medium rare, my favorite, leaving it tender and succulent!
To go with the Strauss beef filet I made a Chimichurri sauce, that would bring out a light fresh taste when dolloped on top. Then to finish it off I created a vegetable salad with farro (an ancient grain) and a light vinaigrette, so as not to outshine the Chimichurri or the steak, but compliment it. It was perfect.
Besides the meat tasting incredible along with the sides, I loved that it was delivered to me.
Many families today have 2 working parents. Having food ready and waiting when you arrive home is a plus.  While you still have to prepare the meal, you won't have to worry about running to the store on your day off, or after work, to shop for groceries.  Especially if you're trying to make it to your child's after school sport, or they're waiting at home alone for you.
Life is busy these days, and Strauss Direct understands. To help relieve that stress, they bring the meat right to your front door. What could be better than that?
To learn more about how you can order from Strauss Direct it's just a click away.
When you order the Strauss Beef Filet I hope you'll try my recipe below.  I think you're going to love it!