Gingerbread Biscotti
Now that Halloween is behind us I feel like the official holiday season has begun.  From now until January 1st 2019 everyone will get their fill of holiday lights, songs, holiday shopping, gift giving and receiving, plus plenty of opportunities to party. 
One of my favorite things to do each year is bake up batches of gingerbread, and create Gingerbread Houses with families.  Today I thought I'd make something a bit different – Gingerbread Biscotti.
Gingerbread Biscotti sounded like a good idea and it was, but I realized I'm not that big a fan of the stuff.  I can take it in small doses but having some 36 Gingerbread Biscotti is a bit too much to handle.  I dipped a few in dark chocolate, something I had on hand and drizzled some with white chocolate as well.  I should have decorated some of them with royal icing which I'm pretty sure I would have loved.  Unfortunately I was out of powdered sugar and didn't have the time to get any.  That will be for you to test out and report back to me.
If you're a fan of gingerbread then I'm certain you'll enjoy these Gingerbread Biscotti.  Dip them in hot coffee or hot cocoa just enough to absorb some of the flavor, and indulge.  YUM!!!
Biscotti, are an Italian almond biscuits that are twice-baked, oblong-shaped, dry, crunchy, and may be dipped in a drink. Typically enjoyed for breakfast or afternoon tea.  They always seem to be just the right amount to take the edge off when hunger pains arise.  This version uses holiday spices unlike my Cranberry Orange Pistachio Biscotti which are simple and delicious!
Try my Gingerbread Biscotti for something different, or if preferring a more traditional biscotti  packed with flavor, then try my Cranberry Orange Pistachio Biscotti.  You won't go wrong with either one.
Now that the holiday season is upon us what type of recipes would you like me to share, that you can prepare for your guests? I'll do what I can to grant everyone their wish!
Gingerbread Biscotti
If you're a fan of gingerbread you'll love these Gingerbread Biscotti dipped in Dark Chocolate to go with your morning coffee or midday snack.
Ingredients:
¾ cup unsalted butter
¾ cup dark brown sugar
Dash salt
1½ teaspoon allspice
1½ teaspoon ground cloves
1½ teaspoon ground cinnamon
1½ teaspoon ground ginger
⅓ cup molasses
¼ cup Lyle's Golden Syrup
1 egg
5 cup all-purpose flour
1 teaspoon baking soda
3 tablespoons water, lukewarm
2 cups dark chocolate
¾ cup white chocolate
Directions:
Preheat oven to 325 degrees.
In stand mixer with a paddle attachment, mix butter, brown sugar, salt, allspice, cloves, cinnamon and ginger until light and fluffy, about 5 minutes on medium speed.
Add molasses, Lyles Golden Syrup and egg,  mix until fully incorporated. Scrape down sides of bowl with rubber spatula.
Add flour and baking soda in 3 additions until fully incorporated. Do not over mix. Add water and mix until just incorporated, will look crumbly.
Divide dough in half and form each into a log. Press down onto two parchment lined baking sheets into a ½-inch thickness. Dough should be about 12 inches long and about 4 inches wide.
Bake for 10 minutes. Rotate pans, and bake for additional 10 minutes. Let cool 5 minutes. If using a convection oven bake for 15 minutes  then cool.
Use serrated knife, cut each log into ½-inch thick slices. Place onto sheet pan.
Bake for about 15-20 minutes. Cool completely.
Melt dark chocolate in microwave safe bowl for 30 seconds at a time until smooth and stirs easily, about 1½ minutes total.
Dip one end of biscotti in melted chocolate and place on fresh piece of parchment.
Melt white chocolate using same method as dark chocolate. Drizzle white chocolate over biscotti. Cool completely and serve!
Slightly adapted from: The Local Palate
Hungry for more? Savor these!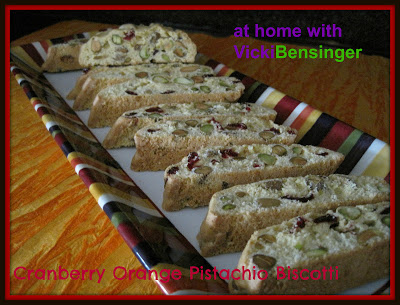 Cranberry Orange Pistachio Biscotti
Applewood Smoked Bacon & Cotswold Scones