Baked Tilapia with Green Chutney
Last month while traveling in Africa we experienced all sorts of creative cuisine.  When we were at Sabyinyo Silverback Lodge in Rwanda for our Gorilla Trekking we enjoyed Baked Tilapia with Green Chutney wrapped in Banana Leaves. 
I've always thought of chutney to be more like jam.  Chutney as described in Wikipedia is a sauce or a dry base for a sauce in the cuisines of the Indian subcontinent that can include such forms as tomato relish, a ground peanut garnish or a yogurt, cucumber, and mint dip. However as I continued reading about chutney, it can also be a paste depending on where you live or other consistency.
When we ordered the Baked Tilapia with Green Chutney you can imagine my surprise when what was presented to us looked more like a paste or pesto encrusted on the top of the tilapia.
I said to the waiter, "I think you forgot the chutney for the side!" Of course he then showed me it was the paste.  Okay so I wasn't familiar with chutney in that form and apologized.
Tilapia is an inexpensive, mild-flavored fish, loved by many because it's affordable and doesn't taste fishy. In fact, tilapia was the fish I used to introduce to my kids when they were younger.
A 3.5-ounce serving contains the following:
Calories: 128
Carbs: 0 grams
Protein: 26 grams
Fats: 3 grams
Niacin: 24% of the RDI
Vitamin B12: 31% of the RDI
Phosphorus: 20% of the RDI
Selenium: 78% of the RDI
Potassium: 20% of the RDI
It wasn't until this post though that I looked up the definition of tilapia only to find that some of its farming practices are undesirable in certain parts of the world.  Since I purchased my tilapia at Whole Foods Market I feel confident that they take pride in bringing in the best seafood and meats for their customers.  After all that's what Whole Foods is all about and would hope the same holds true now that Amazon has taken it over.
Even still, one of the main complaints it seems is that other fish like salmon, trout, albacore tuna and sardines contain large amounts of omega-3 fatty acids where tilapia does not. Wild-caught salmon contains over 2,500 mg of omega-3 per 3.5-ounce (100-gram) serving.
For concerns about the fish you're purchasing check out the Monterey Bay Aquarium Seafood Watch website, or get the App for your phone like I have.  Then you'll never be in the dark. You can also check out their website and others on the Links page of my site.
My daughter and I both ordered the Baked Tilapia with Green Chutney.  After eating the entire plate of food set before us, we both agreed it was delicious! I knew I had to get the recipe and the chef kindly wrote it out for me so I could make this at home.
Although the green paste may not look appealing, it's quite delicious!  Be sure to season with salt and pepper to help bring out the flavor of the chutney.
Sabyinyo Silverback Lodge cooked and served the Tilapia in Banana Leaves, but I was unable to find any except frozen ones.  I chose to wrap them in heavy duty foil instead.  As the warmer weather approaches in the Midwest I was assured fresh Banana Leaves would be available.  I'll use those next time as they impart some of their flavor into the Tilapia.
You could also use parchment paper and create a pouch around the Tilapia while baking, then opening to serve.
If you like fish, then I'm certain you'll enjoy this Baked Tilapia with Green Chutney.
Please let me know if you give this a try.  If so, share your photo at #vickibensinger on Instagram, with a brief description. Don't forget to add a comment on this blog post.
If you'd prefer trying the chutney on another type of fish I encourage it.  The green chutney will lend a nice flavor to almost any mild fish, plus keep it from drying out.
Baked Tilapia with Green Chutney
This unusual combination of ingredients creates a paste that will leave your fish tasting succulent.
Ingredients:
½ bunch fresh cilantro
1 handful mint leaves
2 long thin green chilies (serrano), seeded
½ tsp. turmeric
1 tsp. ground cumin
1 clove garlic
½-inch knob fresh ginger, peeled
¼ cup grated unsweetened coconut
Juice of ½ a lemon
Salt & Pepper to taste
4 pieces of Tilapia
Heavy duty foil or Banana Leaves, soaked
Directions:
Preheat oven to 425F degrees
Place all ingredients except fish in a food processor  and blend to create a paste. 
Rinse tilapia and pat dry and place each piece on an individual sheet of heavy duty foil, large enough that it can be sealed up.
Spread chutney paste in a thin layer onto exposed side of each piece of fish. Bring sides up of foil leaving air space inside and fold over to seal. Gather edges up and seal, encasing the entire piece of fish.                      
Repeat with remaining fish. Place packets onto a sheet pan.
Place in the preheated oven for approximately 12 minutes.
Serve with lemon wedge on the side.
Sabyinyo Silverback Lodge, Rwanda
Hungry for more? Savor these!
Baked Salmon with Avocado Mango Salsa over Coconut Rice
Grilled Grouper with a Quinoa Mélange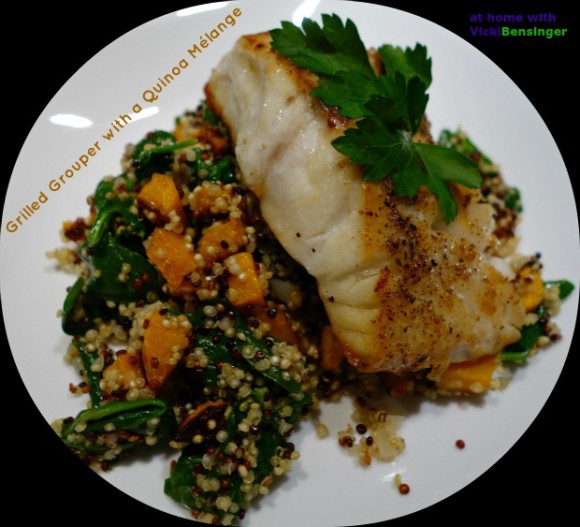 Grilled Seabass over Zucchini Pasta with Roasted Tomatoes
Tools used for preparing Baked Tilapia with Green Chutney: