Tomato Jam, Pesto, & Ricotta Jar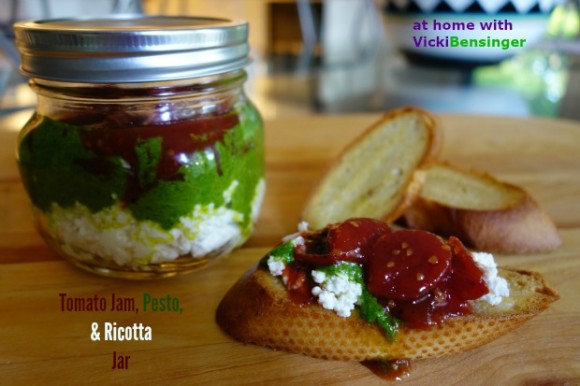 If you've been a follower of At Home with Vicki Bensinger then you probably recall my crazy summer moving my daughter.  Last week she called to tell me she had the best appetizer at the Nordstrom restaurant, Ruscello.  She told me they placed a wood plank on the table holding a mason jar, layered with ricotta cheese, pesto, and tomato jam.  To go with the appetizer, was crostini.
She raved about this appetizer, and how the flavors melded so well together, and that the presentation was stunning!  "This would make the perfect holiday gift.  You've got to try to recreate this," she said.
It's not often that she goes on such a rant about a dish, but when I got off the phone I knew I had to make this.  The version she had was a basil pesto without nuts.  My version is a spinach pesto, with nuts.  Basil sounds wonderful too, but every time I go to get some basil, the store is out of it. When I mentioned to my daughter I was making it with spinach pesto she said, "oh that's good, it's not as bitter as basil pesto."
This would be beautiful in a half-pint mason jar as shown above.  The jars I used were Ball canning jars.  Once filled, place  in a cellophane bag and tie with a ribbon.  These would be ideal to bring to a dinner party or for a hostess gift.  Since the homemade ricotta cheese is best consumed within 3 days, I'd suggest making the ricotta the day you plan to gift it – just in case it's not eaten right away.  Always be sure to attach instructions!
Rather than list the recipe for Homemade Ricotta Cheese, Spinach Pesto, and Tomato Jam, I will link to each of these in the instructions below.
Each recipe takes no time to prepare, and all are easy to make.  Why wait until the holidays to savor a jar?  Gift it to yourself this weekend, or the next time you're having company over.
Tomato Jam, Pesto, & Ricotta Jar
A blend of flavors that feels like a party in your mouth! Positively delicious!
Ingredients:
Directions:
Prepare the homemade ricotta cheese, spinach pesto, and tomato jam.  Allow chilling time for each recipe.
Once chilled, place approximately 4 heaping tablespoon of ricotta cheese in the base of a half-pint, wide mouth, Mason jar.
Add 3-4 tablespoons of Spinach Pesto on top of the Ricotta Cheese, enough to cover the cheese.  Try not to get any on the rim of the jar.
Top with 4 tablespoons of the Tomato Jam so it fills the jar.  Leave about a half-inch space above jam, so the lid can be placed on without smashing the ingredients.
Place in the refrigerator until ready to serve.  Serve with a spoon for scooping onto the crostini.
Enjoy!!!