Spinach Pesto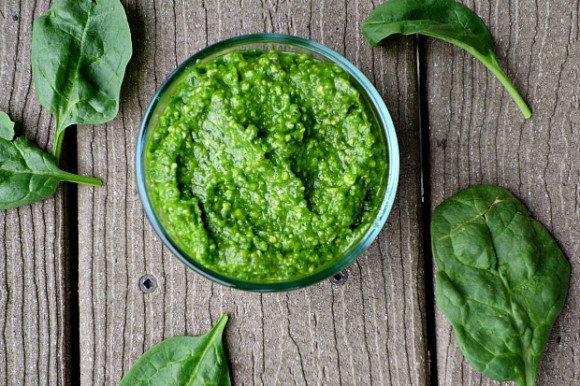 I have to apologize for my absence this past week.  We were traveling, and in the midst of all that my daughter got a promotion, which means she will be moving to Minneapolis quickly. 
I've been scrambling while she's working her full time job to research areas in Minneapolis for her to live that will meet her needs, and also within a 15 minute drive to work in Minnetonka.  It's challenging since none of us have ever been to the state.
In a week the two of us will fly there and spend 2 days scouring the area, looking at various apartments in St. Louis Park, Uptown, the North End and Loring Park.  At the end of the 2 days she will have selected an area that she feels meets her needs, and an apartment. Any suggestions would be greatly appreciated.
To say the least that's been my #1 priority.  I hope to get a few recipes posted this week, and scheduled for next week before leaving to find her an apartment.  It's all very exciting and bittersweet at the same time. Thank goodness she'll just be a 1 hour flight from home.
Last week the kids were coming over for dinner, and asked if I'd make some pesto.  We love pesto and typically I have a homemade jar in my refrigerator.
I went to the grocery store to purchase some basil, since I don't have my own garden, but unfortunately the stores I visited didn't have enough, or what they had looked spotted and brown. I opted to purchase spinach instead as a substitute for the basil.
I'd never made spinach pesto for my family before, but have to say they all enjoyed it more than the basil pesto.  I did as well!  The spinach pesto didn't have an aftertaste like basil pesto often does.  It was a huge hit, and quite frankly it's easier to find the ingredients at the stores, and less expensive.
Pesto can be whipped up in just minutes using a food processor, large or small.  If you don't think you can finish it all before it goes bad, then simply pour it into an ice cube tray to freeze.  Once frozen remove the cubes from the tray, and place in a plastic freezer storage bag until ready to use.  Then just defrost.  In our home pesto disappears in just a few days, so I keep ours stored in a covered jar in the refrigerator.
Here's my recipe! Plus, later this week I'll share some dishes using the spinach pesto that I think you'll enjoy – so be sure to stop back by.
Spinach Pesto
Ingredients:
3 Tbsp. pine nuts
2 cups fresh spinach leaves
1 garlic clove
Pinch of sea salt
½ cup plus 3 Tbsp. grated Parmigiano-Reggiano cheese
1 ¼ cups extra virgin olive oil
Directions:
In a food processor, place pine nuts, spinach, garlic, and sea salt and process to a paste. Add the cheese and drizzle in the olive oil. Store in a jar, topped with oil.
Pesto can be used in many dishes. From dips, to spreads, with fish, chicken, meats, eggs. on sandwiches and pasta, just to name a few. Make up a batch of your own for a fraction of the price that it would cost to purchase the ready-made variety in the stores and you'll never buy it again.