1. Preheat oven to 375F degrees
2. Mise en Place all ingredients, this will make the prep work that much easier.
3. Roast the Red Peppers, peel skins and slice into 1/4 inch strips (if preferred you can purchase jarred - then slice) Set aside.
4. Roast Butternut Squash in 425F degree oven for 20-30 minutes until soft.  Remove from oven, Set aside and allow to cool.
5. Saute butter and shallot together in a saute' pan, remove from heat and add spinach, nutmeg, eggs and Parmesan cheese. approximately 1/4 cup bread    crumbs or just enough to soak moisture - but not dry.  Blend all together.
6. Using a 10" Springform pan dot bottom center with non-stick spray, line bottom of pan with circle of parchment, then spray interior, sides and bottom of pan.
7. Take one roll of Pillsbury Pie dough from box and roll out dough approximately into a 15" round with additional overhang all the way around.
8. Layer the filling in this order: Lay dough in springform pan, tucking into corners and hanging over the sides - sprinkle with 1/4 to 1/2 cup bread crumbs
9.  Layer with 1/3 of spinach mixture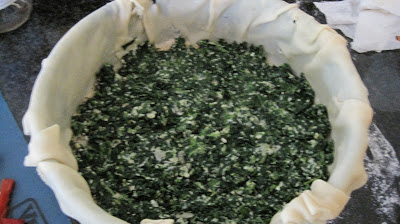 10. Place 1/2 of the strips of Roasted Red Peppers over spinach
11. Spread 1/2 the Roasted Butternut Squash over the Roasted Red Pepper
12.  Top with 1/2 each of the shredded Fontina and crumbled Goat Cheese
13. Repeat layers adding, 1/3 spinach, 1/2 Roasted Red Peppers, 1/2 Butternut Squash, 1/2 each of Fontina and Goat Cheese, final 1/3 of Spinach mixture.
14. Top with 1/4 to 1/2 cup of bread crumbs, then pulling the remaining dough over the spinach and bread crumbs.
15. Remove second roll of dough from box and roll into large circle enough to cover top of pan with 1 1/2 inch overhang all the way around.  Lay dough over top and gently tuck remaining dough into outer edges of pan, being careful not to tear dough.
16. Cut hole in the center and 5 slits around the hole for venting.
17. Taking 1 egg with a bit of water whisk and brush over dough (egg wash).
18. Bake for 1 hour or until the crust is a deep golden color.  Remove from oven and allow to cool for about 15 minutes.
19. Remove sides of Springform pan and gently flip over (placing plate over top) and remove bottom and parchment.  Flip right side up and set on serving platter.
20. Slice and serve.