Ravioli Lasagna – Video
Ravioli Lasagna was always one of my go to weekday meals when the kids would have their after school sports or events. It was always one of those dishes that I knew my family loved and could be prepped ahead and on the table in just thirty minutes.
I've been blogging since 2009 and since that time most of what I share now uses all fresh ingredients. However, sometimes using bottled sauces, frozen products, and packaged fresh grated cheese is okay. Know your source and always read the packaging before purchasing. This insures that the product purchased meets your standards.
If you're at all a fan of Italian dishes, pasta, or lasagna then you'll want to try this recipe for your family.
Creating this dish can easily be achieved all at once. It simply takes tossing the ravioli into a pot of boiling water for the time specified on the package, and draining it. During that time mix the spinach ricotta filling together, and have your sauce ready and waiting.
Feel free to use your own homemade pasta sauce, but typically I use the jarred. Since this is a recipe I make when time is of the essence, why would I make homemade sauce, unless I already have it on hand?
I think you'll agree that Ravioli Lasagna will become a recipe you'll continue making time and time again.
Ravioli Lasagna
Ravioli Lasagna will quickly become your families favorite recipe. It's quick & easy to prepare, & can be prepped ahead and on the table in just 30 minutes. Ideal on busy days, for game day, and parties! Try it, you'll love it!
Ingredients:
25 oz. frozen beef ravioli
15 oz. container ricotta cheese
10 oz. package frozen chopped spinach, thawed and drained
1 egg
1 tsp. dried basil
24 oz. jar pasta sauce, or homemade
3/4 cup grated Parmesan
Directions:
Cook pasta according to package directions. Drain and set aside.
In a bowl, combine ricotta cheese, spinach, egg, and basil. Set aside
In a 9 x 13-inch baking dish that is coated with non-stick spray, spread 1 cup pasta sauce over the bottom of the dish.
Arrange half the cooked ravioli in a single layer touching end to end.
Spread all the ricotta/spinach mixture over the ravioli layer.
Top with remaining ravioli and cover with remaining pasta sauce.
Bake, uncovered in 350F degree oven for 30 minutes or until sauce in bubbling.
Sprinkle Parmesan cheese over top.  Let stand for 10 minutes before serving.
Enjoy!!!
Notes: If you're not a fan of meat there are so many varieties of ravioli on the market today. One of my favorites is butternut squash ravioli, but I've seen mushroom and a host of others.  So check out your grocer and modify this recipe to suit your taste.

Hungry for more? Savor these!
Towering Eggplant Lasagna with Mozzarella
No Noodle Butternut Squash Lasagna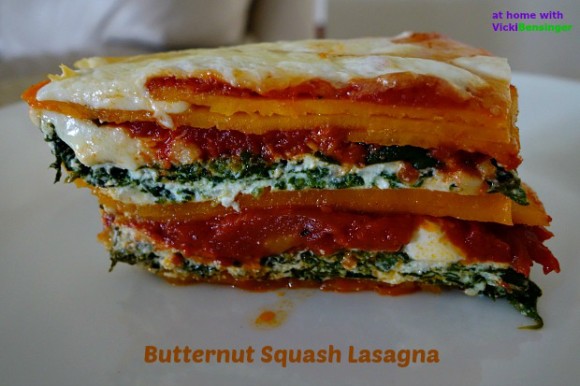 Chicken Meatballs over Butternut Squash Zoodles