Pumpkin Spice Crackers
Every time I walk into Whole Foods they always have samples of Lesley Stowe's Raincoast Crisps at the cheese counter that I can't resist.  If you're not familiar with these, they're tiny ultra thin crackers filled with nuts, dried fruit and oftentimes herbs.  I never feel the least bit guilty having 1 or 2 or even 3 crisps. They're flavorful, crunchy and not at all filling.  A few years back Whole Foods introduced a new holiday flavor – "Pumpkin Spice Crackers."  After sampling one, I decided to try making them. 
It didn't take long to find similar recipes online for a base cracker without special seasonings.  Since I wanted to try and duplicate the Pumpkin Spice Crackers I sampled at Whole Foods I decided to use a base recipe. plus spice ingredients listed on the Raincoast Crisps box.  To my surprise they tasted identical to the store bought and I've been making them ever since.
These mini crisps are perfect as appetizer toasts, with cheese, spreads, dips or anything else you can think of to put on them.  You might even want to package them up to give as a gift with some homemade jam or cheese.
If you're a fan of Lesley Stowe's crackers or ultra thin crackers you're going to love these.  Here's my recipe, I hope you'll try them…..
Pumpkin Spice Crackers
Ingredients:
Directions:
Hungry for more? Savor these!
Butternut Squash & Tahini Spread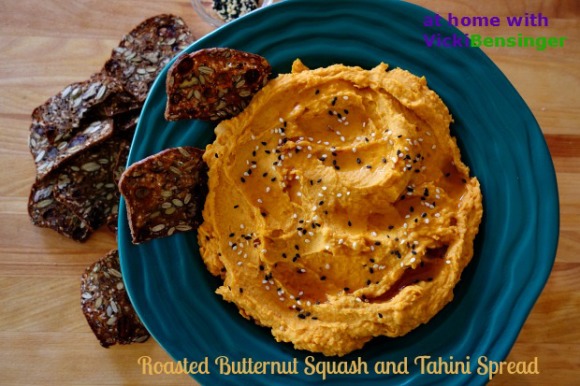 Tools used to make my Pumpkin Spice Crackers:
7 mini-loaf pans (4″ x 2 1/2″)
Microplane Zester for grating fresh nutmeg
Stainless Steel Wire Cooling Rack