Learn to Make Light & Airy Popovers – Video!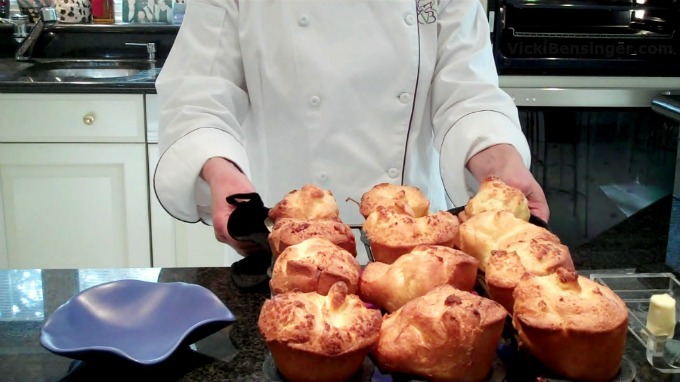 Thanksgiving is just 3 days away.  While most of us already have our menu in place there are still a few of us who would like to try something new.
When it comes to Thanksgiving it's hard to get away from traditions.  While I don't like to make it a habit to re-post an article or video I've already shared in the past, this one deserves repeating annually.  It's just that good, and perfect for Thanksgiving dinner. 
For years I've been making Popovers to go with our Thanksgiving dinner.  In my opinion Popovers pair perfectly with a heavy meal.  They're light, airy, and delicious.
My first encounter with Popovers was while dining at The Zodiac Room in Neiman Marcus.  I thought they were incredible, and when I would take my children (now 27 & 30) with me, they loved them as well, especially slathered with their heavenly strawberry butter.
Over the years I've perfected making these airy little puffs, getting rave reviews from all who try them.  I get so many requests for this recipe I finally created a step-by-step video that my readers could watch over and over again, whether they want to make Popovers for Thanksgiving or any other time throughout the year.
I hope you enjoy my video.  (I created it in 2010 and don't look at all the same).  I've also posted the full recipe below.
If you've never tried Homemade Popovers I know you'll love them, just as my family does.
Feel free to contact me if you have any questions or concerns about making this recipe.  I recommend purchasing a popover pan. In my opinion it makes all the difference in having stellar looking popovers to boring looking popovers, if done in muffin tins.
How to Make Popovers!
Light & airy Popovers are ideal to make with that heavy Thanksgiving meal.  Try making these and you'll never go back to regular buns again.
Ingredients:
3 eggs, room temperature
1 cup milk, room temperature (I use skim)
3 Tbsp. Canola Oil or Coconut Oil
1 cup, all-purpose flour
1/2 tsp. kosher salt
Directions:
Instructions for cooking in Convection mode and Bake mode:
Preheat oven to 400 degrees in either convection/bake mode or just bake.
While preparing the batter spray your popover pan with a non-stick cooking spray and place in the oven to heat up.
If eggs and milk are not at room temperature heat eggs (removed from their shell) for approximately 12 -15 seconds and milk for about 20-30 seconds in the microwave.
Whisk eggs, milk and oil together. Sift flour and add to the egg mixture. Add the salt and beat mixture together until it's smooth and free of any clumps.
Take popover pan out of the oven and place a small bit of butter into each popover cup (as shown in the video).
Pour batter 3/4 way full into each popover cup. If you run short and one of the cups is empty add water filling up about 1/2 way.
Place filled pan into the 400 degree oven and bake for:
Convection/Bake 20 minutes or
Conventional Bake: 30 minutes
Then, leaving the oven door closed, reduce heat to 325 degrees.
At this time if you were cooking in the convection mode switch to BAKE. Cook for an additional 5-15 minutes keeping a close eye on the popovers.
You'll know that they are done when they turn a nice golden brown, as seen in my video and at the top of this page.
Serve Immediately!
 As always, if you have any questions while preparing these, don't hesitate to contact me. I'm always happy to help.
Enjoy!
Notes: 
Popovers are best when baked just before serving. Serve hot with butter, strawberry butter, pumpkin butter, plain, fig jam or with whatever you desire.
People have asked me if they can use a muffin tin.  You can try making these any way you like.  However, a Popover pan is tall and lean which in my opinion creates the beauty of a Popover allowing it to puff out over the top  Once you try these, they'll become a new tradition!
Enjoy!!
Hungry for More?  Savor these:
Applewood Smoked Bacon & Cotswold Scones
Dutch Oven Baked Artisan Bread