Creamy Nut Fudge
Growing up my mom would frequently take us to Famous & Barr Department Stores to shop and have lunch. Around the holidays she would take my sisters and I to the downtown location to see all the holiday displays at the store – it was so much fun! 
After lunch we would stop by the candy counter and get some of their Creamy Nut Fudge, a favorite of all of ours.  I'm not sure what it was about the Famous & Barr fudge that was so darn good, but to this day we still talk about it.
I've been on a quest lately to try and find the recipe for the Famous & Barr Creamy Nut Fudge but haven't had much luck.
In February of 2006 Famous & Barr was purchased by Macy's Department stores.  During that transition the candy department was removed and eventually the restaurants were phased out as well.
Most remember Famous & Barr for their incredibly delicious Onion Soup.  I must have devoured 100's of bowls over the years with my girlfriends. Fun times and great memories – a blog post for another time.
On December 26th we will be celebrating my moms 97th birthday.  We did celebrate it a week ago when my sister from California was in town, but will celebrate it again on the 26th with the rest of the family.
Since one of her favorite candies is nut fudge and her all time favorite was the Creamy Nut Fudge from Famous & Barr I've been searching for that recipe.  Unfortunately I have been unsuccessful in locating the recipe.  I even purchased an old Famous & Barr book about the history and recipes but that recipe wasn't included.
After an exhaustive search I did come across this recipe that tastes close to what I remembered.  Granted that was back in the 60's and 70's, but you don't forget flavor memories that easy.
I made this recipe and plan to share it with my mom who has had a sweet tooth for as long as I've been alive.  So much, that every single day of my life she's had a Hostess Hostess Cupcake, Twinkie, or Snow Ball at breakfast.  Crazy isn't it? She was devastated when Hostess said they'd no longer be making them, but they've come back only smaller, and not tasting quite the same.  I'm assuming they've improved the quality of ingredients based on industry standards now.
I do have one more fudge recipe I'm going to try, but wanted to share this recipe for Creamy Nut Fudge. Since my mom is a fan of dark chocolate I used that  instead of a combination of milk chocolate & semi-sweet chocolate that was listed.  It's pretty darn good.
If you're a fan of fudge I am certain you'll like this.  It's so quick to put together and perfect to have on hand for the upcoming holidays.  I hope you'll give it a try.
Creamy Dark Chocolate Nut Fudge
This creamy dark chocolate nut fudge can be whipped up and ready in minutes before your guests arrive.  Then watch as they disappear!
Ingredients:
1 (7 ounce) jar marshmallow creme
1 1/4 cups granulated sugar
2/3 cup evaporated milk
2 Tbsp. butter
1/4 teaspoon kosher salt
3 cups dark chocolate chips
1/2 cup chopped nuts
1 teaspoon vanilla extract
Directions:
Line an 8x8 inch pan with heavy-duty aluminum foil. Set aside.
In a large non-stick saute or saucepan over medium heat, combine marshmallow cream, sugar, evaporated milk, butter and salt. Bring to a full boil, and cook for 5 minutes, stirring constantly. (Start timing at the first bubble).
Remove from heat and pour in chocolate chips. Stir until chocolate is melted and mixture is smooth. Stir in nuts and vanilla. Pour into prepared pan. Using a spatula smooth out chocolate to reach all sides of pan. Chill in refrigerator for 2 hours, or until firm.
Once firm (see notes) remove from refrigerator and slice into small squares or preferred size. Cover and keep at room temperature.
Notes:
Slice into squares as soon as fudge is firm. 
Cover and leave out at room temperature to maintain the creamy texture of the fudge.  If left refrigerated too long, fudge will become more firm rather than maintaining its creamy interior.
Sub out preferred chocolate if desired
Omit nuts or sub out for preferred nuts, if desired
Hungry for more? Savor these!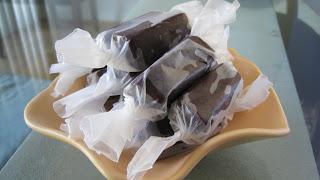 Tools used to make the Creamy Nut Fudge: