Salted Chocolate Caramels!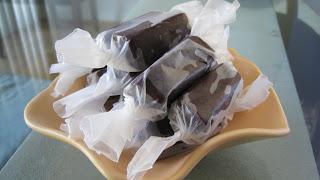 As you may already know, I'll admit I'm a chocoholic!  I can eat chocolate anytime of the day.  Fortunately now they say that in moderation dark chocolate can be good for you.  Yeah!  I'm all for that!
The holiday gives me all the more reason to bake anything chocolate or cook up batches of chocolate candies.  There's a ladies tea room here in town that I often go to with my mom, sisters and daughter for lunch.  When checking out at the register they would have bowlfuls of chocolate caramels.  However, the past couple years they no longer offer them.   This was a huge disappointment to me.
Nevertheless, I searched hi and low for a recipe to make them myself and indeed found one that I think is even better than the tea room, plus I tweeked this one a bit and now it's superb, IMO!
Salted Chocolate Caramels make a perfect holiday gift.  Although a bit more expensive to make than many homemade treats they're well worth it.
I altered this recipe slightly by using Lyles Golden Syrup to replace the light corn syrup.  Lyle's incredibly buttery flavor made all the difference in the world.  You can find it at many grocery stores, World Market, international food stores or online.
Salted Chocolate Caramels (adapted from Epicurious.com)
(makes approximately 60 depending on size)
Ingredients:
2 cups heavy cream
10 1/2 oz fine-quality bittersweet chocolate (no more than 60% cacao if marked), finely chopped
1 3/4 cups sugar
1/2 cup light corn syrup (I used Lyle's Golden Syrup)
1/4 cup water
1/4 teaspoon salt
3 tablespoons unsalted butter, cut into tablespoon pieces
2 teaspoons flaky sea salt such as Maldon
Vegetable oil for greasing (I used non-stick spray)
Preparation:
Line bottom and sides of an 8-inch straight-sided square metal baking pan with 2 long sheets of crisscrossed parchment. (I used a glass pan)
Bring cream just to a boil in a 1- to 1 1/2-quart heavy saucepan over moderately high heat, then reduce heat to low and add chocolate. Let stand 1 minute, then stir until chocolate is completely melted.
Remove from heat.
Bring sugar, corn syrup, water, and salt to a boil in a 5- to 6-quart heavy pot over moderate heat, stirring until sugar is dissolved.
Boil, uncovered, without stirring but gently swirling pan occasionally, until sugar is deep golden, about 10 minutes.
Tilt pan and
carefully
(can splatter and burn you)
 pour in chocolate mixture (mixture will bubble and steam vigorously). Continue to boil over
moderate heat
, stirring frequently, until mixture registers
255°F
on thermometer, about 15 minutes.
(Times will vary depending on the climate in your room.  It took me 30 minutes)
Note: Do not rush this step.  It may feel like it takes a long time for the caramel to reach this temperature, but if you try to rush it by turning up the heat you will burn it, and waste all your ingredients.  Be patient and you will be happy with the results.
Add butter, stirring until completely melted, then immediately pour into lined baking pan (do not scrape any caramel clinging to bottom or side of saucepan).
Let caramel stand 10 minutes, then sprinkle evenly with sea salt. Cool completely in pan on a rack, about 2 hours.
Carefully invert caramel onto a clean, dry cutting board, then peel off parchment.
Turn caramel salt side up. Lightly oil blade (I sprayed with non-stick cooking spray) of a large heavy knife and cut into 1-inch squares. (I made 2″ – 2 1/2″ rectangles, I like that size best)
Cut wax paper approximately 7″x5″ rectangles
Roll wax paper around caramel and twist at both ends to secure
Word of Caution:  It's best to give these away as gifts otherwise you'll eat them all yourself!
This caramel is also wonderful smothered over an apple for an outrageously delicious Caramel Apple. 
Enjoy!!!
Other sites about caramels you might like:
David Lebovitz
ScrambledHenFruit
EHow