Caprese Pasta Salad
I love this time of year when the temperature reaches 75F – 80F degrees during the day, and a comfortable 65F – 70F degrees in the evenings.  It's perfect for outdoor grilling and backyard parties. 
Lighter fare appears to be what most people gravitate towards these days. While I try not to load up on my carbs too often, one dish I've found everyone enjoys is my Caprese Pasta Salad.  Whether serving it as a side dish at my barbeque or bringing it to a friend's house, guests always come back for seconds, and thirds.
If you're not familiar with the Italian term "Caprese" [kuh-prey-zey] it means, of or in the style of Capri.  It's a dish oftentimes prepared as a salad with fresh mozzarella, tomatoes, and basil leaves, drizzled with olive oil.
My version contains these components with the basil portion in the form of pesto.  Pesto is a sauce that originates in Genoa in the Liguria region of northern Italy.  It traditionally consists of garlic basil, and pine nuts, blended with olive oil, and Parmigiano Reggiano.
Of course you can purchase ready-made pesto at the grocery store, but for a fraction of the cost do yourself a favor and make it homemade – it's so easy, and tastes superior to the store bought brands.
If you're not a fan of noodles try using a Spiralizer
(watch video) creating vegetable noodles with zucchini, for a no carb version.  Would you prefer serving this as a main dish?  Add chicken or shrimp for a heartier meal.  However you prepare it, this salad is outstanding, and holds up well outdoors!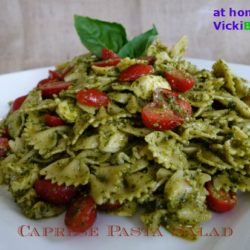 Caprese Pasta Salad
Ingredients:
Pesto
3 tsp. pine nuts
2 cups fresh basil leaves, packed
1 clove garlic
Pinch of sea salt
½ cup plus 3 Tbsp. grated Parmigiano-Reggiano cheese
1 ¼ cups extra-virgin olive oil
1 (8 oz.) container Ciliegine, fresh mozzarella balls, (cherry sized) halved
1 container red cherry tomatoes, halved
1 package bowtie pasta, whole grain, regular, tri-colored, or gluten free
Directions:
Pesto: In a food processor, place pine nuts, basil, garlic, and sea salt and process to a paste. Add the cheese and drizzle in the olive oil.  Continue blending until smooth.
Pasta: Prepare pasta as directed on package; drain and rinse with cold water to stop the cooking process.  Place drained noodles into a large bowl or platter.
Add tomatoes and mozzarella balls to pasta.  Liberally add pesto and mix to combine.  Add salt and pepper to taste if desired.  Serve at room temperature or chill until ready to serve.
Note: Store unused pesto in a jar, topped with a thin layer of olive oil.
Pesto can also be used in many other dishes: from dips to spreads, with fish, chicken, meats, on sandwiches, and other pasta just to name a few.
Once you make your own pesto you'll never buy the jarred variety again!
Enjoy!